Charlie Kirk Says Being Asked About Vaccine Is Like 'Visiting East Germany'
Conservative activist Charlie Kirk has equated being asked for proof of COVID-19 vaccination at a Chicago-area restaurant to "visiting East Germany."
Kirk, 28, a Newsweek contributor, is founder and president of the conservative group Turning Point USA, and chairs the group Students for Trump. He spoke of his experience during a speech Wednesday at an event in Chicago that was captured on video.
Kirk, who grew up in Chicagoland, said he was asked to provide proof of vaccination during a recent visit to a restaurant in the Chicago suburbs. He told the crowd that he was repeatedly asked to show his "papers" to the restaurant staff.
"I come home for 24 hours, I try to go into a restaurant and they say, 'show me your papers,'" Kirk said. "I say, 'what are you talking about, show me your papers? What kind of papers are you talking about?'"
Kirk said that the "papers" were to show "proof of vaccination" against COVID-19. The audio then cuts out for a brief moment before Kirk can be heard saying "not going to happen" in an apparent response to the vaccination request.
"And so, it really kind of sunk in and here I am coming back home, you know, and being treated like I'm visiting East Germany, literally, no exaggeration," Kirk continued. "I never want to hear again, like, how could the atrocities of Germany happen? Like, go to Corner Bakery, alright? You'll see."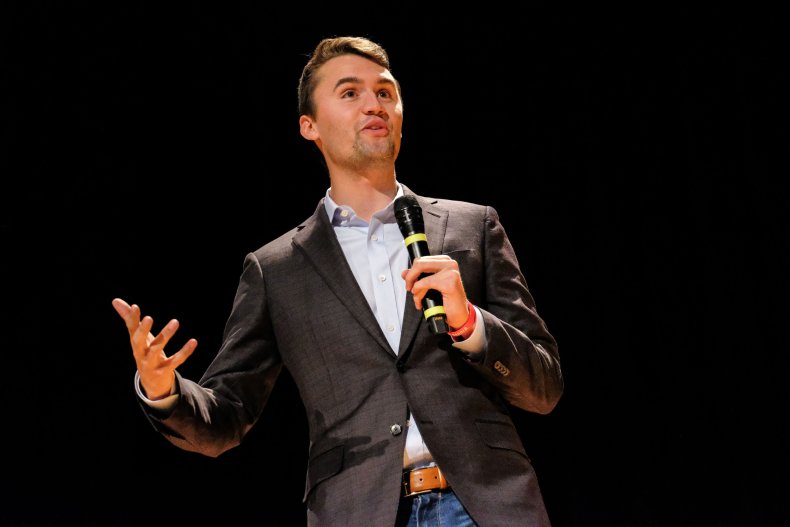 The town where Kirk was born, Arlington Heights, Illinois, contains a Corner Bakery, but it's not certain whether this was the restaurant he was talking about. The area of Arlington Heights sits in Cook County, which does currently require restaurants to ask for proof of vaccination for indoor dining.
After Kirk compared the vaccination questioning to East Germany, some outlets reported that he had made the comparison to the Hitler regime and Nazi Germany. Kirk is not heard equating the vaccine requirements to Nazis during his speech.
During a taping Thursday on his self-titled radio show, Kirk rebuffed the reports: "Yesterday at the event, I retold this story, and I compared it to East Germany. And the media says, 'Charlie likens being asked for vaccine papers to the Nazi regime.' Yeah, of course I'm likening it to it."
"Of course that was worse but this is the same sort of pattern, trajectory of tyranny that we saw in previous totalitarian governments," Kirk added.
Kirk reiterated later that his original comments had been referencing East Germany, not Nazi Germany. "By the way, East Germany is not even, they don't know their history, but that's OK. That's fine. It's close. East Germany was not of the National Socialist [German Workers] Party [Nazi Party]," he said.
A spokesperson for Kirk told Newsweek that: "Charlie didn't even reference Nazi Germany in his original remarks. Instead, he said 'East Germany' very intentionally. Any headlines jumping to conclusions, or inferring otherwise are wrong and they should read the transcript again."
Newsweek reached out to Corner Bakery for comment.