Charlie Rose Sued By Longtime Makeup Artist Alleging Harassment, Abuse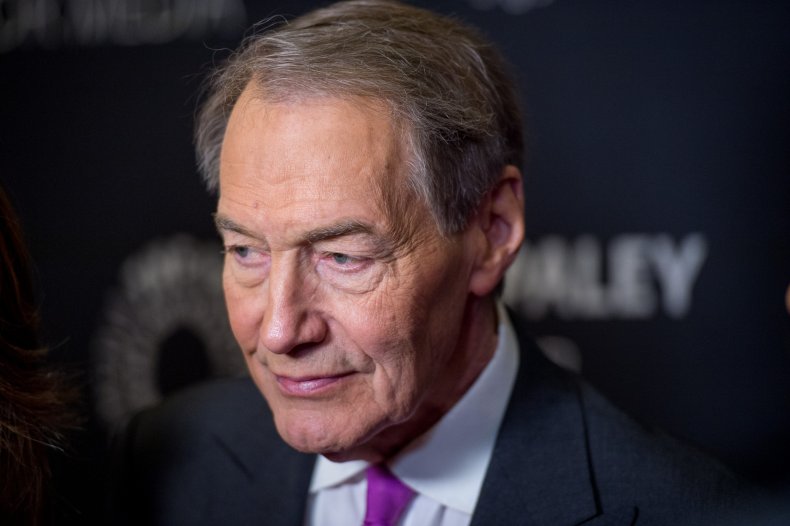 An Emmy Award-nominated makeup artist filed suit against her former employer, disgraced news anchor Charlie Rose, over allegations of misogyny and harassment during her decades-long tenure on Rose's primetime interview show.
Gina Riggi, 62, lodged her complaint Thursday in New York State Supreme Court alleging "a pattern of misogynistic, abusive behavior," by which she claimed Rose was "demeaning, embarrassing and degrading [to] her because of her gender."
The alleged harassment is said to have included derogatory comments about her appearance and instances of physical violence.
This is just the latest accusation of professional misconduct to be leveled against Rose, a formerly esteemed news presenter and journalist whose long career in public media earned him substantial acclaim within the industry, until reports began to emerge about his allegedly inappropriate conduct.
When the #MeToo movement began in 2017 with allegations of sexual misconduct against famed movie producer Harvey Weinstein, Rose was almost immediately implicated in similar behavior. A Washington Post report revealed the stories of eight women who accused Rose of making unwanted sexual advances, including inappropriate touching, disturbingly sexual phone calls and unexpected nudity.
The following day, CBS fired Rose, a co-anchor of the network's morning show CBS This Morning, and PBS ended production of his interview program. Some of the allegations in Riggi's lawsuit mirror behavior that has been attributed to Rose in public reporting.
"Throughout the workday, and at work events, Mr. Rose routinely groped and pawed at his female staff, pressed himself against them, hugged them, kissed them, pulled them toward him, whispered in their ears, stared at their breasts, looked down their shirts, and otherwise subjected them to inappropriate and unwanted physical contact," Thursday's filing claims. "Mr. Rose commented on their physical appearance, asked inappropriate questions about their personal and romantic lives, and barraged them with late-night phone calls. In many instances, as detailed below, he made explicit sexual overtures."
A 30-year industry veteran, Riggi was the Charlie Rose show's third-longest serving employee. She received an Emmy Award nomination before she joined Rose's program for her work on the Sally Jesse Raphael Show, a syndicated talk show.
During her tenure with Rose, she said that she "served as a resource" for other alleged victims, providing her makeup room "as a refuge" from unwanted encounters. She has had a wide-ranging career in the makeup field, providing her services to figures such as Barack Obama, Bill Gates, Angelina Jolie and Rosa Parks.
Riggi's alleged suffering during the show's production was apparently constant and unyielding, according to the lawsuit, which alleges that she was "verbally abused... on an almost daily basis."
"Mr. Rose also routinely ridiculed Ms. Riggi's physical appearance, in particular, making derisive and inappropriate comments about her weight," the lawsuit claims. "Mr. Rose often made these comments to Ms. Riggi in front of other staff, publicly shaming and humiliating her before friends and colleagues."
Rose has previously denied the full substance of other allegations made against him, while conceding to some more minor transgressions.
Rose denied all the allegations leveled against him, his lawyer told Newsweek in a statement.
"Mr. Rose vehemently denies and will vigorously contest these allegations," Jonathan Bach said. "Among other things, the allegations in the complaint are completely inconsistent with written statements made by the plaintiff to Mr. Rose, including 'I love working for you at your show, and would love to be a part of any show that you host,' 'I consider it an honor to be a member of your team,' and 'hope to see you more often! please stop by anytime.'"
"This is not a lawsuit about any real legal wrongs directed at the plaintiff as much as an opportunity to recycle second-and-third-hand, uproven allegations she and her lawyer have managed to scrounge together," he said. "It makes a good tabloid story, but not much else."
This story has been updated to include a statement from Rose's lawyer.