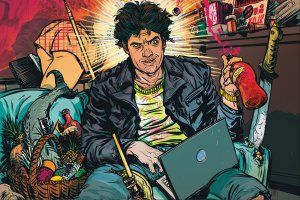 "Drugs" is the first word Charlie Sheen utters in his only scene from Ferris Bueller's Day Off, a cinematic relic from 1986. It takes place in a police station where Jeannie Bueller (Jennifer Grey), waiting to get bailed out by her mom and fuming about brother Ferris's charmingly anarchic ways (he breaks all the rules and is happy; she follows all the rules and is unhappy), realizes she's sitting next to a gorgeous (he was!) sullen-eyed dude in a leather jacket who looks like he's been up for days on a drug binge. But he's not manic, just tired and sexily calm, his face so pale it's almost violet-hued. Annoyed, Jeannie asks, "Why are you here?" and Charlie, deadpan, replies, without regret: "Drugs." And then he slowly disarms her bitchiness with his outrageously sexy insouciance, transforming her annoyance into delight (they end up making out).
That's when we first really noticed Sheen, and it's the key moment in his movie career (it now sums up everything that followed). He hasn't been as entertaining since. Until now. In getting himself fired from his hit TV show Two and a Half Men, this privileged child of the media's sprawling entertainment Empire has now become its most gifted ridiculer. Sheen has embraced post-Empire, making his bid to explain to all of us what celebrity now means. Whether you like it or not is beside the point. It's where we are, babe. We're learning something. Rock and roll. Deal with it.
Post-Empire started appearing in full force just about everywhere last year while Cee Lo Green's "Fuck You" gleefully played over the soundtrack. The Kardashians get it. The participants in (and the audience of) Jersey Shore get it. Lady Gaga arriving at the Grammys in an egg gets it, and she gets it while staring at Anderson Cooper and admitting she likes to smoke weed when she writes songs—basically daring him: "What are you gonna do about that, bitch?" Nicki Minaj gets it when she sings "Right Thru Me" and becomes one of her many alter egos on a red carpet. (Christina Aguilera starring in Burlesque doesn't get it at all.) Ricky Gervais's hosting of the Golden Globes got it. Robert Downey Jr., getting pissed off at Gervais, did not. Robert De Niro even got it, subtly ridiculing his career and his lifetime-achievement trophy at the same awards show.
James Franco not taking the Oscar telecast seriously but treating it with gentle disrespect (which is exactly what the show deserves) totally got it. (Anne Hathaway, unfortunately, didn't get it, but we like her anyway for getting naked and jiggy with Jake G.) Post-Empire is Mark Zuckerberg staring with blank impatience at Empire Lesley Stahl on 60 Minutes and telling her how The Social Network and its genesis story (he creates Facebook because he was rejected by a bitchy girl!) got it totally wrong (which it did; he was right; sorry, Empire Aaron Sorkin). Empire is complaining that the characters in Jonathan Franzen's great 2010 novel Freedom aren't "likable" enough.
For every outspoken I-don't-give-a-shit Empire celebrity like Muhammad Ali or Andy Warhol or Norman Mailer or Bob Dylan, there were a dozen Madonnas (one of the queens of the Empire who was never real or funny enough to get it—everything interesting about her seems, in retrospect, dreadfully earnest) and Michael Jacksons (the ultimate victim of Empire celebrity—a tortured boy lover and drug addict who humorlessly denied he was either). To someone my age ( 47 ), Keith Richards ( 67 ) in his memoir, Life, has a rare healthy post-Empire geezer transparency. For my younger friends, it's no longer rare; it's now the norm. But nothing yet compares to the transparency that Charlie Sheen has unleashed in the past two weeks—contempt about celebrity, his profession, and the old Empire world order.
To Empire gatekeepers, Sheen seems dangerous and in need of help because he's destroying (and confirming) illusions about the nature of celebrity. He's always been a role model for a certain kind of male fantasy. Degrading perhaps, but aren't most male fantasies? Sheen has always been a bad boy, which is part of his appeal—to men and women. What Sheen has exemplified and has clarified is the moment in the culture when not caring what the public thinks about you or your personal life is what matters most—and what makes the public love you even more (if not exactly CBS or the creator of the show that has made you so wealthy).
It's a different brand of narcissism than Empire narcissism. Eminem was post-Empire's most outspoken character when he first appeared. We were suddenly light-years away from the autobiographical pain of, say, Dylan's Blood on the Tracks (one of Empire's proudest and most stylish moments). It's not that we've moved beyond craft; it's just that there's a different kind of self-expression at play—more raw, less diluted. On The Marshall Mathers LP, Eminem rages much more transparently than Dylan against the idiocy of his own flaws and the failure of his marriage and his addictions and fantasies than any Empire artist (and let's include Empire Bruce Springsteen and his great Tunnel of Love album while we're at it) by recording fearlessly the fake murder of his ex-wife at his own enraged hands, a defying act that Bob or Bruce would never have even considered. Blood on the Tracks and Tunnel of Love have an Empire tastefulness and elegance that in post-Empire has no meaning. That doesn't deny their power or artistry. It just means we've moved on. And, hey, that's OK. Let it go.
You're completely missing the point if you think the Charlie Sheen moment is really a story about drugs. Yeah, they play a part, but they aren't at the core of what's happening—or why this particular Sheen moment is so fascinating. I know functioning addicts. They're not that rare or that interesting. What this moment is about is Sheen solo. It's about a well-earned midlife crisis played out on CNN instead of in a life coach's office somewhere in Burbank. The midlife crisis is the moment in a man's life when he realizes he can't (or won't) any longer maintain the pose that he thought was required of him. Tom Cruise had a similar meltdown at the same age in the summer of 2005, but his was more politely handled (and, of course, he was never known as an addict). Cruise had his breakdown while smiling. He's always essentially been the good boy who can't say "Fuck you" the way Sheen (or even someone as benign as Cee Lo) can. Cruise is still that altar boy from Syracuse who believes in the glamour of Empire earnestness, and this is ultimately his limitation as a movie star and as an actor.
But oh, no, not Sheen. Arrests. Accidental overdoses. Halfhearted stints in rehab. Martin Sheen's teary-eyed press conference. The briefcase full of coke. The Mercedes towed out of the ravine. The misdemeanor third-degree assault on the third wife, who also went to rehab. Sheen allegedly threatening to cut off same wife's head, put it in a box, send it to her mother. Sheen chain smoking on TMZ. The priceless dialogue. (On CBS executives: "They lay down with their ugly wives in front of their ugly children and look at their loser lives.") The September 11 conspiracy theories. Shooting Kelly Preston in the arm. Fucking porn stars Ginger Lynn and Heather Hunter and Bree Olson. Compared with Cruise, Sheen has put on a mesmerizing and refreshing display of midlife-crisis honesty. He's just himself, an addict—take it or leave it.
It's thrilling watching someone call out the solemnity of the celebrity interview, and Sheen is loudly calling it out as the sham it is. He's raw and lucid and intense: the most fascinating person wandering through the culture. (No, guys, it's not Colin Firth or David Fincher or Bruno Mars or super-Empire Tiger Woods.) We're not used to these kinds of interviews. It's coming off almost as performance art and we've never seen anything like it—because he's not apologizing. It's an irresistible spectacle. We've never seen a celebrity more nakedly revealing—even in Sheen's evasions there's a truthful playfulness that makes Tiger's mea culpa press conference look like something manufactured by Nicholas Sparks.
Anyone who's put up with the fake rigors of celebrity (or suffered from addiction problems) has a kindred spirit here. The new fact is: if you're punching paparazzi, you look like an old-school loser. If you can't accept the fact that we're at the height of an exhibitionistic display culture and that you're going to be blindsided by TMZ (and humiliated by Harvey Levin, or Chelsea Handler—princess of post-Empire) while stumbling out of a club on Sunset Boulevard at 2 in the morning, then you should be a travel agent instead of a movie star. Being publicly mocked is part of the game, and you're a fool if you don't play along. Not showing up to collect your award at the Razzies for that piece of crap you made? So Empire. This is why Sheen seems saner and funnier than any other celebrity right now. He also makes better jokes about his situation than most worried editorialists or late-night comedians. A lot of it is sheer bad-boy bravado—just cursing to see how people react, which is very post-Empire—but a lot of it is pure transparency, and on that level, Sheen is, um, winning.
What do people want from Sheen? I'm not denying he has drug and alcohol problems—or even that he might struggle with mental illness. But so do a lot of people in Hollywood who hide it much better—or who the celebrity press just doesn't care enough about. What fascinates us is the hedonism he enjoys and that remains the envy of every man—if only women weren't around to keep them liars. (His supposed propensity for violence against women hasn't hurt his popularity with female fans either.) Do we really want manners? Civility? Empire courtesy? Hell, no. We want reality, no matter how crazy. And this is what drives the Empire to distraction: Sheen doesn't care what you think of him anymore, and he scoffs at the idea of PR. "Hey, suits, I don't give a shit." That's his only commandment. Sheen blows open the myth that if men try hard enough, they will outgrow the adolescent pursuit of pleasure and a life without rules or responsibilities.
We've come a long way in the last two weeks: Sheen is the new reality, bitch, and anyone who's a hater can go back and hang out with the rest of the trolls in the graveyard of Empire. No one knew it in 1986, but Charlie Sheen was actually Ferris Bueller's dark little brother all along.