Charlie Sheen's HIV Disclosure Inspired Record Numbers of Americans to Get Tested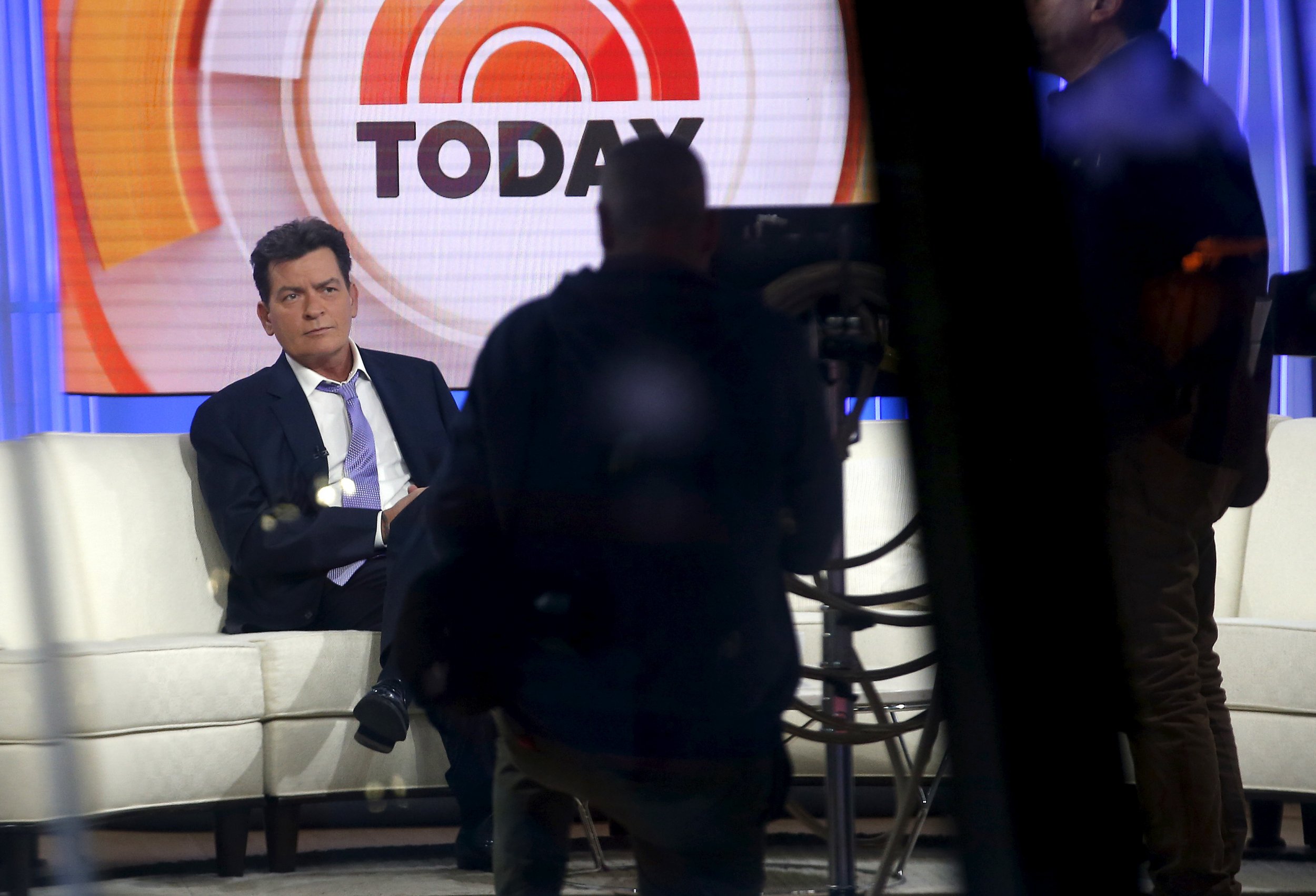 When Charlie Sheen went on the Today show to disclose his HIV-positive status in November 2015, he told Matt Lauer, "I release myself from this prison today," one he described as full of secrecy and extortion.
This past January, he recounted the day he was diagnosed, about four years before he went public. "I immediately wanted to eat a bullet," he told Michael Strahan on Good Morning America. "But then, something else came over me. They gave me a handful of pills and said, 'You can go home now, and you're going to live,'" he said. "I feel like I'm carrying the torch for a lot of folks out there that are suffering from the same thing."
Though he may have had other reasons initially for revealing his diagnosis to the world, researchers believe his decision helped spur people to seek information about and get tested for HIV, with Sheen inadvertently playing a role he later took on more consciously.
A research letter published in JAMA Internal Medicine in February 2016 found that media reports and internet searches related to HIV spiked over the course of a day after Sheen's disclosure. A follow-up study published Thursday in the journal Prevention Science now shows that sales of rapid at-home test kits also increased drastically after Sheen's disclosure and that web search trends can serve as strong predictors of sales.
Related: New study shows Charlie Sheen's recent disclosure may have helped raise HIV awareness
At the time of his announcement, "Charlie Sheen himself didn't talk about HIV prevention. Matt Lauer didn't talk about HIV prevention. Instead, the focus of that interview and the focus of other interviews and other reporting was largely on Charlie Sheen himself, mostly his sex life," says John W. Ayers, a professor at the San Diego State University Graduate School of Public Health who led the research team. But "for 20 years, there's been a consistent message when it comes to HIV prevention, that is know the signs, get tested, always use condoms," he says. It made him wonder whether the disclosure could "nudge people into engaging with HIV prevention."
About 1.2 million people in the U.S. are HIV-positive, according to the Centers for Disease Control and Prevention (CDC), but one in eight of those doesn't know it yet. That translates to more than 150,000 individuals who are not aware of their infection. "Untested individuals are responsible for most new infections," the researchers write. "As a result, testing is the most cost-effective HIV prevention strategy and must be accelerated when opportunities are presented."
The new study, titled "The Charlie Sheen Effect on Rapid In-Home Human Immunodeficiency Virus Test Sales," looked at weekly sales of OraQuick, which the researchers say is the only rapid in-home HIV test kit available in the U.S., including both brick-and-mortar and online purchases. Data provided to Ayers and his team by OraSure, which makes the OraQuick test, showed that sales increased 95 percent the week of Sheen's disclosure and remained higher than anticipated (based on an algorithm used to forecast sales) for another four weeks. Whereas a typical week might see sales at roughly 3,500, the number jumped to more than 7,000 the week of the disclosure. In total, the company had 8,225 more sales than anticipated in the period following Sheen's Today interview. The effect is equivalent to that of more than seven World AIDS Days, the researchers write, which saw only 1,122 more sales than expected in 2014. The researchers also found that they could use web search trends to predict sales within 7 percent of the actual tally.
Ayers describes the reaction from public health investigators to his team's first study as laced with skepticism. That community is used to dealing with data like test sales, he says. His team, therefore, wanted to "wed novel data to more traditional data." They achieved their goal by showing that novel data, like web search trends, could very closely predict traditional data, like sales. Since web search trends are available much faster, it could help public health experts and advocacy organizations respond more effectively to opportunities like Sheen's disclosure.
"We can rapidly know what people are thinking and when. What they're searching provides insight into real-world behaviors," Ayers says. "Imagine, if you will, had HIV leaders, had the media fostered HIV prevention methods, how much larger those effects could have been," he adds. "Even now, we could probably act on this."
Jesse Milan Jr., president and CEO of AIDS United, echoes Ayers. AIDS United, a nonprofit whose mission is to end the AIDS epidemic in the U.S., and organizations like it, "can use this data to improve the work that we're doing," Milan says. "These studies really do reinforce how important it is for all of us working in HIV to use technology to our advantage, to use social media to our advantage and to help the consumer population to use them to their advantage."
For AIDS United, studies like the ones led by Ayers are particularly helpful in work they're doing as part of a cooperative agreement with the CDC, focusing heavily on leveraging social media in HIV prevention efforts. "This is data that guides us on what the population who needs those messages are doing and thinking," Milan says.
"We hear over and over again how the stigma of having HIV prevents people from wanting to know their HIV status," he says. He emphasizes that every disclosure, whether it's one-on-one to a family member or publicly on television, helps encourage people living at risk to get tested.
"I think Charlie Sheen is right up there with Betty Ford about her addiction," he says. "The stigma is only broken down when people break their silence."