Man Ejected From American Airlines Flight Strips Off Clothes, Fights Ground Crew On Tarmac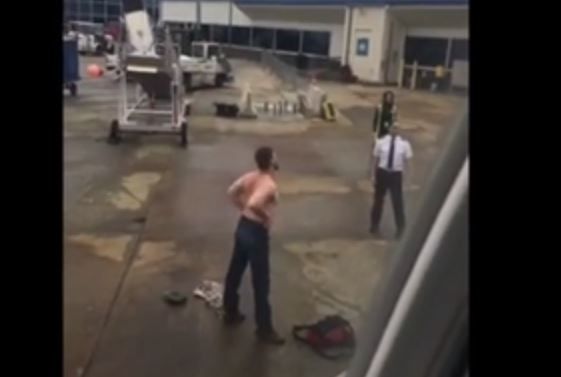 On Monday, a shirtless man was kicked off of a Cincinnati-bound flight out of Charlotte Douglas International Airport after he attempted to fight several ground crew members on the tarmac.
American Airlines flight AA5466 from Charlotte, North Carolina, to Cincinnati, Ohio, was disrupted by an unruly passenger who was ejected from the flight before stripping off his clothes, the Winston-Salem Journal first reported. Another passenger on the flight, Kelly Smekens, recorded video from inside one of the plane's windows, showing the unidentified man attempting to fight airport tarmac crews.
The incident began when the flight crew attempted to remove the man for his behavior onboard the plane.
On Tuesday, a separate video of the incident surfaced, showing the ejected passenger punching one of the airport employees during the confrontation. Baggage handlers and a man in a pilot's uniform tried to approach the man as he strips off his shirt and then begins undoing his belt.
With the man's clothing littered across the tarmac, baggage handlers in neon vests and sweatshirts can be seen trying to corral the man as he staggers around the nearby gate entrances. At one point, the man grabs a neon orange traffic baton from one of the crew members and attempts to strike several people.
"He is really drunk, he needs to catch up with somebody bigger than him," a fellow passenger can be heard saying onboard the plane. "At least he doesn't have a weapon on him."
The American Airlines flight was set to depart at 1:29 p.m. local time but was delayed nearly 40 minutes due to the drunken tirade, Smekens confirmed in an interview with Storyful.
"Well that ain't gonna get him back on [the plane], I can tell you that," an incredulous passenger can be heard saying as they peer over the plane's wing.
On Tuesday, there was an unrelated incident at Charlotte-Mecklenburg airport involving a suspicious package, causing both the FBI and the Charlotte-Mecklenburg Police bomb squad to close off an entire terminal, the Charlotte Observer reported. The suspicious object turned out to be a movie prop resembling sticks of dynamite.