Charlotte Demonstrators Take Protest to Carolina Panthers Game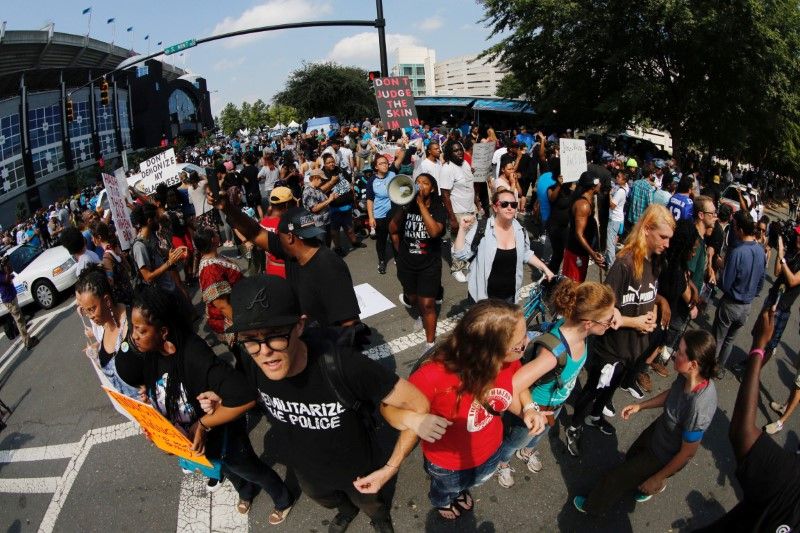 More than 100 people chanted and marched outside a National Football League (NFL) game in Charlotte, North Carolina, on Sunday in protests over police killing a black man, a day after police released videos of the confrontation.
Protesters have filled the city's streets for nearly a week in response to the killing of Keith Scott, 43, who police said was armed when officers shot him on Tuesday, although Sunday's gathering was smaller than those seen in earlier in the week.
The video did not show clearly whether Scott had a gun at the time, and Charlotte, the state's largest city and one of the U.S. Southeast's most vibrant urban centers, remains the latest flashpoint in two years of tense protests over U.S. police killings of black men, many of them unarmed.
Small groups of police in riot gear chatted with fans as they arrived for the NFL game between the Carolina Panthers and the Minnesota Vikings on Sunday afternoon, while a peaceful crowd of protesters swelled to more than 100 people.
"Black lives matter," the demonstrators chanted. "We don't need no riot gear. Why are you in riot gear?" As their numbers swelled, police officers on bicycles kept the protesters out of the path of arriving fans.
Among them was Simon Gebrekristos, a 26-year-old Panthers fan who works at a gas station. He arrived at the stadium holding tickets he said had cost him $160, but decided against going inside after seeing the protesters.
"I can go to the game any other time," he said.
Inside the stadium, Carolina Panthers quarterback Cam Newton signaled his support during the pre-game workout by wearing a T-shirt with a Martin Luther King Jr. quote: "Injustice anywhere is a threat to justice anywhere."
About two thirds of NFL players are black, and several players in the league, including San Francisco 49ers quarterback Colin Kaepernick, have taken to bending down on one knee during the pre-game singing of the national anthem in protest at police violence.
Charlotte-Mecklenburg Police Chief Kerr Putney said his department had planned to "expend significant public safety resources" at the arena, which can hold more than 70,000 people.
Charlotte declared the game an "extraordinary event" under its municipal code, giving police the power to stop people from carrying blades, projectiles and other objects into a certain area.
The previous night, hundreds of people marched through the city center on a fifth night of demonstrations that stretched into Sunday morning, including white and black families protesting police violence.
A Panthers fan sympathized with the protesters but did not think they would succeed in changing policing.
"I get the message the protesters are trying to send," Joe Mader, 24, said. "I think it's smart that they're out here. I'm happy to have them here."