The Becky Lynch versus Ronda Rousey matchup at WrestleMania 35 is in jeopardy after Vince McMahon replaced this year's Royal Rumble winner with Charlotte Flair to close out Monday Night RAW.
The sudden change happened on the last segment this Monday after Vince came out to hand Becky a 60-day suspension for her week-long tirade on RAW and SmackDown Live. The 60 days would put Becky's return for after WrestleMania.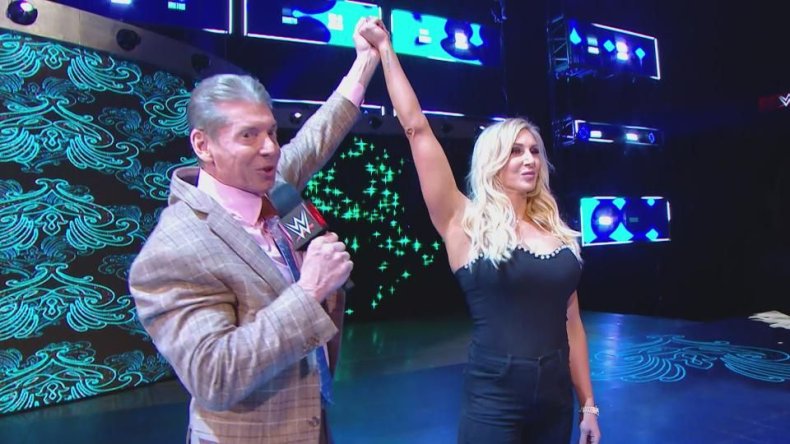 Check out the video showing Vince replacing Becky with Charlotte below.
Following her win at the Royal Rumble, Becky Lynch has appeared on both RAW and SmackDown Live with a notable limp from Nia Jax's attack during the Rumble match. When she refused to see one of the WWE doctors, Stephanie McMahon suspended her. Lynch then showed up the next night on SmackDown and slapped Triple H after he insinuated that she was afraid to face Ronda Rousey.
On this week's Monday Night RAW, Stephanie and Triple H brought Becky Lynch out to give her one more chance to apologize and make her WrestleMania match with Ronda official. After taking the entire show to decide, Lynch apologizes to the Authority figures and they accept her apology, but Vince McMahon wasn't as kind. He comes out to interrupt a stare down between Lynch and Rousey to announce Becky's suspension.
This Sunday, WWE will put on the Elimination Chamber pay-per-view and the promotion has the Fastlane show in March before WrestleMania 35 in April. There's still a lot of time between now and then so the RAW Women's Championship match can change.
Rumors had the RAW Women's Championship match main event this year's WrestleMania, which would make it the first time the women ended the biggest show of the company's year. It's also been rumored that the match would be a triple threat between Rousey, Lynch and Flair.
WrestleMania 35 is set for April 7 in New Jersey's MetLife Stadium.
What do you think of Charlotte replacing Becky? Do you think it will end up a triple threat or Becky vs Ronda again? Let us know in the comments section below.