Charlotte Flair Talks Winning NXT Women's Championship, Rhea Ripley and WrestleMania 36
WrestleMania 36 had plenty of surprise results, but none of them have changed the landscape the way that Charlotte Flair winning the NXT Women's Championship from Rhea Ripley has.
Flair and Ripley opened the second night of WrestleMania 36 on Sunday with nearly 30 minutes of non-stop action. Their back and forth finally ended when "The Queen" made Ripley tap out to the Figure Eight.
This was the first time an NXT Championship was defended at WrestleMania, and the first time an NXT and "main roster" superstar met on the WWE's biggest show.
Charlotte Flair was NXT Women's Champion in the past—she won the title back in 2014—but this is the first time a former NXT superstar has held the title after leaving the black-and-gold brand. Flair sees this as an opportunity to lift the NXT brand higher and reach new audiences.
"I don't know for how long—I hope for a while—that I'm going to have the NXT championship, but I'm going to want it to be the best women's division," Flair told Newsweek over the phone recently. "And I hope that can be highlighted on all three shows."
Newsweek caught up with the new NXT Women's Champion to talk about going forward with WrestleMania 36 without a live audience, her match with Rhea Ripley and the unknown future ahead of her.
This interview has been edited for clarity and length.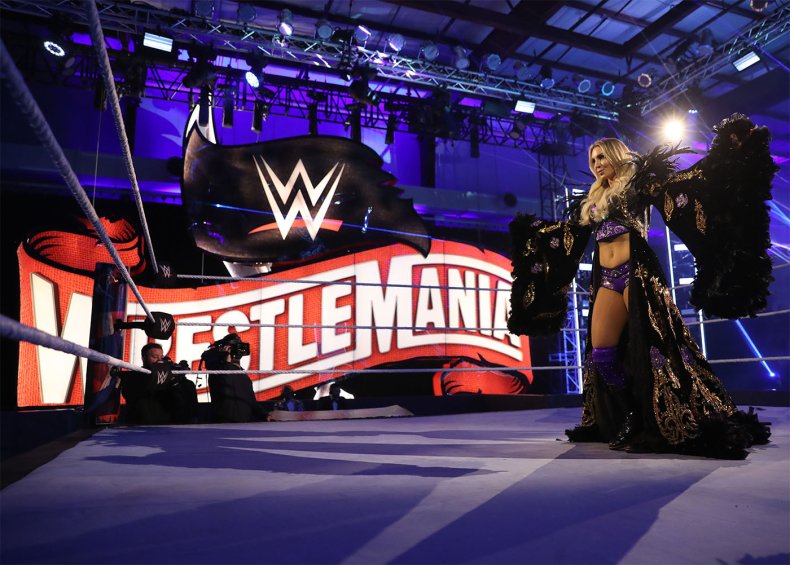 How was it working these past few weeks in this environment?
The company has done an incredible job of keeping us safe. It is different in closed sets, but the fact that we were able to pull off WrestleMania as a whole, I could not be more proud. I guess it's just waiting for when we go back to work and this is the first time I've been home this much, so I'm enjoying my time being home with Manny [WWE superstar Andrade, Flair's fiancé].
Do you need a certain mindset or preparation to put on a match with no fans?
Any time I have a match I have to remember there's probably more people watching at home than in the audience, and this was no different. I think people tend to shy away from quietness and that could make you nervous as a performer if no one is making noises or if you're not getting the reaction.
But for me, I'm just going to do my thing and I know that there are millions watching at home and if I can pull this much intensity and show the audience this much intensity without a live audience I'm doing my job as a performer.
The fans at home can hear more banter in the ring with no crowd. Is it easier to get the story beats out there?
No. I just wanted to be so in the moment and when you're in it, you forget everything else around you. Yes, with an audience, if they're into it then you want to slow down and embrace that, but I was just embracing the moment myself and enjoying it, as opposed to not letting an audience dictate me. I'm going to dictate my own match.
Starting in NXT yourself, how was it to see the brand being represented at WrestleMania?
I can't be more proud of Rhea. I've been to WrestleMania—this is my fifth and this was her first—so I can't imagine the nerves being thrown into this wild storyline that no one was expecting. I couldn't be more proud of her as a performer, she really stepped it up.
For me it was just wanting to show the world at home that I'm one of the best and with this unique situation that people were really going to be invested to see how we would perform without an audience. And I really think about "Am I going to win or not?" Of course I want to win, but it was more about showing what I can do as a performer on the biggest show of the year.
Rhea didn't get the big crowd treatment you normally would at WrestleMania. Is there anything you said to her to get through it?
I just kept telling her that this could be the most watched WrestleMania of all time. Because it's two nights and WWE was producing content when other sports at that moment were not able to because of the circumstances and people were more interested in how we would do it. So looking at that as an opportunity, and just wrestling is the easy part—being a star is the hard part. And just being who you are.
Is Rhea Ripley a star?
One hundred percent.
Rhea Ripley's youth, experience and style made us look forward to your match with her. Did you feel that way too?
It's crazy because I think she's been wrestling a little bit longer than me. [laughs] That's what I was most excited about, going against someone who was my size. I think what sets her aside from other tall people is how athletic she is. And when you take someone of our size, but also someone who can move and is agile that makes a difference. And she's definitely extremely athletic.
You were NXT Women's Champion before, and you said on social media how much it meant to fight for this title and in the Performance Center. Can you talk more about that?
Being the first class in the Performance Center and seeing the brand where it's gone today—being on USA Network—I don't know what the future holds to be honest. [laughs] I don't know what this means. But if anything, you have to go, "Wow, there's a lot of new matchups and opportunities." And me being able to go back as someone who has main event-ed WrestleMania, has main event-ed other pay-per-views and done it all adds a new dynamic.
Or maybe NXT is that different and I'm underestimating how far they've come. You know what I mean? I don't know what is next. Am I able to defend it on all three brands? I don't know. But if anything it's not the title that makes the person, it's the person that makes the title and I hope that, if anything, I just help take the division to the next level. What that is I don't know.
NXT has changed a lot since you were there. Have you been able to familiarize yourself with the product?
It's funny. I haven't really watched. When you're on the road working you don't really take the time to enjoy the other products. I think this is the first time I got to watch the entire WrestleMania. With Survivor Series one, they had half of the roster come up, so I had the opportunity to meet a lot of the girls so that was exciting. If anything, I feel like the girls are more ready than most of us when we came up because they are getting more practice.
This Wednesday there's a ladder match to determine the number-one contender for your title. Is there anyone who you want to work with?
I have to say Mia Yim, 100 percent. She was my very first dark match in NXT and to see her career and how she's made it to NXT. She was the vet then and to see how far I've come and watching our paths cross again, I'll be looking forward to seeing her.
You always seem to rise to the occasion on WrestleMania and put on some amazing matches. How do you rise to that occasion?
I don't know. I just put so much pressure on myself and especially this year I was more nervous than I was main event-ing WrestleMania because last year I had two women who were already known in Ronda [Rousey] and Becky [Lynch].
And then here there's this bright, up-and-coming superstar who is arguably the next big thing. Just because you're the next big thing doesn't mean you're going to deliver. People who watch NXT know who Rhea Ripley is, but what about those who only watch RAW and SmackDown? And to have that caliber of match where you're elevating your opponent and the storyline—the NXT title means that match. I just hoped the match went well and it was on me if it didn't.
I've seen Rhea a few times before 'Mania. The hardest part is being the star, not the wrestling, and I saw that [starpower in Rhea] on day one, so I just wanted to bring out the best in her and I knew she can do it. That's all I kept thinking. "How do we steal the show and how do I get people to believe in what we are fighting for?" We all know NXT, but there's a huge portion of the audience that doesn't.
We only scratched the surface, too. There's so much left of the story [with Rhea] in my opinion because it was cross-brand and it was so different. And now there's the RAW and Smackdown Women's Championships, tag team and now we add the NXT title to the mix, I feel like we've only scratched the surface of the stories that can be told. I am looking forward to what's next.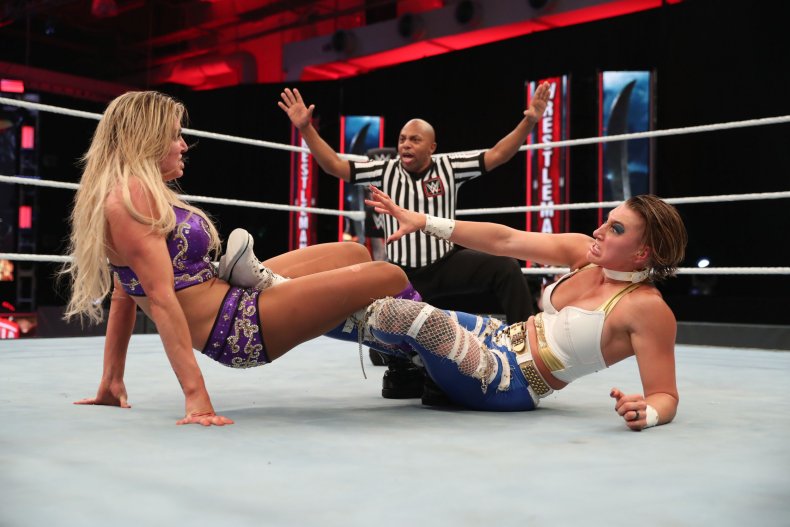 I felt all the women were especially phenomenal at WrestleMania 36. After watching this year's 'Mania, what did you think?
I am a little biased. I think the women do a fabulous job every year. [laughs] I guess I don't think about it anymore. I almost expect it. We raised the bar so high and I know how talented RAW and SmackDown is. It's a bunch of women highlighting how good we are in a male-dominated world that isn't male-dominated anymore. Having that many opportunities on the biggest show of the year, and women were highlighted on both nights, and that was huge.
Did you enjoy the two-night format of WrestleMania?
I did because it gives people more opportunity, 100 percent, and not having to squeeze storylines that need more time in. I thought that was great.
Would you like to see NXT involved more with WrestleMania moving forward?
If NXT is considered the third brand, then yes. If you want to look at them as competition? Then yes. Like, at Survivor Series they invaded, and if they are the third brand and are going to be on SmackDown and RAW and be competitive then yes. But if it's not there, it's not there.
Maybe that changes year by year, unfortunately, but that's the case. I don't know for how long—I hope for a while—that I'm going to have the NXT championship, but I'm going to want that to be the best women's division. And I hope that can be highlighted on all three shows.
What did you think of the boneyard and firefly fun house match?
So creative. I wish my mind worked that way. [laughs] But that's what WrestleMania is. It's not just old-school wrestling matches, it's a little bit of everything. And I thought it was entertaining and WWE does it all and they did it on two nights.
Could you see yourself in a match like that?
Never say never.
Can you talk more about the journey to this point and moving forward?
I think I surprised a lot of people when I won the Royal Rumble. And just the journey from main event to feeling a little bit lost for a couple of months and tagging in and out with Becky—that didn't feel natural at all—to having an NXT female challenge me and having the opportunity to showcase that title where I started my career on WrestleMania. It's full circle. If anyone knows how much pride I take in NXT, because I feel people forget I'm NXT homegrown. I'm their product.
I remember when I sat in the auditorium and watched Paige vs Emma and was so inspired and wanting to have that Takeover match with Nattie. I just hope with the NXT title being defended on WrestleMania, that made a lot more female talent watching who are in that division hungry and want to face Charlotte. They want to face her and take that title. And it just breeds more competition and more eagerness to take that spot.
NXT airs Wednesdays at 8 p.m. on USA Network.