Charlotte Protests Continue for Fourth Night Over Keith Scott Fatal Police Shooting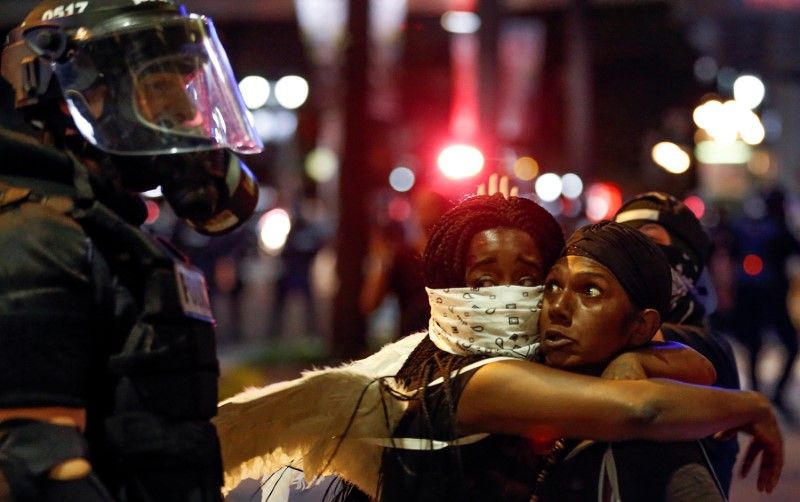 Protesters took to the streets of Charlotte, North Carolina, for a fourth night on Friday, calling on law enforcement to "release the tapes" of the fatal police shooting of a black man, hours after the victim's family released its own video.
Dozens of protesters gathered after nightfall in a small park before setting off on a march through city streets, chanting "Resist the police" and calling for the video to be made public.
Several people wrote the names of victims of police shootings across the country in chalk on a Charlotte street, as armed National Guard troops stood by.
The family of shooting victim Keith Scott released their own video of the slaying earlier on Friday.
The moment when a black police officer shoots Scott, a 43-year-old father of seven, cannot be seen in the two-minute video recorded by his wife, Rakeyia, who can be heard urging officers not to fire.
"Don't shoot him! He has no weapon," she can be heard telling officers as they yell at Scott, "Drop the gun!"
Scott's wife shouts "Keith, Keith, don't do it," before the shots rang out on Tuesday. She also can be heard telling police that her husband had a TBI, or traumatic brain injury, and had just taken "his medicine." It was not clear from the video whether police heard the wife.
Several gunshots can be heard in the video, which was released to U.S. media, followed by Rakeyia Scott screaming, "Did you shoot him? He better not be dead."
The video was filmed from a nearby curb as the drama in the parking lot unfolded in front of Rakeyia Scott.
Scott's death was the latest in a string of police killings of black men in America, which have unleashed protests and riots across the country.
Over the last two years, protesters have filled streets from Milwaukee to Minneapolis, from Ferguson, Missouri, to Baltimore. Protesters have also taken to the streets in Dallas and Baton Rouge, Louisiana, where police officers were shot and killed by gunmen who claimed to be avenging the deaths of black men unjustly slain by law enforcement.
About 200 to 300 protesters gathered in Atlanta on Friday with plans to march to the Martin Luther King, Jr. Center for Nonviolent Social Change, named after the slain civil rights leader, CNN reported.
CNN quoted a source close to the Charlotte investigation as saying that a loaded gun had been recovered at the scene of the crime and that fingerprints, DNA and blood on it matched Scott's.
The Charlotte-Mecklenburg Police Department did not immediately respond to a request for comment.
Video of Footage No Panacea
Protesters have dismissed police officers' claims that Scott had a gun.
Charlotte Mayor Jennifer Roberts on Friday also called for release of the police videos, in an interview with CNN. "I do think it would help in terms of transparency to release that footage," she said.
A United Nations working group on Friday compared the killings to the lynching of black people by white mobs in the 19th and 20th centuries.
Scott was the 214th black person killed by U.S. police this year out of an overall total of 821, according to Mapping Police Violence, a research group whose members include protesters of a 2014 police shooting in Ferguson, Missouri. There is no national-level government data on police shootings.
Charlotte-Mecklenburg Police Chief Kerr Putney has said that video taken by police body cameras supported the police version of events, but he has refused to release the video publicly. He told reporters on Friday that releasing it now could harm the investigation into the shooting, being led by the state.
"I know the expectation is that video footage can be the panacea and I can tell you that is not the case," Putney said, adding that he would eventually agree with the release of the video. "It's a matter of when and a matter of sequence."
Scott's family initially contended that he was carrying a book, but after viewing the police video on Thursday the family said it was "impossible to discern" what, if anything, Scott was carrying.
"There's nothing in that video that shows him acting aggressively, threatening or maybe dangerous," Justin Bamberg, one of the lawyers representing the family, said in an interview early on Friday.
No gun can be seen in Mrs. Scott's video.
Democratic presidential candidate Hillary Clinton added her voice to calls for release "without delay" of the video. "We must ensure justice and work to bridge divides," she said on Twitter on Friday.
She announced plans to go to Charlotte on Sunday.
The UN working group recommended that the United States create a reliable national system to track killings and use of excessive force by law enforcement officials, as well as ending the practice of racial profiling.
On Friday, Charlotte police arrested a civilian and charged him with murdering a protester who died on Thursday after being shot the previous night during protests, Putney told a news conference.
Police identified the suspected shooter as Rayquan Borum, 21, and the victim as Justin Carr. They did not disclose Carr's age. The Charlotte Observer reported that he was 26.
Political Battles
The killing of Keith Scott and its aftermath are playing out in a state that has been at the forefront of some of the country's most bitter political fights in recent years.
North Carolina's Republican-dominated state legislature has tightened voting laws, slashed education spending and passed a law prohibiting transgender people from using the bathroom of their choice.
Civil rights leaders have said that state officials who pursue these policies are partly to blame for this week's unrest.
"It's somewhat hypocritical to cry out against violence when you pass violent policies," said the Rev. William Barber, who heads the North Carolina unit of the National Association for the Advancement of Colored People.