Charlottesville Anniversary: Cities Brace for Protests One Year After 'Unite the Right' Rally
One year after the devastating alt-right marches in Charlottesville, Virginia, led to the death of 32-year-old Heather Heyer and dozens of injuries, white nationalist groups are planning a follow-up rally outside of the White House.
White supremacist Jason Kessler has obtained a permit for an August 12 "white civil rights rally," and he's expecting between 100 and 400 people to show up. Unlike last year's protest, torches of all kinds will be banned.
Counterprotests are also planned and are expected to be multiple times the size of Kessler's march. Anti-fascist groups have reserved parts of Lafayette Park in Washington, D.C., which can accommodate up to 1,500 people. Black Lives Matter, along with other activist groups, has also reserved D.C.'s Freedom Plaza, where they plan to burn a Confederate flag. The plaza can accommodate up to 1,000 protesters.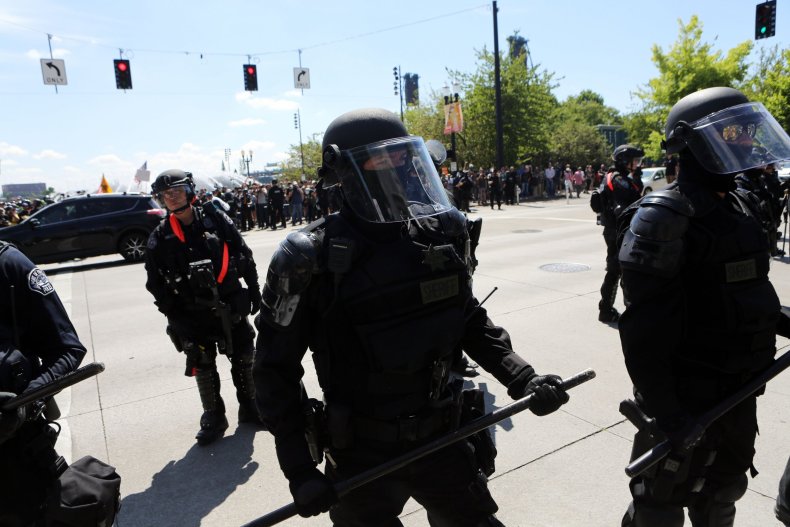 While local police don't expect a repeat of last year's violence, they are preparing for all outcomes. "The ultimate goal will be to make sure nobody is injured and nothing gets broken," D.C. Metropolitan Police Chief Peter Newsham told press on Thursday. "We would ask everyone who attends not let their personal passions overcome their civility."
Newsham plans to keep protesters separated in an attempt to prevent the injuries that occurred when the groups encountered each other in Charlottesville last year.
"Law enforcement's goal during the entire operational period will be to keep the two groups separated," Newsham said. "What we have seen in the past, when these two groups have been in the same place at the same time, it leads to violent confrontations."
Newsham also added that he is "anticipating the unanticipated," and is ready to quickly end any unsanctioned protests, like the infamous tiki torch march that occurred last year on the University of Virginia campus.
Virginia governor Ralph Northam, meanwhile, has declared a state of emergency in Charlottesville in anticipation of any anniversary rallies and protests that will take place in the city this weekend. The Virginia Department of Emergency Management, Virginia State Police, Virginia Department of Health and Virginia National Guard will also send extra resources and manpower in an attempt to keep the peace.
While Virginia officials did not comment on any planned marches or protests, a security perimeter with checkpoints will be set up around downtown Charlottesville beginning Friday evening. Northam appealed to potential protesters to "make alternative plans to engaging with planned demonstrations of hate."