Four Alleged White Supremacists Who Participated in 2017 Charlottesville Unite the Right Rally Arrested
Four California men who flew across the country to participate in the August 2017 Unite the Right Rally in Charlottesville, Virginia, were arrested and charged with conspiracy and violating the federal riots statute, the United States Attorney for the Western District of Virginia announced on Tuesday.
A criminal complaint and affidavit filed in court on Tuesday says that the men traveled to Charlottesville "with the intent to encourage, promote, incite, participate in, and commit violent acts in furtherance of a riot."
The four individuals are allegedly members of the anti-Semitic militant racist hate group Rise Above Movement, which is based in Southern California.
A statement published Tuesday by the office of Thomas T. Cullen, the United States Attorney for the Western District of Virginia, said that the men "committed multiple acts of violence against counterprotestors at the Unite the Right Rally in Charlottesville, which in some cases resulted in serious injuries."
The suspects, Benjamin D. Daley, Thomas W. Gillen, Michael P. Miselis and Cole E. White, ranged in age from 25 to 34. Each defendant faces up to 10 years if convicted of both traveling to incite riots and conspiracy to riot, Associated Press reported.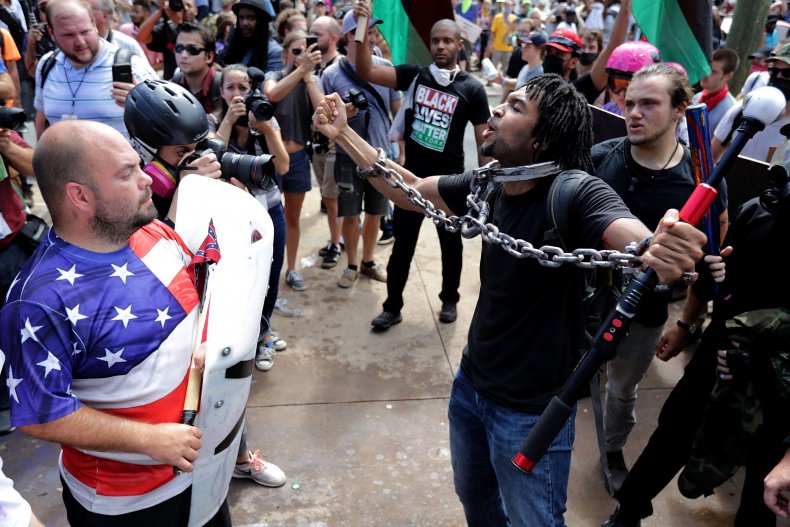 "This case should serve as another example of the Department of Justice's commitment to protecting the life, liberty, and civil rights of all our citizens. Any individual who has or plans to travel to this District with the intent to engage in acts of violence will be prosecuted and held accountable for those actions," Cullen said in the statement.
"Daley, Miselis, Gillen and White, while on their way to the Unite the Right rally in Emancipation Park, and with their hands taped ready to do street battle, committed multiple acts of violence including punching, kicking, head-butting and pushing numerous people," Cullen said, according to NBC News.
Counterprotesters arrived at the Charlottesville rally to challenge the conglomeration of white nationalists, Ku Klux Klan members and neo-Nazis, who came armed with clubs, bats and guns, The Washington Post reported. Some counterprotesters also brought weapons. Law enforcement personnel did not break up the violence that erupted and did not arrest a white nationalist who was recorded firing his gun.
In addition to the myriad injuries resulting from violent clashes, Heather Heyer, a 32-year-old paralegal, was killed when James Alex Fields Jr. plowed his car into counterprotesters she was marching with. Fields has been charged with first-degree murder by the state and faces 30 federal charges, including 29 hate crimes, according to Associated Press.