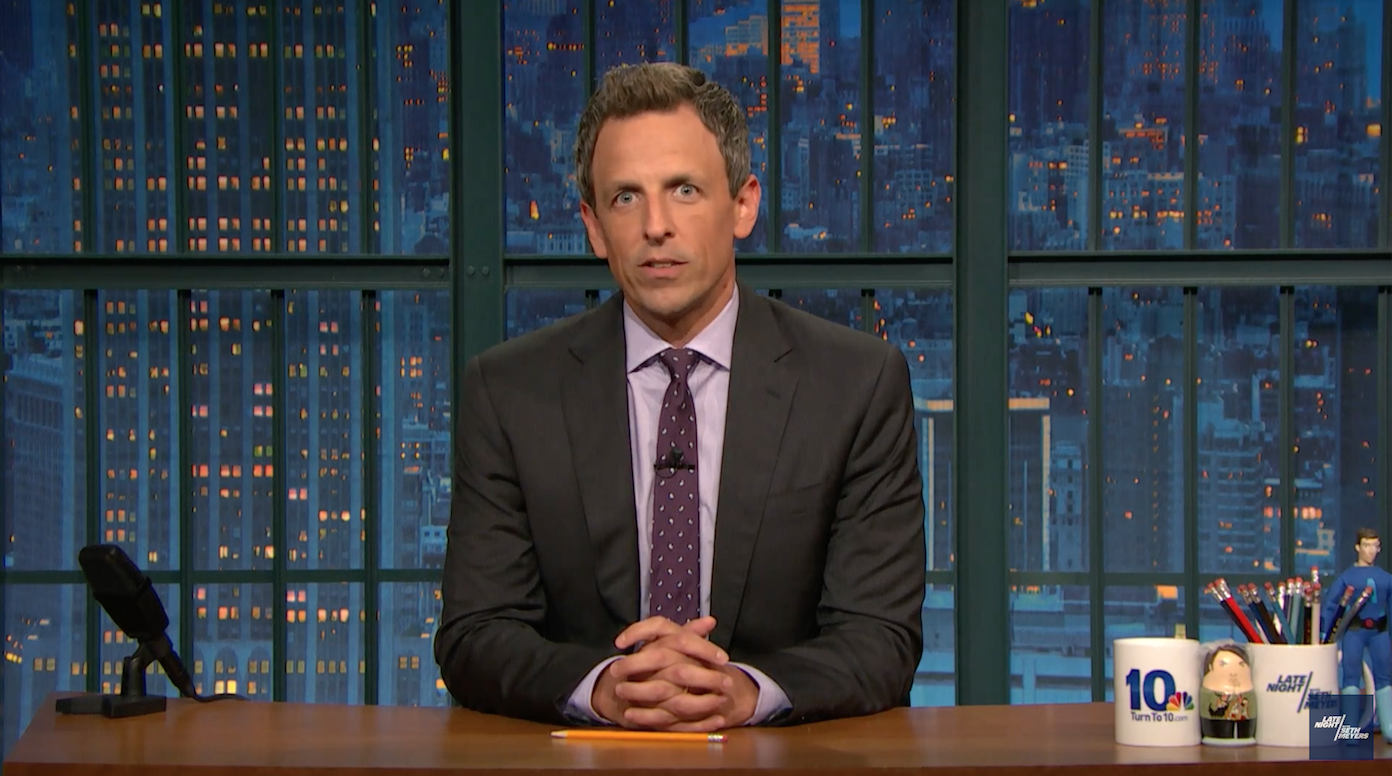 With the exception of the president, America's condemnation of white supremacists following the tragedy in Charlottesville, Virginia, was swift and direct. On Monday night, late-night hosts took the first opportunity they had to speak out against hate, and against Trump's initial unwillingness to do the same.
Jimmy Fallon and Seth Meyers all delivered sobering monologues about what transpired over the weekend. Jimmy Kimmel, Stephen Colbert and James Corden also addressed the issue, albeit in a more comical fashion, delivering repeated jabs about Trump's ineptitude.
Related: After Charlottesville attack, Trump retweets meme of train running over CNN
Unsurprisingly, it was Meyers who hit Trump the hardest. His monologue on Monday may have been the most forceful condemnation of a president we've ever seen from a late-night host. "It was a horrifying incident that left most of the country stunned and terrified, but on Saturday you didn't hear her name or the terrorist's name or even the word terrorist from our president," he began.
In response to Trump's "on many sides" comments on Saturday, Meyers questioned the president's character. "On many sides? If that choice of words made you feel sick to your stomach, the good news is you're a normal and decent person," he said. "The jury is still out on the president, as he initially refused to condemn the white supremacist movement in this country."
He wasn't close to being finished, though. He concluded the monologue by running down a recent history of Trump's racism, ending with the thought that Trump isn't even a president at all, as he is incapable of presiding over the country.
"Some people ignored it or played it down when Donald Trump claimed our first black president wasn't born in this country. It was racist and insane but he was written off as a clown, a bitter little clown that didn't know an American could have a name like Barack Obama. Then he called Mexicans rapists during the speech announcing his candidacy. He called Elizabeth Warren Pocahontas. Then he brought Steve Bannon to the White House with him, worked to take away voting rights from black people and hammered away at the idea that Chicago was a wasteland because of the violent black people living there. Now white supremacists and American Nazis are visible, energetic and demonstrative in a way we've not seen in our lifetimes. Donald Trump did not immediately denounce the white supremacist movement when given the chance, and now, whether he knows it or not, many of those people see him as leading that movement. The leader of our country is called the president because he is supposed to preside over our society. His job is to lead, to cajole, to scold, to correct our path, to lift up what is good about us and to absolutely and unequivocally and immediately condemn what is evil in us. If he does not do that, if he does not preside over our society, then he is not a president. You can stand for a nation or you can stand for a hateful movement, but you can't do both. If you can't make the right choice, then I'm confident that the American voter will."
Another highlight from Monday night was Fallon's condemnation of the president. The Tonight Show host has come under fire for playfully tousling Trump's hair during the presidential campaign, but on Monday he didn't hold back.
"The fact that it took the president two days to come out and clearly denounce racists and white supremacists is shameful," he said. "I think he finally spoke out because people everywhere stood up and said something. It's important for everyone, especially white people in this country, to speak out against this. Ignoring it is just as bad as supporting it."
Jimmy Kimmel mocked how thoroughly Trump botched his response to Charlottesville. "There were two sides, not many sides, and one of those sides had Nazis on it," he said. "All you had to do was condemn the Nazis. It shouldn't have been a difficult thing. It's not exactly a controversial stance."
Before talking with Anthony Scaramucci, Stephen Colbert also took a few shots at the president's failure to condemn Nazis, while James Corden ran down things Trump has renounced faster than white supremacy.
It was a clean sweep for late-night hosts bashing the president's response to Charlottesville. We think it's safe to say Trump will never appear for a TV interview after 10:30 p.m. again.