Charlottesville: FBI, DHS, Obama and Clinton All Warned of White Supremacist Threat, but Is Trump Listening?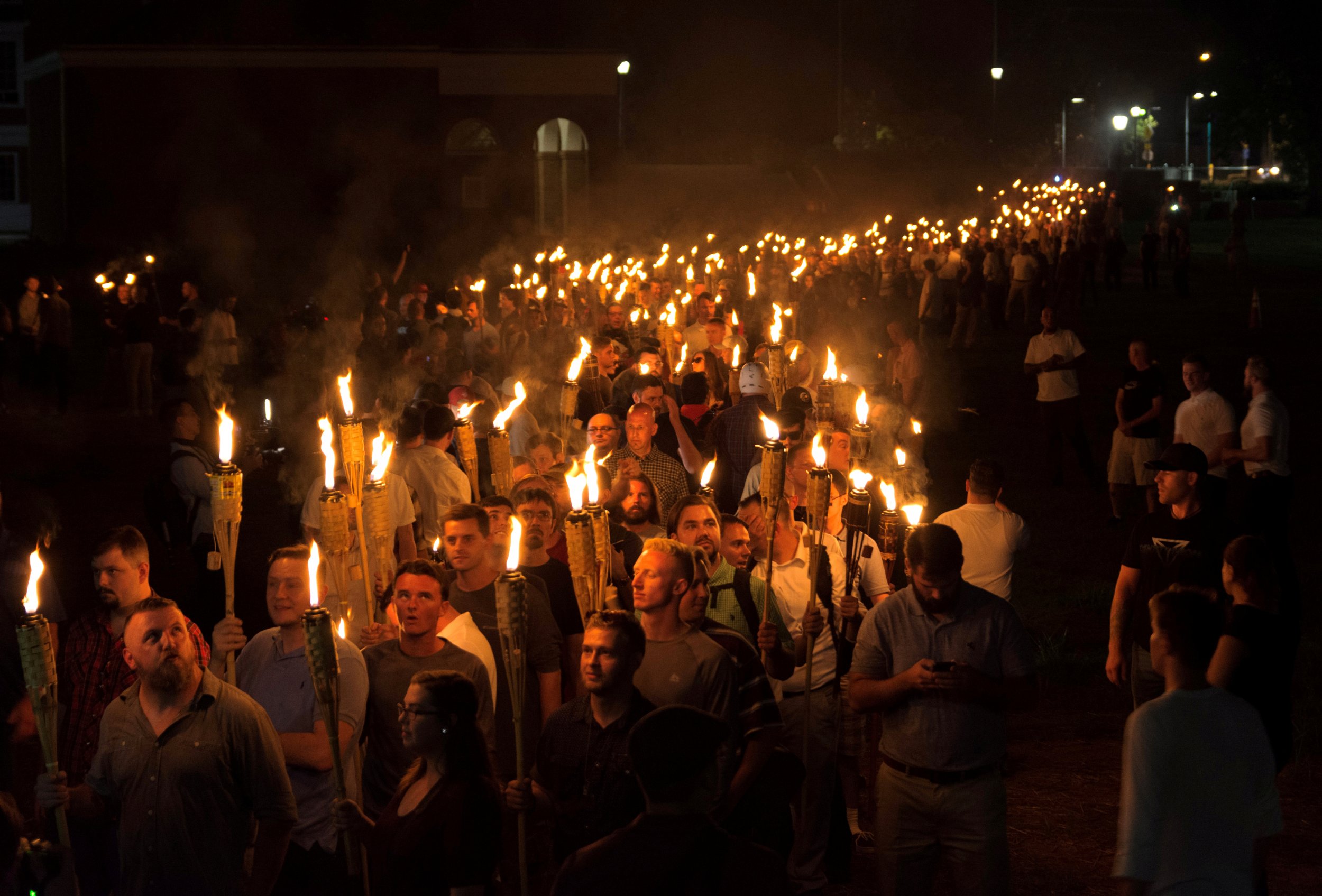 President Donald Trump finally condemned white supremacists on Monday, two days after a car-ramming left one woman dead in Charlottesville, Virginia, calling racism "evil." His failure to single out members of the Ku Klux Klan, neo-Nazis and other members of the white supremacist movement for so long drew criticism from across the political spectrum. By Sunday, he had only decried "hatred, bigotry and violence on many sides."
His slow reaction angered his critics even more as they were in the knowledge that a range of authority figures had warned Trump of the threat that white supremacists posed months before James Alex Fields Jr. plowed his car into counter-protesters, killing Heather Heyer. An intelligence bulletin obtained by Foreign Policy, entitled "White Supremacist Extremism Poses Persistent Threat of Lethal Violence" and dated May 10, shows that the FBI and the Department of Homeland Security briefed Trump as recently as May, at least indirectly, about the threat of the white supremacist movement and the threat of further attacks by members of this ultra-conservative group.
"We assess lone actors and small cells within the white supremacist extremist movement likely will continue to pose a threat of lethal violence over the next year," the bulletin reads.
The FBI explicitly says in the briefing that white supremacists are to blame for the majority of domestic extremism. They "were responsible for 49 homicides in 26 attacks from 2000 to 2016…more than any other domestic extremist movement," the document states.
Not only have the security services warned Trump about the threat of white supremacists, but so too have his Democratic rivals and predecessors.
Barack Obama, days before Trump's election win over Hillary Clinton, took aim at Trump for refusing to decline the support of former KKK leader David Duke. "If you accept the support of a Klan sympathizer, the Klan, and hesitate when asked about that support, then you'll tolerate that support when you're in office," he said at a North Carolina rally.
Trump, when questioned about Duke's support on CNN in February, said: "Just so you understand, I don't know anything about David Duke, OK?"
Clinton herself targeted Trump for allowing far-right sympathies to creep into his campaign, as well as his hiring of Breitbart CEO Steve Bannon, who used the news website as a "platform for the alt-right," the Clinton campaign said on its website. It also posted images shared by Trump and his son Donald Trump Jr. on Twitter that included Pepe the Frog, a cartoon or meme that has become a "symbol associated with white supremacy," the campaign said.
In an August 2016 speech in Nevada, Clinton chastised Trump for "taking hate groups mainstream," and permitting a "radical fringe" to become prominent within the Republican Party. "There's no other Donald Trump. This is it," she said.
Rights groups such as the Southern Poverty Law Center (SPLC) have warned that far-right "bigots" have been "emboldened by the Trump presidency" and criticized both Trump and the White House for failing to even mention the Charlottesville showdown when it was known that the "Unite The Right" march would be taking place, and met by counter-protests.
"From the day he came down the escalator in the tower that bears his name, Trump consciously poured fuel on the fire," the Southern Poverty Law Center said in a release after the Charlottesville clashes.
Researchers from the Center for the Study of Hate and Extremism at California State University said in February that hate crimes across nine metropolitan areas of the U.S. rose more than 20 percent in 2016 because of the presidential campaign and Trump's victory.
While such hate crimes have continued to rise, Trump came under fire again in February for failing to quickly condemn anti-Semitic bomb threats and the desecration of Jewish cemeteries. He came out against the hate-fueled incidents but again was criticized for the time it took. The SPLC has pointed to his rhetoric about Mexicans ("rapists"), Muslims ("total and complete shutdown" of them entering the country"), and a Black Lives Matter activist beaten up at one of his rallies in Birmingham, Alabama ("maybe he should have been roughed up").