Former KKK Member, Charlottesville Marcher Now Denounces Hate Groups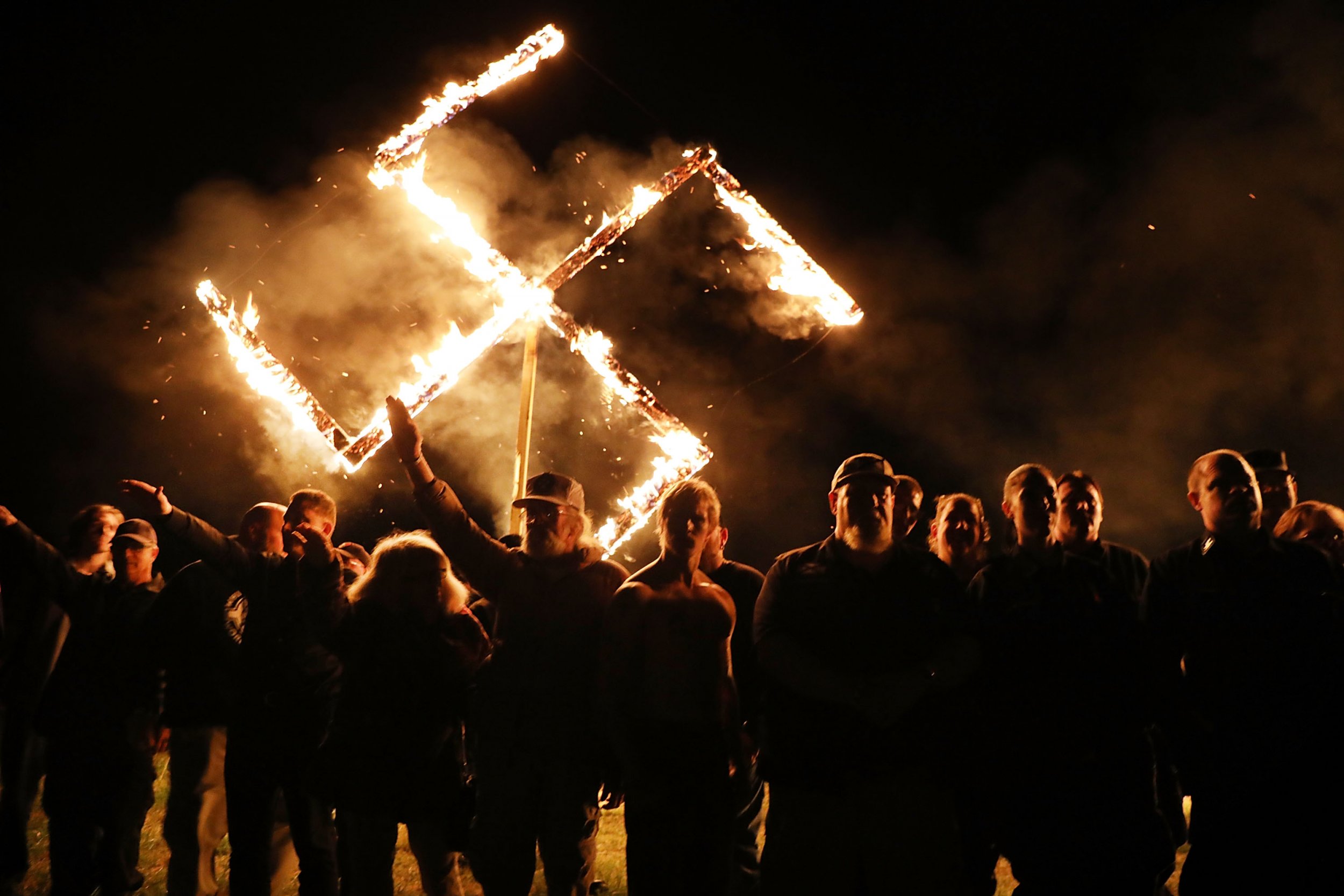 He marched alongside the hundreds of white nationalists in Charlottesville, Virginia, last year. He was a member of the Klu Klux Klan for years. He wore a green KKK robe when he and other members burned crosses.
Nearly one year after the deadly Unite the Right rally that ultimately left three people dead and dozens injured, Ken Parker now denounces the very hate groups he used to walk among.
"When you give somebody from a different background the chance to sit down and exchange ideas with, these people aren't bad people," Parker said.
Speaking with NBC News this week, the Jacksonville, Florida, man said seven months after the rally, something happened that would forever change his views on people who had a different color of skin: a black pastor invited Parker and his fiancée to attend his church.
"When we make it to heaven, it's not going to be one race," William McKinnon III, a pastor at All Saints Holiness Church, told NBC. "There's going to be all kinds of races up there."
"They actually care about you," Parker said, who was part of the white nationalist movement for six years. "They show you love. Why hate these people just because they have different color skin than you?"
Thanks to McKinnon's 70-person congregation made up of nearly all black members with only three white people, including Parker and his fiancée, he now prays alongside the people he used to march against in hatred.
"I said I was a grand dragon of the KKK, and then the Klan wasn't hateful enough for me, so I decided to become a Nazi — and a lot of them, their jaws about hit the floor and their eyes got real big," Parker said. "But after the service, not a single one of them had anything negative to say. They're all coming up and hugging me and shaking my hand, you know, building me up instead of tearing me down."
With the one-year anniversary of the Charlottesville rally on Sunday, white nationalists from across the country will band together once again to hold an anniversary rally. But this time, they'll be in Washington, D.C., led by the same man who planned last year's event, Jason Kessler. With his sights originally set on returning to Charlottesville to hold his anniversary rally, Kessler recently gave up his lawsuit against the city after his permit was denied.
Virginia Governor Ralph Northam declared a state of emergency Wednesday, out of a sense of caution, that will last through Sunday. The city of Charlottesville also declared a state of emergency, preparing resources for any possible confrontation that may arise. The white nationalist anniversary rally in Washington will take place less than a three-hour drive from Charlottesville.
Hundreds of neo-Nazis, alt-right groups and KKK members descended on the town last year on August 11. With many engaging in violent clashes with counter-protesters while armed, the violence resulted in the death of 32-year-old Heather Heyer.
She was killed after 21-year-old James Alex Fields Jr. allegedly plowed his car into a group of counter-protesters, killing the woman and injuring dozens more. Two Virginia state troopers also died that day when their helicopter crashed after assisting officials with the ongoing violence.