Charlottesville Mayor Calls Robert E. Lee Statue Removal a 'Step Closer' to Helping America
The mayor of Charlottesville, Virginia, praised the removal of a Robert E. Lee statue on Saturday morning, as city officials lifted the monument from its pedestal nearly four years after the turbulent "Unite the Right" rally.
Speaking to reporters Saturday, Mayor Nikuyah Walker noted that removing the statue of the Confederate general will bring Charlottesville "one small step closer" to reconciling with a violent racial history.
"Taking down this statue is one small step closer to the goal of helping Charlottesville, Virginia, and America, grapple with the sin of being willing to destroy Black people for economic gain," Walker said, as workers began hoisting the statue from its position.
An additional monument of Confederate general Stonewall Jackson was also removed from the city on Saturday.
City officials announced on Friday that the two statues would be removed from Market Street Park and Court Square Park, nearly four years after a white supremacist rally against the statue's initial proposed removal left one dead and dozens injured.
In 2017, the "Unite the Right" rally was organized in response to a city council proposal to remove the statue and rename a park dedicated to Lee. At that time, several efforts were made across the south to remove Confederate monuments and rename public spaces honoring Confederate figures after a 2015 deadly shooting in Charleston left nine African Americans dead.
But in an effort to stop the statue's removal, the "Unite the Right" rally led to further racial and social unrest, as white supremacist protesters violently clashed with counter-protesters. One woman, Heather Heyer, was killed when a man drove into a crowd of pedestrians. Dozens of others were injured as the violent clashes carried on for more than a day.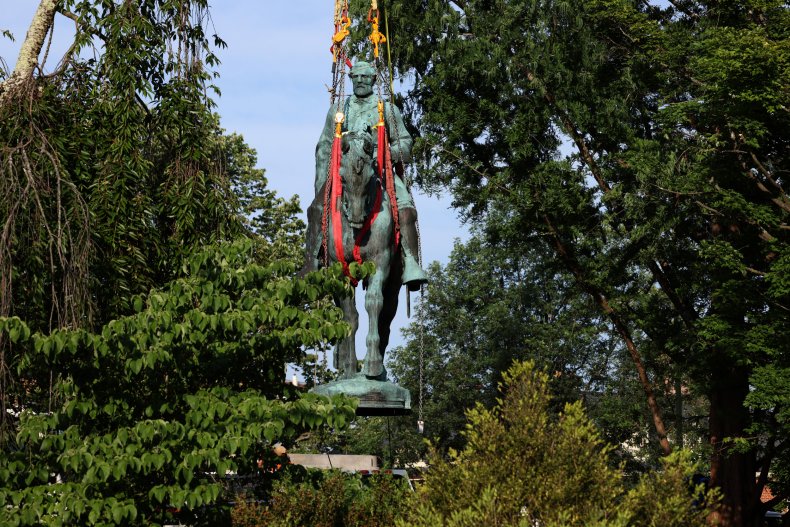 Now, after years of contention, protests, and lengthy litigation, the statues will be moved into storage until their final disposition is decided on by the city council. The stone bases of each statue will be left temporarily and removed at a later date.
Crowds of people were seen cheering in the park on Saturday as the both statues were removed. The city designated a public viewing area for community members to watch.
Jim Henson, who lives in nearby Barboursville, told the Associated Press on Saturday he came to witness the "historic" event. Though police were lined across the block in the event of unrest, Henson said watching the statue's removal was a "good atmosphere."
"Good atmosphere, good vibes, good energy," he told the news outlet.
Updated 3:24 PM ET, to indicate the Jackson statue was later removed.