Charlottesville Mayor Nikuyah Walker Compares City to Being Raped, Keeping It Secret
In a social media post, Charlottesville, Virginia Mayor Nikuyah Walker, compared the city to a rapist that "tells you to keep its secrets."
"Charlottesville: The beautiful-ugly it is. It rapes you, comforts you in its cum stained sheet and tells you to keep its secrets," she wrote in a Wednesday morning Facebook post.
Later, on Facebook, she expanded on her first post by also comparing the city with a lynch mob.
"It covers your death with its good intentions... White people say that it is a place where gentrification started with the election of a Black women in 2017 and because of white power, a lie becomes #facts," she wrote.
"Its daily practice is that of separating you from your soul," she continued. "Charlottesville is devoid of a moral compass... Charlottesville rapes you of your breaths. It suffocates you of your hopes and dreams.... Charlottesville is anchored in white supremacy and rooted in racism. Charlottesville rapes you and covers you in sullied sheets."
Facebook temporarily removed the post for violating community standards, according to WCAV. Though Walker reposted the images to her Twitter account, the posts have since been restored to her Facebook wall.
"It looks like FB took me out of FB jail. I guess my post didn't violate their policies," she wrote on Facebook at 4:38 p.m. local time.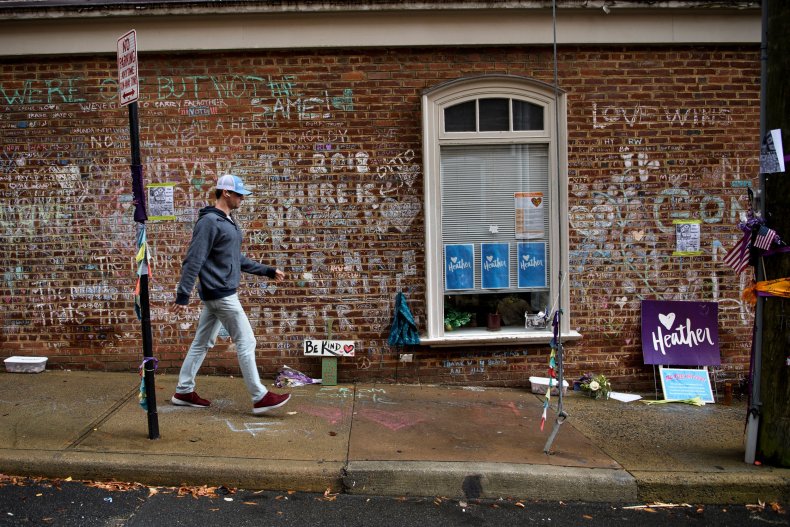 By 6:45 p.m. on Wednesday, the image of her first post has 192 retweets, 1,289 quote tweets and 546 likes on Twitter. The image of her second post has 56 retweets, 251 quote tweets and 162 likes on Twitter.
Since publishing the posts, Walker has since posted a few more images onto Facebook which read, "Never force anything. Just let it be. If it's meant to be, it will be," and "My art doesn't understand you either."
A spokesperson at the Charlottesville Public Relations office told Newsweek, "The City of Charlottesville does not have a comment."
Newsweek contacted Walker for comment.
On August 11 and 12, 2017, Charlottesville was the site of the white supremacist "Unite the Right" rally. The event, which organizers assembled in order to unite the white nationalist movement and protest the removal of a local Confederate statue, attracted neo-Confederates, neo-Nazis, Klansmen and right-wing militia members amongst others.
During the event, self-identified white supremacist James Alex Fields Jr. plowed his car into a crowd of counter-protesters, injuring 19 people and killing 32-year-old Heather Heyer. By the morning of August 12, Virginia Governor Terry McAuliffe declared a state of emergency, and requested additional help to protect against unrest in the city.
The city also has a long history of racism and activity by the Ku Klux Klan.
Walker became the city's first Black female mayor in November 2017. She ran for the office as an independent under the campaign slogan, "Unmasking the illusion." In an interview with Vinegar Hill Magazine, she said she wanted to reveal the city's social inequalities and governmental failings to meet them head on.
"I don't know a Black native person [in Charlottesville] who does not have a significant percentage of their family who's either been incarcerated or is still incarcerated," she said in an August 2018 interview with The Guardian. "There is poverty all around, and all the trauma that goes with poverty, you see it on a day-to-day basis."