Neo-Nazi Man Convicted for Domestic Terrorism in Amtrak Train Attack Marched in Charlottesville Rally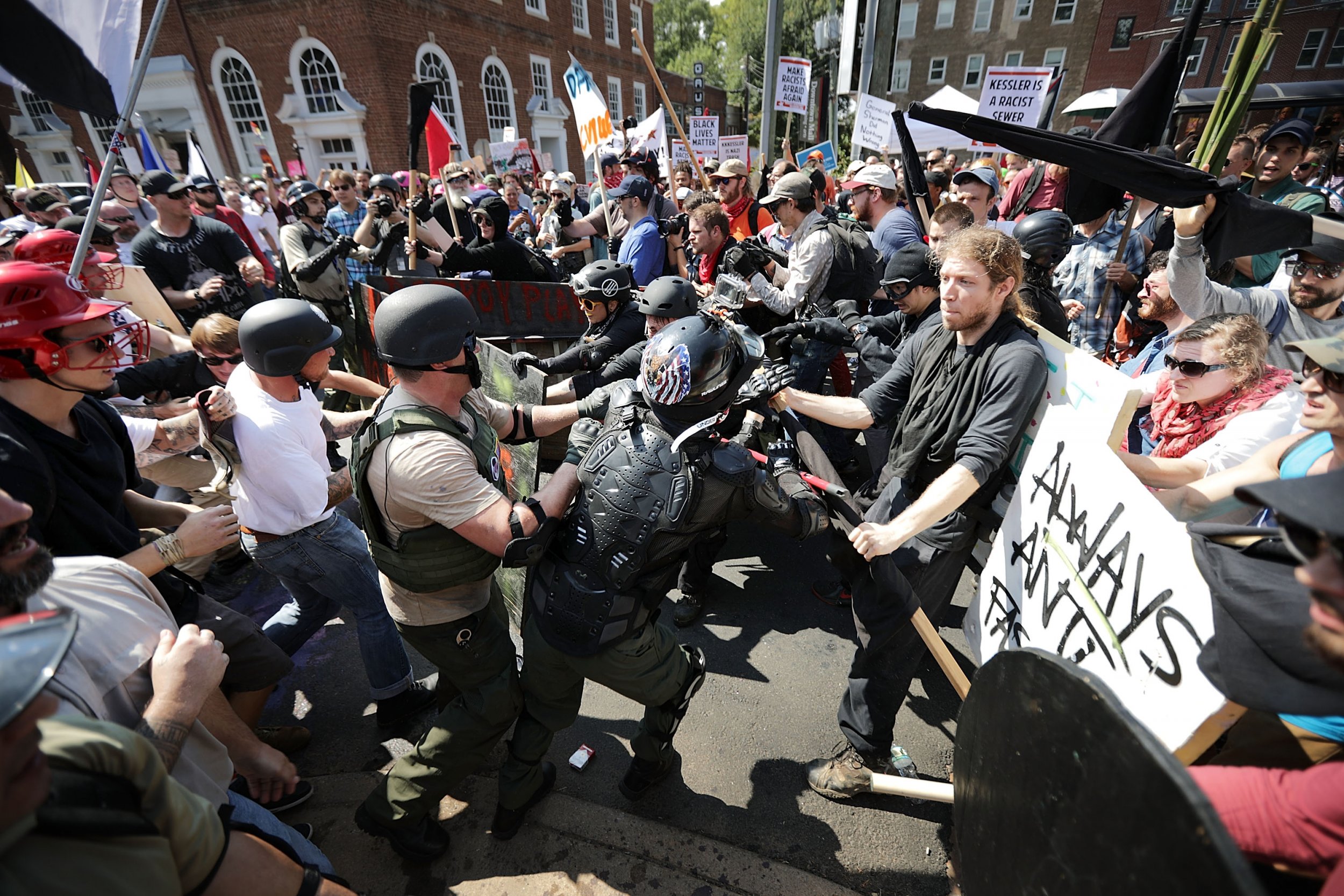 Taylor Wilson of St. Charles, Missouri, was sentenced to 14 years in prison by a federal judge in Nebraska on Friday. The 26-year-old pleaded guilty to domestic terrorism charges stemming from his armed attack of an Amtrak train last year in Nebraska.
Wilson is also a card-carrying neo-Nazi who was caught on camera at the white nationalist "Unite the Right" rally in Charlottesville, Virginia, in August 2017, an event that turned deadly after James Alex Fields allegedly drove his car into a group of counterprotesters. In multiple pictures and videos posted online, Wilson can be seen holding a shield, fighting with counterprotesters and standing next to Fields during the rally.
A few months later, in October 2017, an Amtrak train traveling through Nebraska after beginning its journey in California was brought to a halt. Armed with a .380 caliber handgun, Wilson hijacked the train after entering a "secured engine compartment of the train" that was off-limits to unauthorized personnel. He then disabled the train by pulling an emergency brake and cut off the lights to leave the 175 passengers on board in darkness, according to Wilson's plea agreement. (Wilson later told a cellmate he "dropped acid" just prior to loading his weapon and entering the secured part of the train.)
Wilson was eventually subdued by three conductors until police arrived, which took two sheriff's departments more than 30 minutes because of the train's remote location.
Wilson told deputies he planned to "save the train from the black people." FBI investigators later found more weapons, tactical gear and white supremacy documents stored in a secret compartment of Wilson's home.
He was charged in December 2017 on terrorism charges and for possessing an unregistered 9 millimeter CZ Scorpion EVO 3 S1 rifle, which Wilson had converted to a short rifle. The gun was one of 15 handguns and rifles that Wilson's father provided to FBI agents, including ammunition, magazines and a tactical body armor carrier with ceramic ballistic plates, according to an FBI affidavit.
The affidavit alleged Wilson broke the federal criminal law of "entering a train to commit crime and terrorist attacks and other violence against railroad carriers and against mass transportation systems on land, or water, or through the air…by illegally entering a restricted area and engaging the emergency braking system with intent to harm those aboard on an interstate rail service/carrier (Amtrak) engaged in interstate commerce."
During Wilson's sentencing Friday, U.S. District Judge John Gerrard called Wilson a "gun-toting, angry...white supremacist," saying Wilson could "either renounce the white supremacist nonsense that you've been fed and go back to the way you were raised as a young man or you can coddle up to plenty of other white nationalists that you will find incarcerated."
The U.S. does not currently have specific statutes on domestic terrorism, which is the reason Fields was charged with dozens of federal hate crimes rather than domestic terrorism for allegedly killing Heather Heyer after hitting her with his car. Wilson's terrorism-related charge was because federal law specifically mentions terrorism attacks against "railroad carriers and against mass transportation systems on land, or water, or through the air."
Mary McCord, a Georgetown University law professor and former acting assistant attorney general at the Justice Department, told Newsweek in June that if the U.S. were to create a federal domestic terrorism charge, it would require the designation of domestic terrorist organizations. That, McCord said, is not easy to do because of First Amendment protections.
"How would we designate…when an organization is a terrorist organization and not just expressing ideological views?" she said. "Then it becomes controversial."