Charlottesville Repeat? Alt-Right Rally With Guns Expected to Be Met By Antifa Counter-Protesters In Portland
As the one year anniversary of a deadly white supremacist march in Charlottesville, Virginia, approaches, some in Oregon fear that an alt-right rally this weekend could become similarly violent.
The rally is scheduled for Saturday and was organized by Patriot Prayer, a conservative group in the area founded by far-right congressional candidate Joey Gibson. The rally had been planned for months, but a last minute location announcement has Portland officials worried the demonstration could become as violent as the "Unite the Right" rally in Charlottesville last August.
Gibson posted on Facebook that the rally would convene at the Salmon Street Springs water fountain at Tom McCall Waterfront Park in Portland. The location would allow the "Freedom March" participants to carry guns, according to The Oregonian. While the city of Portland bans weapons in parks, those with a valid Oregon concealed handgun license are allowed. Portland officials are quickly looking to see if there are any options to restrict gun-carrying protesters, a police spokesperson had told the newspaper earlier this week.
According to the event page on Facebook, armed security buses will be transporting protesters from Washington to Portland to participate in the rally. While Gibson is running for Senate in Washington, he rallies and marches in Oregon. The group's Facebook message writes that "as most of you know the Vancouver Police do not put up with masked criminals like they do in Portland."
The post also warned marchers not to wear anything that identifies them as part of the Patriot Prayer organization. "Wear normal clothing and get to Salmon Street Springs from the multiple different ways in," the message read.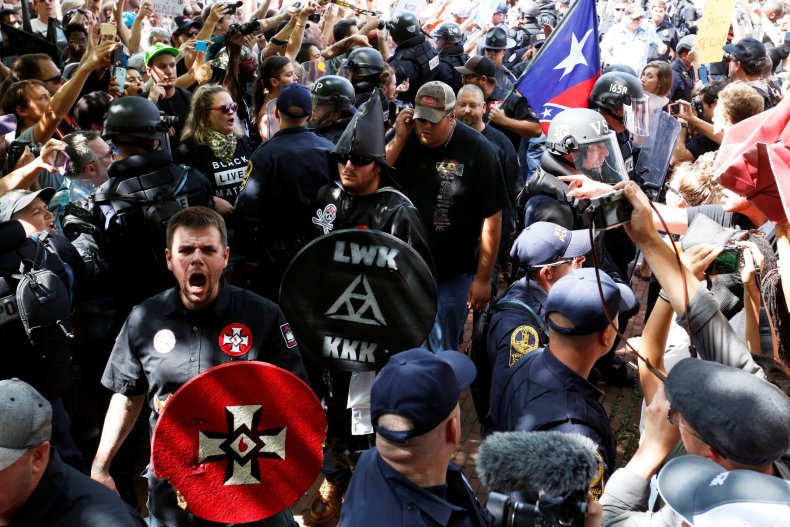 A counter-protest has already been set up against the alt-right "Freedom March." According to its Facebook page, titled "Resist Patriot Prayer: Violent Alt-Right Bigots Off Our Streets," the group is willing to use physical force if necessary against "Joey and his Alt Right goons." Nearly 1,000 people have expressed interest in going to the counter-protest. The group identifies itself as Antifa, who are leftist radicals who fight against the advancement of white supremacy and fascism.
"History has shown that militant resistance is a necessary and important tool in the fight against fascism. We make no apologies for the use of force in keeping our communities safe from the scourge of right-wing violence," part of the message read.
The note goes further, stating: "We may not be muscle bound gym rats, we certainly aren't the sort of sadistic bullies we are facing, but never the less we have to go out there and be the ones willing to physically protect people already under attack in our communities."