Charlottesville Rally Victim's Mother on Trump: 'I Don't Know of Anything He Has Done' to Address Hate in U.S.
This weekend will mark the one-year anniversary of the Unite the Right rally and counterprotests in Charlottesville, Virginia, that ended with the death of Heather Heyer. The 32-year-old paralegal was protesting against neo-Nazis and white supremacists who descended upon her city in response to the possible removal of a Confederate statue of Robert E. Lee. These white nationalist movements were armed with guns and weapons, and espoused a belief that nonwhite races, like blacks and Hispanics, are inherently inferior. Heyer was killed, prosecutors say, when 21-year-old James Alex Fields Jr. drove his car into the crowd.
In a CNN interview with Anderson Cooper last August, Heyer's mother, Susan Bro, memorably addressed Fields (who has since been charged with multiple hate crimes). "This wasn't a video game, buddy. This was real people. There are consequences to what you did," she said. "I'm going to be the voice that [Heather] can no longer be. You gave us a national forum, and maybe I should thank you for that, but I can't. I'd rather have my child."
In the months since, Bro made good on that promise, establishing the Heather Heyer Foundation, a social justice nonprofit in Charlottesville that began as a scholarship fund. It was a dramatic shift for the retired elementary school teacher, but her daughter's death made Bro want to "help educate the next generation of activists, advocates and allies pushing for nonviolent social change." On August 1, just before delivering a speech to hundreds of African—American students at the 2018 Ron Brown Scholar Program conference, she spoke to Newsweek about her daughter and that tragic day. This interview has been edited.
Looking back, what strikes you most about August 12, 2017?
Oh, the hatred that boiled up. It's not that it was new. It's not that it never existed. It's not that the issues hadn't existed for long before. But most of us were not paying attention to the level of hatred that existed.
How did you hear about your daughter's death?
Her best friend called to say that the car had hit her. I didn't know what he was talking about. I was not paying attention to the news. I knew about [the rally] but figured they were a bunch of buffoons who would be laughed out of town. I had no idea that a full-scale war had taken place—and, of course, I had no idea about the car driving into the crowd.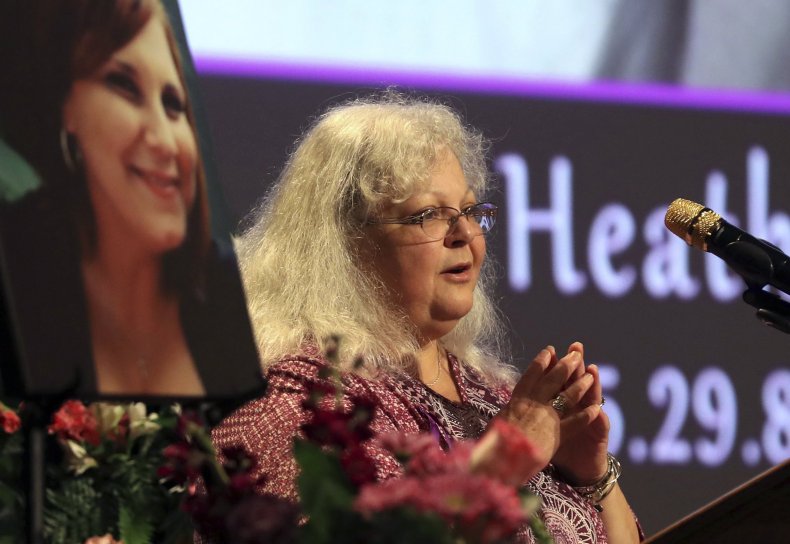 Shortly after the riots, President Donald Trump said there was "blame" to be placed on "both sides." Do you believe that to be true?
I don't know what blame he thinks there was to be placed [on the counterprotesters]. I don't know what he thought the local people were going to do when hate was brought to town—say "Thank you" and "Welcome" and "We're glad you came"? Of course, people are going to respond negatively to viciousness! But it wasn't all outsiders; there were people who were part of the problem here as well. And not a lot has changed in the last year here, unfortunately.
What is the remedy to hate?
People talking to one another. We have to have those difficult conversations and get to know people that we are not normally talking to. Let's get behind the stereotypes and really meet people and get to know who they are.
Do you think Trump has done enough to address the issues that led to the events in Charlottesville?
I don't know of anything that he has done. He signed a joint resolution [introduced by Democratic lawmakers, urging the president to condemn hate groups]. I guess he felt like he had to do that. Has he done anything else?
There's a record number of white supremacists and neo-Nazis running for office this year. What do you make of that?
I don't know if it has to do with the riot, but I think that there is a general rise of an acceptance of hate in the country, and so white supremacists certainly feel more emboldened to run for such things. It's dismaying! But look at our history: Every 50 or 60 years, we go through something similar. We again need to rise to meet the hate and address it.
I certainly hope people pay more attention at this midterm election. I think if they had paid more attention to the presidential campaigns in the past, and not simply voted a party line or voted against an opponent, things might have turned out a little differently.
Given the opportunity to speak directly to a neo-Nazi or white supremacist, what would you say?
Think for yourself. Don't drink the Kool-Aid. I know that many of them are young and feel frustrated, but don't blame another race or another religion for your problems. They didn't cause them.
How would you like your daughter to be remembered?
She was a normal person who stood up for the right thing. That is Heather's legacy and what I speak to people about. You don't know what your impact will be, and you're not entirely responsible for that impact. What you are responsible for is making the effort when you see the opportunity. Obviously, we are not all called to die. That would be kind of pointless. But we are all called to step up and take a stand.