Charlottesville Rejects Alt-Right Rally Planned for 2018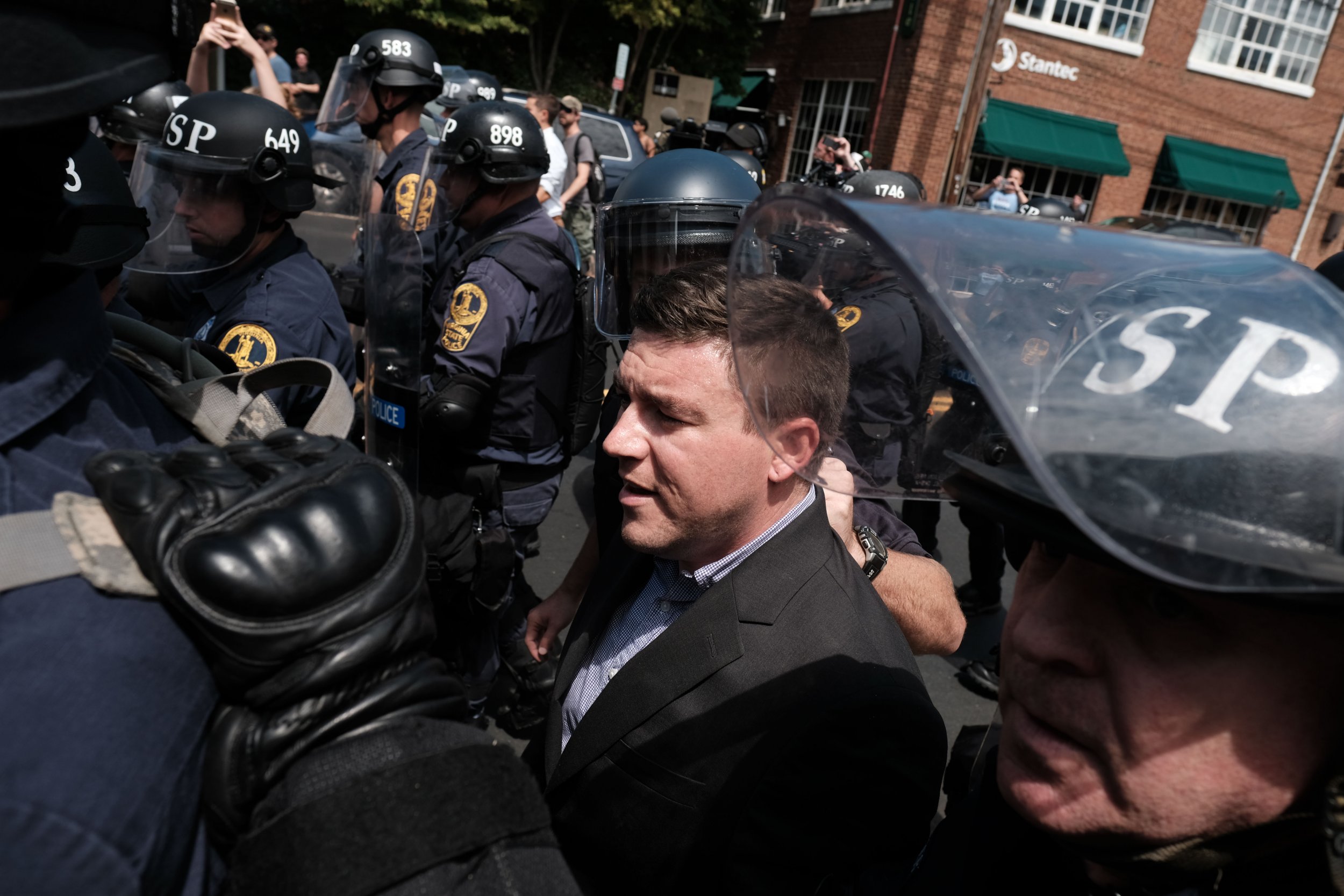 Organizers of the deadly Unite the Right white supremacist rally in Charlottesville last summer have been denied permits to hold a second rally in August 2018 on its anniversary.
On Monday the City of Charlottesville, Virginia, called the prospect of a second rally "a danger to public safety" in a document denying white nationalist organizer Jason Kessler permits to march in the city's Emancipation Park.
The city said it couldn't guarantee it has sufficient funds for police to keep the event free of violence.
Kessler organized the Unite the Right rally that brought white supremacists from across the U.S. to Charlottesville last August to ostensibly march in protest at the city's proposal to remove a statue of Confederate Army General Robert E. Lee, who led the Southern states during the Civil War in their fight to keep slaves.
Carrying tiki torches and Confederate flags, the protesters at the rally chanted "Jews will not replace us" and "blood and soil"—a German Nazi slogan.
Clashes in the streets with counter-protesters ended in the death of anti-racism activist Heather Heyer when a member of the hard-right rammed a car into a crowd of pedestrians, injuring 19 others. Earlier this month an independent report found police failed to provide enough protection during the rally.
Read more: 'Neo-Nazi cowards' return to Charlottesville with torches to stage white nationalist protest
Members of the KKK, neo-Nazis, and the alt-right—a group of white nationalists and conspiracy theorists—were at the rally.
In the wake of the violence, President Donald Trump blamed people "on both sides" for what happened. There were "some very fine people on both sides," Trump said.
Former KKK leader David Duke praised Trump's response because it didn't specifically target white supremacists.
Kessler wanted to hold the second event over two days on August 11 and 12, 2018 to "rally against government civil rights abuse and failure to follow security plans for political dissidents." Permits sought by one of his associates for events in Charlottesville's McGuffey and Justice parks were also denied on Monday.
Kessler said he will sue the city and vowed the 2018 rally is still on.
"Communist government of Charlottesville denies permits for multiple right-wing rallies including the Unite the Right Anniversary Rally. BUT WE WON'T BE STOPPED," Kessler tweeted.
"The *initial* permit decision is bogus. The rationale they give for denying it almost makes it seem like they want me to win. See you guys in court!" Kessler wrote. "Rally still happening in Charlottesville's Lee Park August 11-12th, 2018!"