Charlottesville Repeat Fears Lead Virginia Governor to Declare State of Emergency for Anniversary Weekend
Virginia Governor Ralph Northam declared a state of emergency Wednesday for Charlottesville, Virginia, in preparation for the one-year anniversary of last year's deadly white nationalist Unite the Right rally that left three dead and dozens injured. The state of emergency will last from Wednesday through the rally's anniversary Sunday.
Northam said because of anniversary events, rallies, and protests planned in Charlottesville and in nearby Washington, D.C., he ordered a state of emergency to "prepare and coordinate our response to ensure the protection of residents' lives, property, and Constitutional rights."
"I am urging Virginians to make alternative plans to engaging with planned demonstrations of hate, should those arise," Northam said in a statement. "Virginia continues to mourn the three Virginians who lost their lives in the course of the demonstrations a year ago. We hope the anniversary of those events passes peacefully."
The emergency declaration allocates $2 million to pay for the response and security provided by the Virginia State Police, Virginia National Guard and other state agencies that will be sent to Charlottesville and Northern Virginia, according to the governor's statement.
Local governments and businesses have already started preparing for a second Unite the Right rally planned for Sunday in Washington by many of the same white nationalist groups who attended last year's rally. Metro officials said last week they were considering putting white nationalists on separate trains in an attempt to minimize conflict.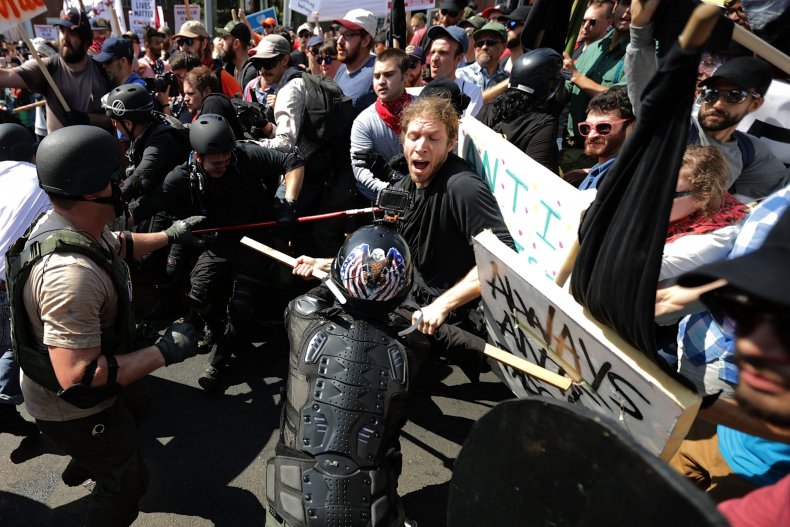 Jason Kessler, one of the primary organizers of last year's rally, gave up his lawsuit against Charlottesville last week after the city had previously denied his permit to host another event. Kessler said he would instead be focusing on his Washington rally, set to take place less than a three-hour drive from Charlottesville.
Numerous anti-racism protests are scheduled to take place in Charlottesville over the weekend.
Last year's August 11 Unite the Right rally brought out hundreds of neo-Nazis, alt-right groups and Ku Klux Klan members, many of them engaging in violent clashes with counter-protesters while armed. Three people ultimately died, including one woman who was killed after 21-year-old James Alex Fields Jr. allegedly plowed his car into a group of counterprotesters, killing the woman and injuring dozens more. Two Virginia state troopers died in a helicopter crash later that day after helping officials. At another point, a video showed a white nationalist shooting a gun at counterprotesters' feet.