Charlottesville Unite the Right Attacker did not Brake as he Drove into Crowd, Witness Says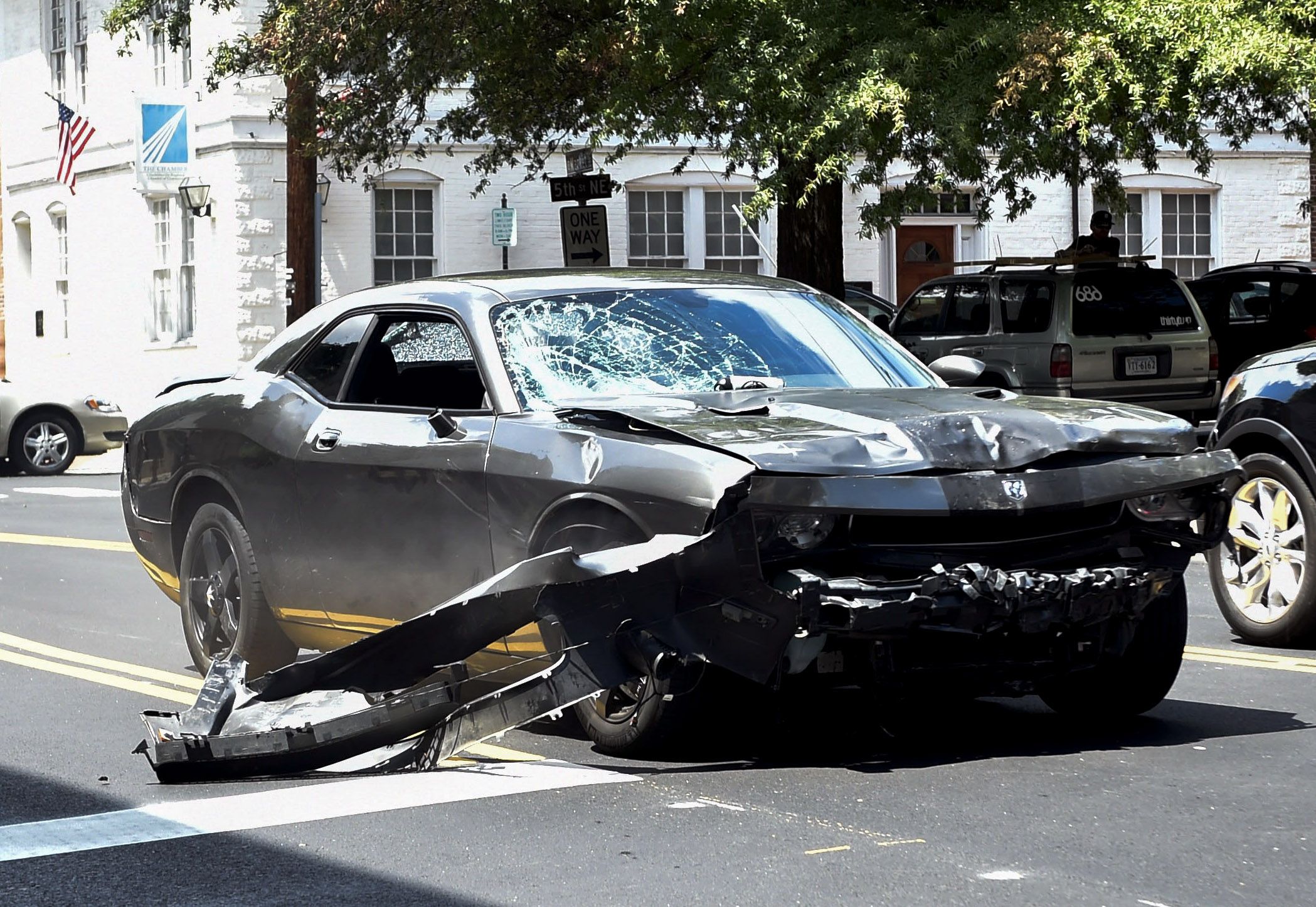 Charlottesville Unite the Right attacker James Fields Jr. showed no intention of slowing down as he ploughed his car into a crowd of counterprotesters, according to a photojournalist who witnessed the attack.
Ryan Kelly, whose photo of the attack published in the The Daily Progress won a Pulitzer Prize, told a court Friday that Fields—who is on trial accused of murder—at no point tried to brake.
"I heard screeching tires and an engine revving as it sped past me up the street," Kelly said, according to Reuters. He continued, "It was faster than any car I've seen on that street. It was speeding, going directly into that crowd."
Fields, a 21-year-old white nationalist, killed one person and injured 19 others when he drove through protesters. He faces 10 charges related to the attack.
Fields claims he acted in self-defense, arguing he was afraid of the large crowd around his car. However, video and photographs of the incident show his vehicle traveling from further down the street and driving straight into the crowd.
One of those injured, Jean Peterson, also testified, making her way to the stand with the assistance of a cane. She said the atmosphere around the crowd of demonstrators had been "celebratory and convivial" before they were hit.
Peterson described two bumps going over her legs as the car sped across her body. She recalled thinking that she ought to push herself out of the street. "My legs wouldn't work," Peterson explained. "I was a fast walker," she told the court, and is now waiting for her sixth surgery since the attack.
Fields had earlier been photographed marching with a white nationalist group at the Unite the RIght rally, called to protest the planned removal of a statue honoring the U.S. Civil War-era Confederacy from a public park.
The event descended into running battles between nationalists and counterprotesters. Police have been criticized for perceived inaction in the face of the right wingers, some of whom arrived carrying shields, makeshift weapons, body armor and some even sporting long guns.
Another witness, Tay Washington, said she was caught up in the attach as she drove into downtown Charlottesville. "I've never seen so many white people standing up for black people," Washington, who is black, told the jury. "It was a 'wow' thing."
She said there was a noise and commotion before a body landed on the hood of her car. Washington said she hit her head on her steering rule "and then kind of blacked out."
Prosecutors argue Fields' killing of 32 year old Heather Heyer represents pre-meditated murder. His trial is expected to last around three weeks.
President Donald Trump expressed solidarity with the right-wing protesters in the aftermath of the attack, suggesting wrongs had been committed on both sides.