"Will you sue the Nazis with me?"
Roberta Kaplan's legal team was still working on folding chairs and card tables when the violence erupted at Charlottesville on August 12, 2017. The powerhouse attorney had just opened her own firm in New York that summer and moved into a new office space five days before the white nationalist rally made its way to Virginia. She remembers the office coming to a halt to watch the news, colleagues leaving the room with tears in their eyes.
This weekend will mark the one year anniversary of the "Unite the Right" rally and counter-protests that left over 30 people injured and one young woman dead. The event had been violent but then turned deadly when 21-year-old James Alex Fields Jr. drove his car into a crowd. The tragedy highlighted the intensity of America's racial divide, as white supremacists marched through the town armed with weapons.
48 hours after the dust had settled in Charlottesville, Kaplan was wheels up with her team to meet victims, who would later become plaintiffs in one of the biggest lawsuits to result from the incident. After ten victims had come forward willing to sue the alt-right rally's biggest organizers—like Jason Kessler and Richard Spencer—Kaplan became aware she needed a helping hand. That's when she called Karen Dunn, who she had never met before but was a lawyer she admired from afar, asking if she would help her "sue the Nazis."
The premise of their case is simple: The racially-motivated violence that took place at Charlottesville was carefully, meticulously planned and encouraged by the defendants named in the lawsuit. That coordination broke a law called the Ku Klux Klan Act, which prohibits the conspiring to engage in violence against racial minorities and their supporters.
The act was passed in 1871 to protect the newly freed slaves against mob-like brutality.
Kaplan says it's both "sad and ironic" that the law has to be used in 2018. Dunn calls it disheartening and "shocking." Even so, the lawyers believe they have the evidence to prove this to be the case.
"They didn't just happen to show up all dressed the same and marching in the same order, carrying the same weapons. That was coordinated," Dunn said. Anyone who believes otherwise is extremely naive, they added.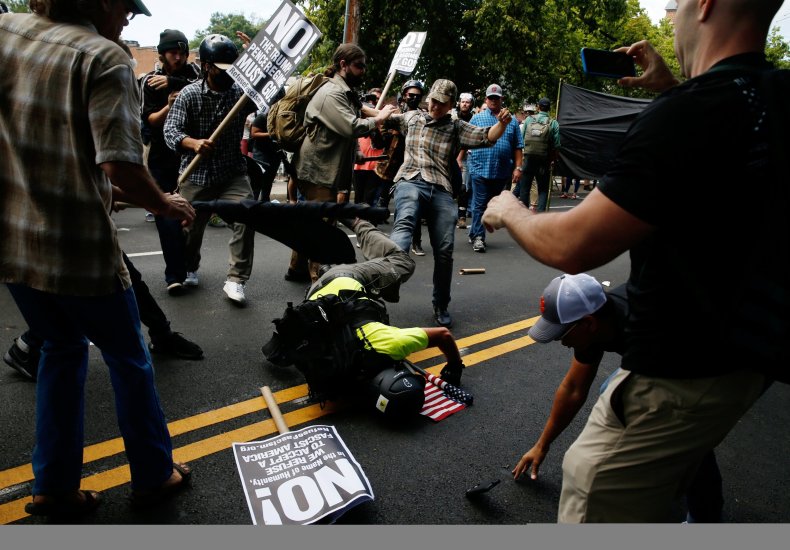 Elizabeth Sines, a plaintiff in the case, speaks from personal experience when she says that what happened at Charlottesville was no accident. Sines was a counter-protester on the street when James Alex Fields Jr. drove his truck into the crowd. A photo someone sent her after the fact shows her at one point right in front of the car, though she doesn't remember how she got out of the way.
At first, she says, she thought he must have made a mistake. But then Fields started backing up.
"That's when we realized that he was trying to kill as many people as possible," she says.
Sines normally wouldn't have been in Charlottesville in August. As a law student at the University of Virginia, she would have been at her home in the Appalachian Mountains during the summer break. But she was on campus the week prior to the rally for job interviews.
Her time in political activism had been relatively short-lived. The first rally she ever attended was Donald Trump's inauguration. Sines says his election was the catalyst for her to become involved in grassroots social justice advocacy. When it was happening it her own backyard, it was a "no-brainer." She had to go.
She had gotten to Emancipation Park, the headquarters of the rally, around 11:30 in the morning on August 12, about eight minutes after the assembly had been determined by local law enforcement as unlawful.
"It looked like the end of the world," she said. "As soon as you stepped out of your car the air smelled different." Likely from pepper spray, she added, as there were white splotches all over the street where it had been used. Everything else after that, including the car attack, she can only describe as the most terrifying moments of her life.
Kessler and Richard, along with the other defendants in the case, argue that any planning done prior to the rally is protected by their first amendment right to free speech. Their second defense is that while they may have encouraged violence by telling participants to come armed, they never said that the violence should be done through a car attack. Many of the defendants filed a motion to dismiss the case on these grounds.
But the plaintiffs' attorneys scoff at any claim to free speech protection. Kaplan says it's no different than conspiring to rob a bank: Just because you have the right to talk about robbing a bank, doesn't mean that it will protect you from the legal consequences of actually doing it.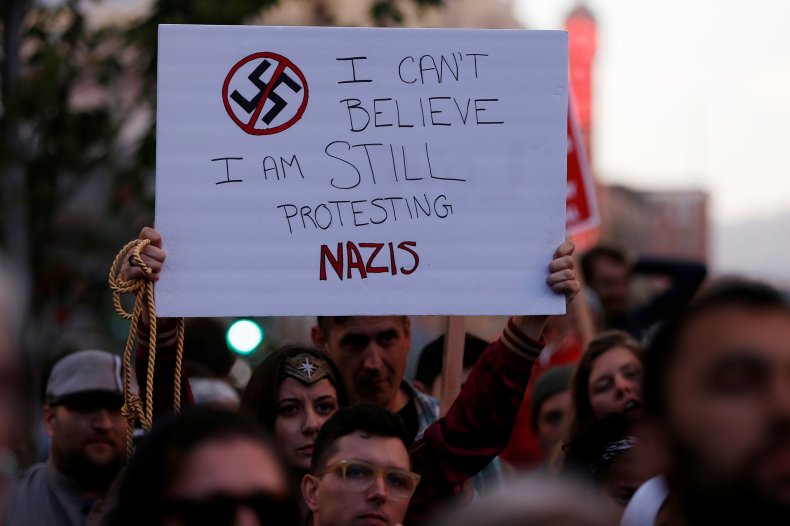 As to their argument that they never planned violence, or at least violence through a car attack, Dunn says they have written communication proving otherwise.
Organizers of the rally primarily communicated with each other through an online, invitation-only platform called Discord. Documents of their discussion released by a user called "Unicorn Riot" show how meticulously the participants had discussed physical attacks, even called themselves "warriors."
One Discord user asked if it was "legal to run over protesters blocking roadways?" The user wasn't joking, telling the group that he was "NOT just shitposting. I would like clarification."
Another group member said that they were "ready to crack skulls." In another post, someone posted a fake advertisement for a pepper spray containing a racial epithet, boasting that it could kill a black person "on contact."
On July 9, the judge decided against the organizers' motion to dismiss the case in a thorough 62-page ruling. The case will go to trial, where a jury will decide their fate. The trial is set to take place in Charlottesville next summer.
But Kaplan and Dunn already believe the lawsuit is having positive effects. One of the conspirators accused in the case, Andrew Anglin, has been discouraging people from attending the "Unite the Right 2" rally this year. In a story written for the neo-Nazi website The Daily Stormer, Anglin tells people that the "post-Charlottesville marches have no purpose" and that they are "horribly destructive and they need to stop."
Spencer also took a similar stance, tweeting that he will not be attending.
Dunn sees their denouncement of the event as a direct effect of the work they are doing on the case. But the real victory will be when they win the trial next year, which they believe they will.
When asked how she feels about the case moving forward to trial, Sines has mixed emotions. She's happy, of course, saying that she is incredibly proud of the work they are doing to combat white supremacy. She's terrified, too. She reads what the alt-right says about her online, her Facebook page has been posted on Jason Kessler's website.
But mostly, she's "ready," she tells Newsweek.
"I thought Charlottesville would be enough," she said. "We have to do things to make sure that this doesn't happen again."