Charlottesville Police Chief: There Aren't 'Fine People' on Both Sides of Ethnic Cleansing School Threat
An online threat of "ethnic cleansing" prompted Charlottesville, Virginia, to close all public schools for two days this week as police investigated the threat's credibility. On Friday, the Charlottesville Police Department announced it had arrested a 17-year-old male in connection with the threat.
The suspect, who identified as Portuguese, according to police, lived about 10 miles from Charlottesville, and was not a student at Charlottesville High School, although he posed as one. He was charged with threatening to commit serious bodily harm to persons on school property and harassment by computer.
"Hate is not welcome in Charlottesville. Violence is not welcome in Charlottesville. Intolerance is not welcome in Charlottesville... There are not very fine people on both sides of this issue," Charlottesville Police Chief RaShall Brackney said at a news conference today.
Brackney said the threat referred to "ethnic cleansing," and that students would be targeted based on their ethnicity.
The first charge is a Class 6 felony, punishable by up to five years in prison and a fine of up to $2,500. The second is a Class 1 misdemeanor, punishable by a fine of up to $1,000.
In 2017, the Unite the Right Rally, a gathering of white supremacists that ended in one death and dozens of injuries, catapulted Charlottesville into the national spotlight. Betsy Roettger, a parent in the district, told Newsweek that the recent threat "really opens up all the angst of the past couple of years here." However, she said the sentiments expressed in the online threat did not at all represent the majority of the city's population.
"We are located in the middle of Virginia and have had many outsiders use our city as a platform to spread white supremacy lately," Roettger said. "I am impressed the community has really stepped up to support the students who were targeted."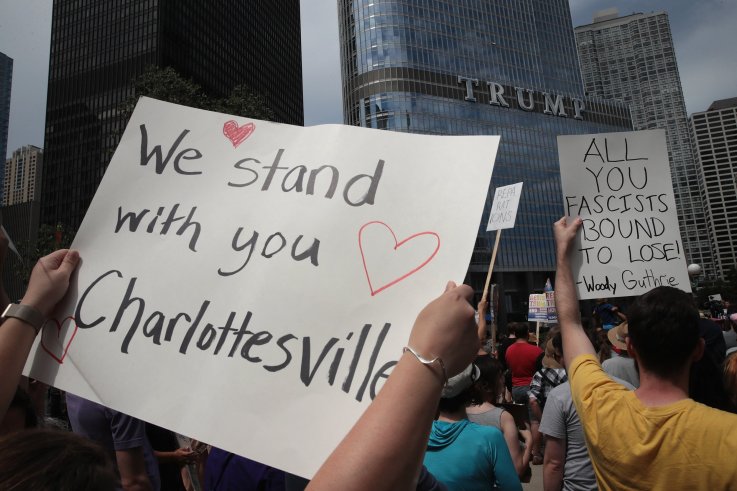 While the schools remained closed, Roettger said parents worked to raise donations to provide school lunches to Charlottesville students who depend on them for their midday meal. She said that businesses and restaurants "have been really generous," and that she heard of teachers personally reaching out to students to check on them.
The police investigation began on Wednesday when the Charlottesville Police Department was made aware of an online threat against students at Charlottesville High School. The threat used "biased-based language" that targeted specific ethnic groups at the high school.
While officers and federal authorities investigated the credibility of the threat, Charlottesville closed all public schools in the district on Thursday and kept them closed on Friday.
"We would like to acknowledge and condemn the fact that this threat was racially charged," the school district said. "We do not tolerate hate or racism… We are in this together, and a threat against one is a threat against all.
Schools are expected to reopen on Monday morning.
Charlottesville Police Chief: There Aren't 'Fine People' on Both Sides of Ethnic Cleansing School Threat | U.S.