Charlottesville: White Nationalists Gather for 'Flash Mob' Protest Only Months After Deadly Rally
Torch bearing white nationalists rallied again Saturday night in Charlottesville, Virginia, only two months after a protest in the city in which an anti-racism activist was killed.
Led by white supremacist Richard Spencer, the rally was considerably smaller than the Unite the Right protest on August 11, with around 50 white supremacists gathering to protest against the planned removal of a statue of Confederate general Robert E. Lee.
"You will not replace us" and "we will be back" chanted the protesters, reported local media, and alternated between chants of "Russia is our friend" and "the South will rise again."
"We are here to represent white America's interest," Spencer told the crowd in a brief speech in Charlottesville's Emancipation Park, reported the Daily Beast.
"It was great to be back in C'ville. We can catch up next time we're in town," tweeted Spencer, taunting Charlottesville Mayor Michael Signer.
"We came, we triggered, we left," added Spencer. "We did an in and out flash mob. We came in peace tonight. It was a great success and we're going to do it again."
Mayor Signer tweeted after the rally: "Another despicable visit by neo-Nazi cowards. You're not welcome here! Go home! Meantime we're looking at all our legal options. Stay tuned."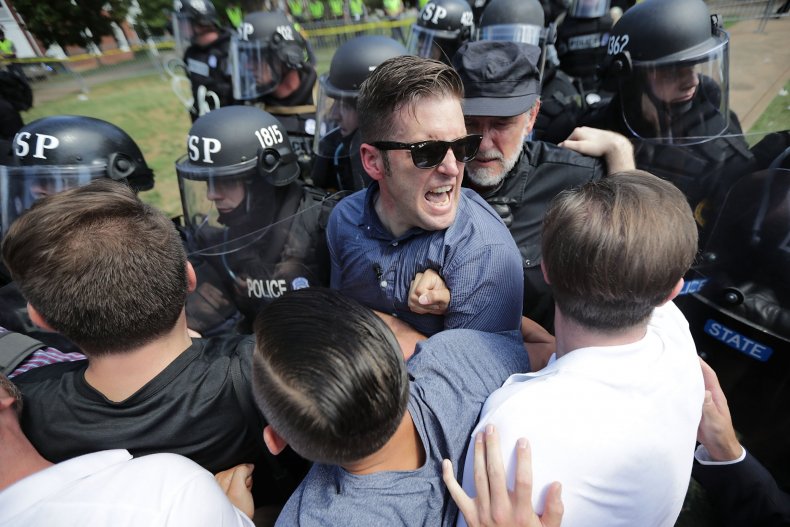 According to reports, police stood by and waited for the protesters to disperse, and said no "disorders" had occured.
The August 12 rally in Charlottesville drew white nationalists, neo-Nazis and KKK members from across the U.S., and culminated in violence, when a white nationalist allegedly drove a car into a crowd of counter-protesters, killing activist Heather Heyer.
The Lee statue in the park has been covered with black tarpaulin since the August rally.
President Donald Trump was widely criticized for his response to the August protest, after he seemed to draw a moral equivalence between the groups of protesters, blaming "many sides" for the violence.