Charlottesville Will Remove Statue of Robert E. Lee 4 Years After 'Unite the Right' Rally
Nearly four years after the deadly "Unite the Right" rally, the city of Charlottesville will remove two Confederate statues of Robert E. Lee and Stonewall Jackson this weekend.
City officials announced on Friday that the two statues will be removed from Market Street Park and Court Square Park on Saturday, nearly four years after a white supremacist rally against the statue's initial proposed removal left three dead and dozens injured.
Charlottesville City Council first received the petition to remove the statue of Lee in March 2016. In the wake of the Charleston church shooting, in which nine African Americans were killed, several efforts were made across the south to remove Confederate monuments and rename public spaces honoring figures from the Confederacy.
In 2017, the city council announced it would rename Lee Park, where the statue is located, to its current name, Market Street Park, and voiced its intention to remove the statue.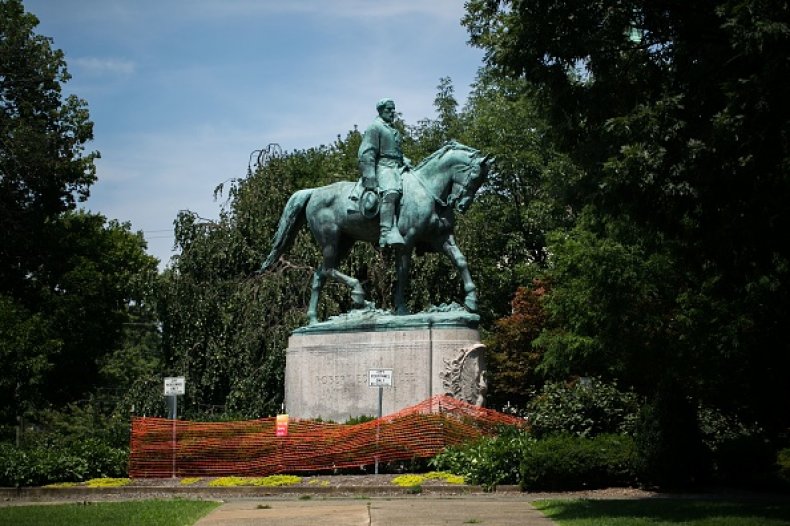 In response, the "Unite the Right" rally was organized that August with many far-right groups participating. Those at the rally were seen shouting racist and antisemitic slogans and carrying weapons as they marched through the University of Virginia's campus.
The event turned violent as white supremacist protesters clashed with counter-protesters and continued into the next day as groups gathered again at Emancipation Park.
Notably, Former President Donald Trump received widespread criticism for his remarks about the rally, which some interpreted as being sympathetic to white supremacists.
The two statues were covered with black fabric to mourn those who died over the August 12, 2017, weekend and remained covered until they were removed by a court order.
On Friday, city officials said that the statues will be moved into storage and that their final disposition will be decided at a later date by the city council.
"During the past month, the City has solicited for expressions of interest from any museum, historical society, government or military battlefield interested in acquiring the statues, or either of them, for relocation and placement," a press release reads. "The Charlottesville City Manager has received ten responses thus far—six out of state and four in-state—that are all under review. The City remains open to additional expressions of interest."
While the statues will be removed Saturday, their stone bases will be left temporarily and removed at a later date.
The city will designate public viewing areas for the removals in both parks and begin fencing off the area on Friday. The exact schedule of the removal is subject to change and could be impacted by weather and other site conditions.