'Charmed' Original Series and Reboot Feud Explained As Writer Slams Finale
The Charmed reboot has ended—but that doesn't mean that the ongoing feud between the casts and crew of the original and remake is over.
The CW show was canceled in May 2022 as part of the network's decision to end a large number of their series, including Legacies and Dynasty.
In the last episode, Mel (Melonie Diaz), Maggie (Sarah Jeffrey) and Kaela (Lucy Barrett) entered a portal that took them to the Halliwell Manor, where original characters Prue (Shannen Doherty), Piper (Holly Marie Combs), Phoebe (Alyssa Milano) and Paige (Rose McGowan) lived.
In response to the show's final moments, original series writer Curtis Kheel said on Twitter that the Charmed Ones would have "vanquished the three imposters" the moment they entered their home.
Here is everything you need to know about the feud, and how it started.
Charmed Original Series and Reboot Feud Explained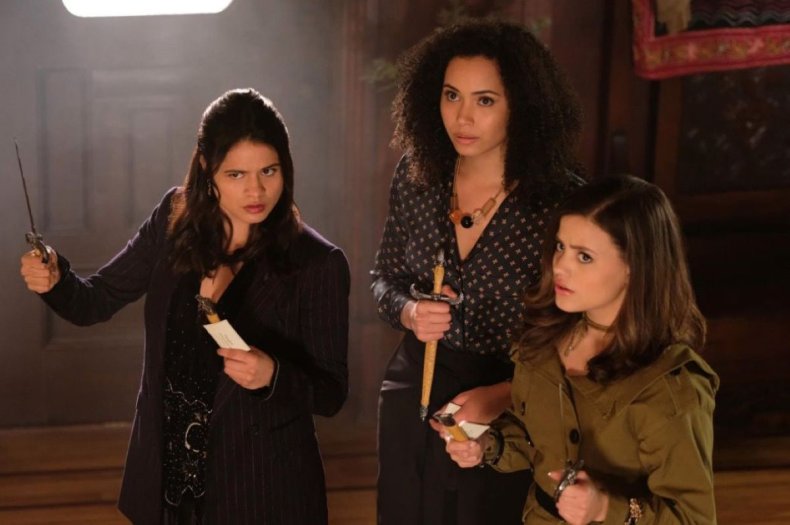 After the reboot's finale, Kheel wrote on Twitter: "As an original #Charmedwriter, I can tell u what happened next: Piper, Phoebe & Paige vanquished the 3 imposters right after they invaded Halliwell Manor.
"Then @H_Combs blew up the portal to that other universe & quipped: 'We wish them well.'"
This prompted a response from the official Twitter account for the writers of the reboot, who said: "Unlike with the OG version of the franchise, we had a strict 'no a******s' hiring policy in the writer's room.
"We feel mostly sorry for these people, because unlike them we actually like each other and had the BEST time. Onward...."
They then added in a follow-up tweet: "And for the record, we LOVE both versions, which is why we set out to create a cohesive universe. In our minds there is zero competition in a long line of strong young witches tasked with repeatedly saving the world. –FIN."
Kheel then said in another Tweet: "ICYMI: I was called an "a*****e" for defending our work. That's their official statement. Yep - They're keeping it classy right to the very end!"
The writer also shared another lengthy statement to clarify his comments about how the original characters would have "vanquished" the reboot's trio.
In it, he said: "My problem with the #Charmedreboot is that from Day One, it pretended like the original #Charmed didn't exist, yet it borrowed a ton of ideas from it. We worked very hard on the OG series for many years & to disregard that is offensive & disrespectful to US & our fans."
How Did the Charmed Original Series and Reboot Feud Begin?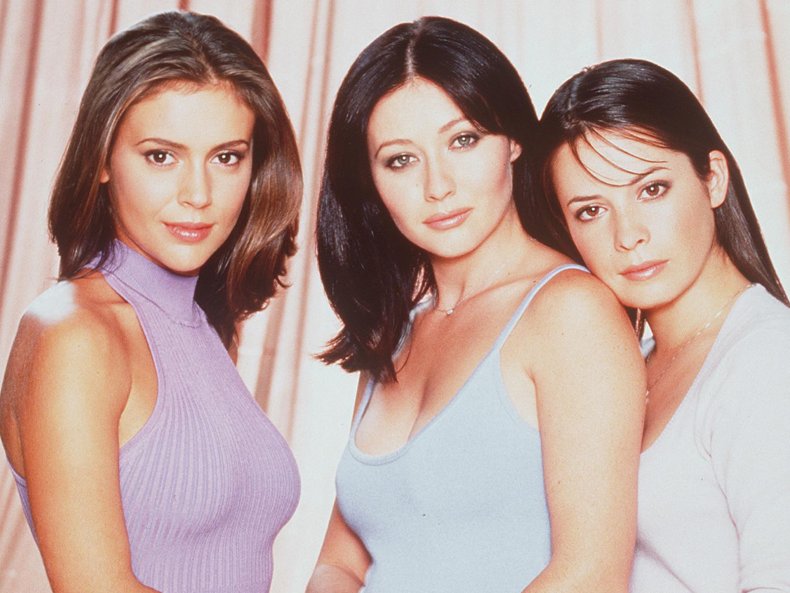 The back-and-forth remarks from Kheel and the writers of the Charmed reboot were not the first time claws were shown, as the feud between the two shows began as soon as the new version was announced in 2018.
When it was announced, the remake was described as a "fierce, funny, feminist reboot of the original series," a description that the original cast took offense to.
Combs, who played Piper, said of the reboot on Twitter: "Here's the thing. Until you ask us to rewrite it like Brad Kern did weekly don't even think of capitalizing on our hard work.
"Charmed belongs to the 4 [lead actors], our vast amount of writers, crews and predominantly the fans. FYI you will not fool them by owning a title/stamp. So bye."
A few months later, Combs added in another tweet that she appreciated "the jobs and opportunities the Charmed reboot has created", but claimed that she "will never understand what is fierce, funny or feminist in creating a show that basically says the original actresses are too old to do a job they did 12 years ago."
Doherty added to Combs' sentiment, writing on Twitter: "Everything is a remake or a reboot. Every show, every movie in some way. Charmed was a wonderful empowering show for women."
In response to a fan commenting on how the reboot being described as "feminist" suggested the original was not, she added that it was a "very ignorant stupid comment. Perhaps made by a millennial that never watched the show and just read a synopsis on it."
McGowan, by comparison, was supportive of the reboot initially, writing in an Instagram post of August 2018, "I wish nothing but the best for the new female actors whose careers hopefully will be launched by this show into something long and prosperous."
In August 2018, Milano spoke on the Parade podcast about the reboot and claimed that it had nothing to do with the original cast, but that she was supportive of it.
She said: "None of us from the original cast to the original creators, producers, or writers have anything to do with it.
"The way I feel about it is this, and I'll just be super, super-honest: If the reboot can give the joy that it gave to our generation to a new generation, then I think that's really beautiful."
Despite her initial support of the reboot, McGowan appeared in an Instagram live video with Combs in 2020 in which the latter criticized how the original Charmed was not available on Netflix because "they want you to find the new Charmed and not the old people."
McGowan then said: "I haven't seen it, I can't say that. I've never seen it. I'm happy that people have jobs. But it can still suck."
Reboot star Jeffrey hit out at the actors for their remarks on Twitter, saying: "I find it sad and quite frankly pathetic to see grown women behaving this way.
"I truly hope they find happiness elsewhere, and not in the form of putting down other [women of color]. I would be embarrassed to behave this way. Peace and love to y'all."
Both McGowan and Combs responded on social media, the former said on Instagram that their comments had "nothing to do with race" and added that she simply saw the reboot as "a money grab to cash," per Digital Spy.
Combs called Jeffrey's remarks "b******t" in her own Twitter post, and said it was "just plain wrong" of her to make the "derogatory accusations."