Who Are Macy, Mel and Maggie? Meet All the Characters From 'Charmed' Reboot
Witches are coming to the CW. That's right—the network's reboot of the enchanting fan-favorite series Charmed is set to premiere on Sunday.
The original series, which ran on the WB from 1998 to 2006, followed the Halliwell sisters as they uncovered their witch bloodline and learned to use their powers to combat evil in San Francisco. The updated series follows a whole new trio of sisters—Macy, Mel and Maggie—in a fictional college town as they tap into their magic.
Read on for more about the cast and the characters before the show's premiere.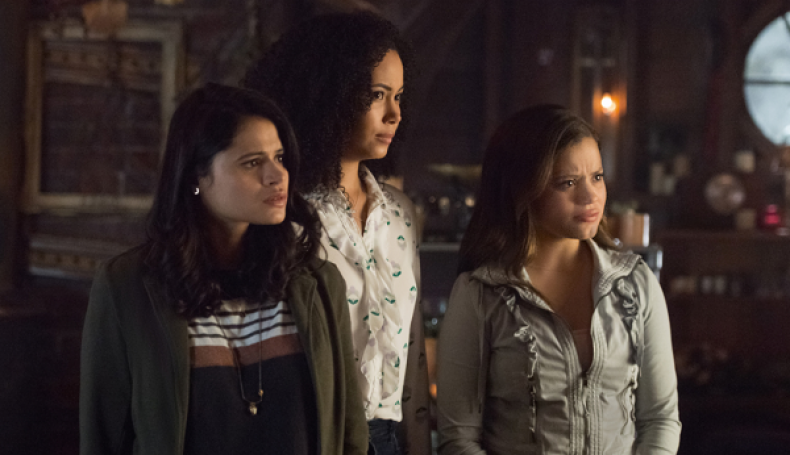 Macy Vaughn: The oldest witch of the troupe is played by British actress Madeleine Mantock, who formerly starred in CW's The Tomorrow People. Macy suddenly arrives in town after the girls' mother dies and shockingly reveals she is Mel and Maggie's half-sister, which doesn't necessarily go over well with the others. As for her special charm, Macy is telekinetic, meaning she can move objects with her mind similar to how Shannon Doherty's character, Prue Halliwell, did in the original.
Melanie Vera: Fruitvale Station star Melonie Diaz plays as the queer and outspoken social justice warrior Melanie, otherwise known as Mel. She's a graduate student at Hilltowne University's women's studies department, but has an odd obsession with all things morbid, according to her sister Maggie. Not too easy to please, Mel won't be as nearly as welcoming of Macy's abrupt arrival into their lives. Her power resembles Charmed original Holly Marie Combs, who played Piper Halliwell and could freeze time.
Maggie Vera: The bubbly baby witch is played by Sarah Jeffery, who starred alongside Jennifer Lopez on NBC's Shades of Blue. Maggie, the only one of the sisters in a steady relationship with boyfriend Brian (Charlie Gillespie) is a college freshman looking to join a sorority much to her sister Mel's dismay. Her ability to make it through rush week may come with complications when she discovers her ability to hear other's thoughts—like Alyssa Milano's power as Phoebe Halliwell in the first Charmed series.
Harry Greenwood: Taking the place of the original Charmed character Leo Wyatt, played by Brian Krause, Rupert Evans stars as the new Whitelighter, otherwise known as a witch advisor or guide. Harry works as a professor at the college who suddenly takes a mysterious interest in the sisters.
Charmed premieres on CW at 9 p.m. ET on Sunday.