Adulting is hard. Especially when you're at it alone. But according to the U.S. Census Bureau, more Americans than ever are opting for the solo life. In 2018 over 35 million Americans were living alone, with single people making up 28 percent of American households. This is more than double the amount in 1960.
With more and more Americans going at it alone, consumer product companies are looking for new ways to grab a piece of the single life pie. From shrinking appliance sizes to offering more single-serve food options, product marketers are rethinking how they reach the growing population of single adults.
But going smaller isn't always the solution. In fact, Charmin has gone in the opposite direction. Introducing a new "Forever Roll" of toilet paper, the company is offering consumers the ultimate supersized toilet paper roll. According to the company the new Forever Roll, which comes in single-user and multi-user sizes, will last you a full month before you have to change it. While the Forever Roll is being marketed to households of all sizes, the target audience is single adults living alone. According to Charmin's researchers, older single people find the larger rolls easier to handle, while younger singles like the idea of not having to change the rolls so often. The Forever Rolls also help solve a storage issue as many small apartments are short on space to store items like additional rolls of toilet paper.
How Charmin Forever Roll Compares in Price to Amazon and Walmart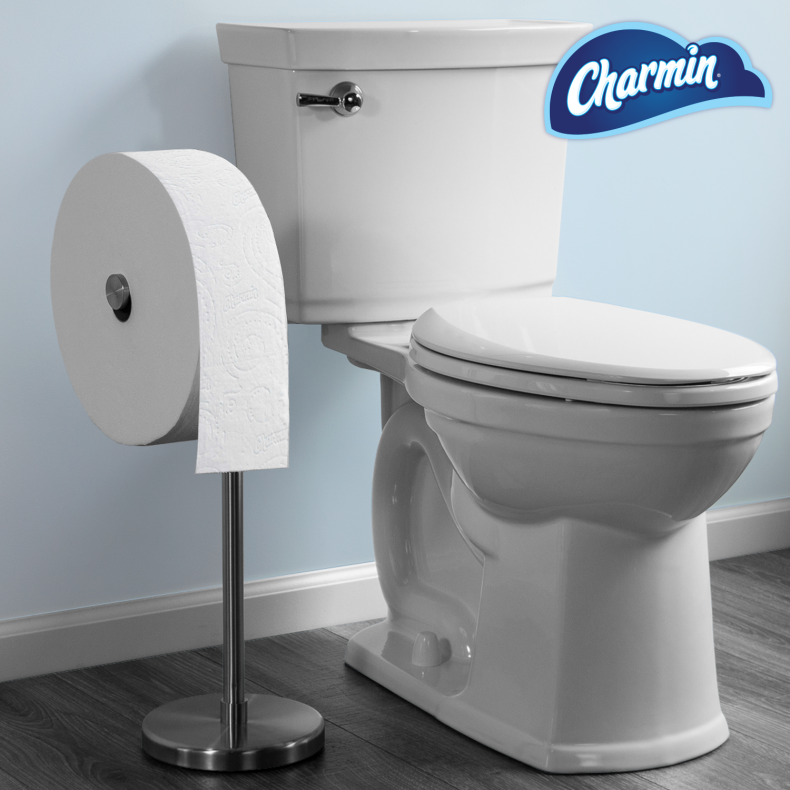 So how much does it cost to get started with the Forever Roll? And how does the price compare to normal Charmin Rolls. If you opt for the single user Forever Roll, you'll pay $5.49 for the 8.7-inch diameter roll that contains 850 sheets of ultra-soft 2-ply tissue. Or if you opt for the subscription, the price is reduced to $4.39 a roll. This comes to 64 and 51 cents per sheet respectively. Meanwhile the multi-user rolls are 12 inches in diameter and contain twice as many sheets for $9.99 each or $7.99 with subscription. This comes to 58 and 47 cents per 100 sheets, respectively.
Running a quick search on Amazon and Walmart, you won't be saving any money by purchasing the Forever Rolls. On Amazon you can purchase 24 Mega Family rolls for $31.49 which comes to just 34 cents per hundred sheets. Meanwhile Walmart has its 24-pack of Mega rolls on sale for $23.82 which comes to 35 cents per square.

But providing the cheapest price isn't the goal of the Forever Roll. According to a Charmin representative, many buyers are purchasing the rolls for the convenience — namely the subscription option, not having to change the roll as often or deal with recycling multiple cardboard rolls each month.
Where to Buy Charmin Forever Roll or Starter Kit
Since the Forever Roll is still in the early testing phases, it can only be purchased on Charmin's official website. Charmin offers a starter kit with three multi-user rolls and a free toilet paper stand for 29.97 and three single-user rolls with a free toilet paper stand for $16.47. You can check out all the roll sizes, packages and subscription models, here. The company is so certain you'll be satisfied with your purchase, they've offered a money-back guarantee if you aren't.
Twitter Responds to Charmin Forever Roll
What do you think of Charmin's new Forever Roll? Will you try it? Share your thoughts in the comments below!
Uncommon Knowledge
Newsweek is committed to challenging conventional wisdom and finding connections in the search for common ground.
Newsweek is committed to challenging conventional wisdom and finding connections in the search for common ground.