Charred Mail Found in Boston Mailbox a Day After Nearby Ballot Drop Box Was Set on Fire
Boston Police are investigating after charred mail was found inside a United States Postal Service mailbox in Copley Square—a day after a nearby ballot drop box was set on fire.
Officers responded to 587 Boylston Street in the city's Back Bay neighborhood shortly before 6 p.m. on Monday to assist the Boston Fire Investigation Unit with a report of damaged mail, the Boston Police Department said in a news release.
Police learned that a carrier had discovered mail that had been damaged by fire when emptying the mailbox at around 4 p.m. It was not immediately clear how much mail had been affected.
The mailbox had no signs of damage when it was last emptied at around 4 p.m. on Saturday, police said. The charred mail and the mailbox was taken into the custody of the United States Postal Inspector.
The police department is "actively reviewing the facts and circumstances surrounding this incident," the news release added.
The charred mail was discovered after the Copley Square ballot drop box, outside the Boston Public Library on Boylston Street, was set on fire in the early hours on Sunday, damaging dozens of ballots.
Officer Shandra Pinto, a spokesperson for the Boston Police Department, said she could not confirm if the two incidents were related. "Both incidents are still active and ongoing investigations," Pinto told Newsweek.
Worldy Armand, a 39-year-old Boston resident, was taken into custody late Sunday night in connection with the ballot drop box fire and charged with willful and malicious burning, police said.
According to police, his arrest came after drug control unit officers on patrol in the Copley Square area at around 11 p.m. saw a man who matched the description of the suspect. Police said Armand also had an active warrant for receiving stolen property.
Suffolk County District Attorney Rachael Rollins said the incident does not appear to be connected to a wider plot to undermine voting in Boston. Rollins had called the incident a "crime against democracy" in a tweet on Monday.
But after Armand's arrest, she said she doesn't believe he is "plotting against our democracy," adding that he appears to be "emotionally disturbed," according to The Boston Globe.
Officials said there were 122 ballots inside the box when it was emptied on Sunday morning, and 35 were damaged.
The affected ballots were those dropped into the ballot drop box between 2.30 p.m. Saturday and 4 a.m. Sunday. Election officials have pledged to send replacement ballots to voters whose ballots were affected by the fire.
Voters can track their ballots at TrackMyBallotMA.com to confirm if it was received. Those who can't confirm the status of the ballot online should contact the Boston Elections Department immediately.
The state's top elections official, William Galvin, has urged local election officials to strengthen security around ballot drop boxes and empty them more often. He suggested police could be employed to monitor them and video surveillance used to deter any further possible vandalism.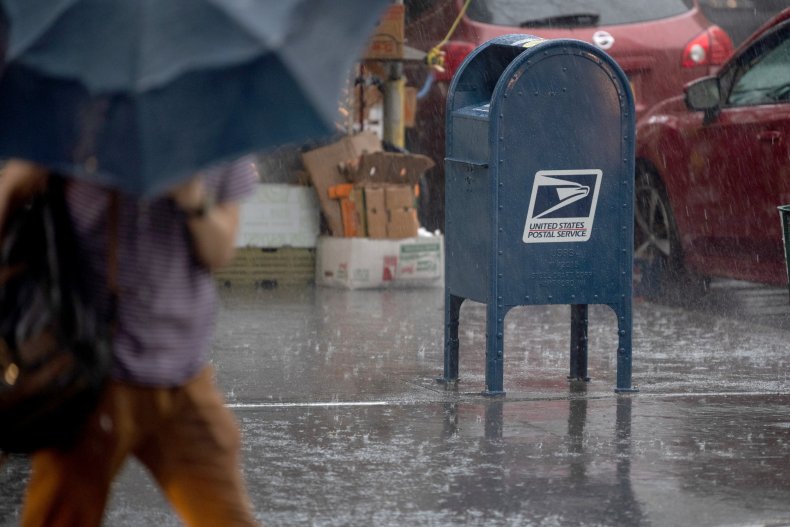 The FBI said on Sunday that it was investigating the incident, adding that it is "a top priority of our offices to help maintain the integrity of the election process in Massachusetts."
The bureau urged the public "to remain vigilant and immediately report any suspicious, election-related activity to us."
The incident was the second fire reported involving a ballot drop box in the U.S. this month.
Several ballots were destroyed in a fire in an official drop box outside a public library in Baldwin Park in Los Angeles County on October 18. That incident is also being investigated as arson.
Anyone with information about the mailbox incident is urged to contact the Boston Fire Investigation Unit at (617) 343-3324. They can also submit tips anonymously by calling the CrimeStoppers Tip Line at 1 (800) 494-TIPS or by texting the word 'TIP' to CRIME (27463).