Charred Warship Bonhomme Richard Faces Uncertain Future After 5-Day Inferno
Firefighters battled a blaze aboard the amphibious assault ship USS Bonhomme Richard (LHD 6) for five days, finally extinguishing the flames Thursday. Now, the Bonhomme Richard's future as a warship remains as uncertain as how the fire actually got started.
While the Bonhomme Richard was in a San Diego port getting fitted to carry an F-35 fighter jet, a fire began in what was believed to be a cargo handling area. These spaces on amphibious ships can be rather large, and while the ship was undergoing renovations and additions, there were large cardboard boxes, maintenance supplies and rags in various places, according to Rear Adm. Philip Sobeck, commander of Expeditionary Strike Group 3 in a Thursday statement.
"We did not know the origin of the fire," Sobeck said. "We do not know the extent of the damage. Our fire teams are investigating every space to verify the absence of fire. Until every space is checked and there are no active fires we will not be able to commence any official investigations.
"What we do know is that brave Sailors from commands all across San Diego worked tirelessly alongside Federal Firefighters to get this fire extinguished and I want to thank them for their efforts."
Another thing they do know is that the fire reached more than 1,000 degrees in spots. It got so hot that firefighters had to back away from the heat and spray down other parts of the ship to try and keep it cool. The fire quickly approached areas that held more than 1 million gallons of fuel, but never reached it.
What they do know is that so much water was used inside the ship to fight fires that the ship began to list, forcing them to pump water. And on Wednesday night, the ship had begin listing again, forcing an evacuation of all personnel and firefighters—out of caution, not for a fear it might capsize.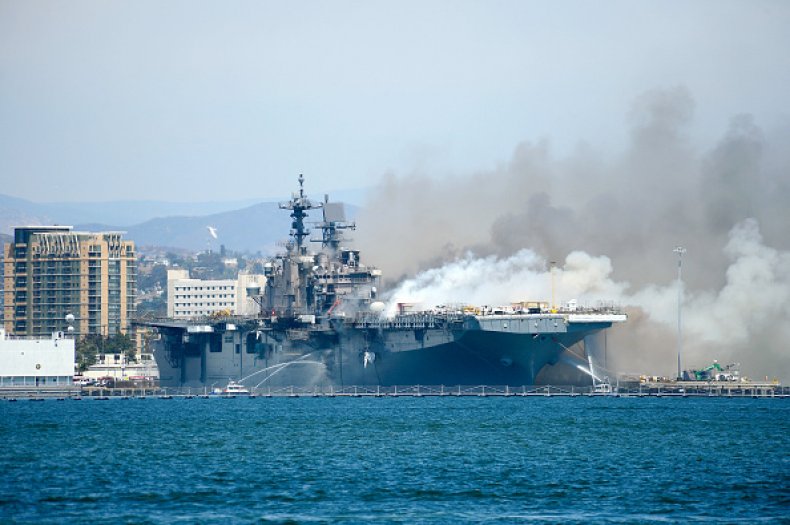 The fire got so hot on the island of the ship that contains the bridge, and other large structures, that one of the forward masts collapsed.
"The superstructure and the upper decks continue to burn and have sustained damage. The forward mast has collapsed, and the ship is listing. However, dewatering is in process and we're keeping a good balance," said Sobeck said Monday morning.
The fire continued through Tuesday, Wednesday and into Thursday, and more than 400 sailors from a dozen other ships docked there helped out, in addition to federal firefighters helping. The Bonhomme Richard also got help from Helicopter Sea Combat Squadron 3, which used navy helicopters to dump more than 1,500 buckets of water from the air.
With a weekend shift in port, there were fewer sailors on board than a normal day. Sobeck said 40 sailors and 23 civilians were treated for smoke inhalation and other minor injuries after initially fighting the fire.
The fire's complete damage is unknown for now. And while the ship's exterior might look mostly intact, the interior is severely damaged and charred. The crew berthing for sailors burned, which now forces the 84 sailors who lived on the ship full-time to now live in quarters at Naval Base San Diego.
The fire aboard the Bonhomme Richard is already called one of the worst non-combat fires on a warship in naval history, and now officials will use the upcoming days and weeks to determine if the ship can be repaired and put back into use, or if it will even be repaired at all.
For now, the future of the Bonhomme Richard remains unknown.