Chart: How the ABC Democratic Debate in New Hampshire Compared to the Last Republican Debate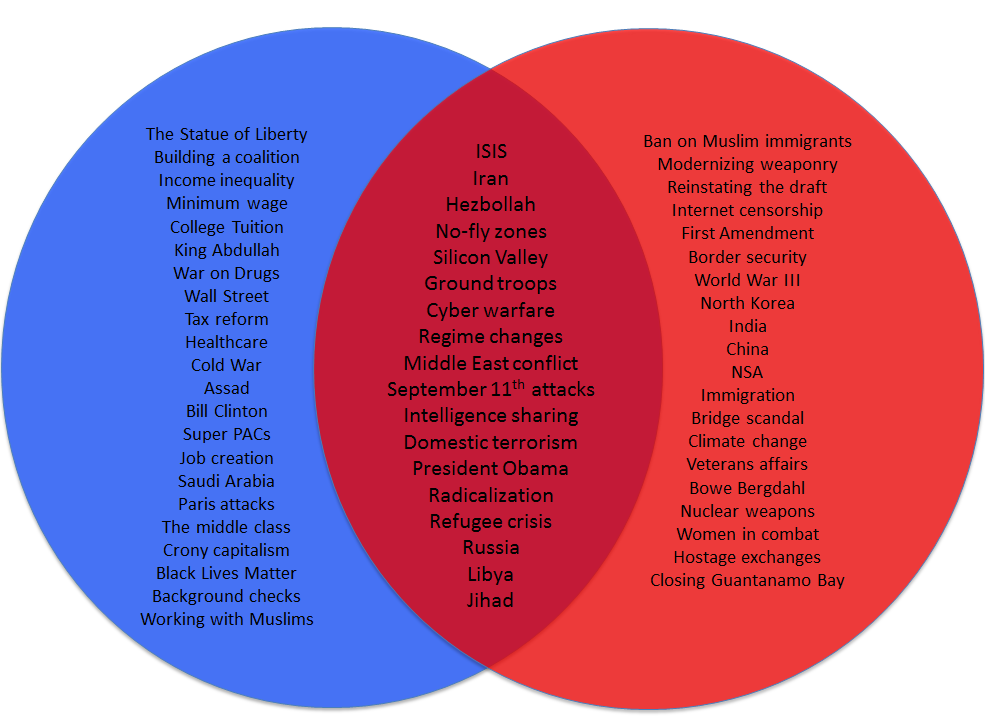 On Saturday evening, the Democratic presidential candidates took the stage for the final debate of 2015. Unlike the crowded field of Republican candidates, who debated on Tuesday night in Las Vegas, only three Democrats remain: Hillary Clinton, Bernie Sanders and Martin O'Malley. The debate was held at Saint Anselm College in Manchester, New Hampshire.
The debate began with Sanders addressing the recent news that his campaign sued the DNC for suspending its access to voting records. Sanders explained how a glitch allowed his campaign access to Clinton's voting data and that his staffer "did the wrong thing" by looking at the data instead of reporting the error. That staffer has been fired, Sanders said. ABC then asked Sanders if, because his campaign made the wrong decision, he owed Clinton an apology. "I apologize," Sanders responded.
The debate then turned to bringing down ISIS, with the candidates agreeing that the U.S. needs to work with Muslims and to form an international coalition. Gun control, healthcare, income inequality, and the war on drugs were also discussed at length.
Here is how what was discussed differed from the topics covered in the most recent Republican debate, which took place Tuesday, December 15, in Las Vegas, Nevada: