Charwego 45W Travel Adapter Review: Charge Up to 6 Devices at Once in Over 200 Countries
The Charwego 45W Travel Adapter is a single charger that can charge up to six devices at once and plug into 13 types of outlets in over 200 countries. We might not be traveling as much right now, but as we all look ahead to trips and even road trips this summer, it's important to find a great portable charger.
I've been testing the Charwego 45W Travel Adapter on short trips and while working from a hospital waiting room during a family emergency. It's a great way to charge all of my gadgets and share charging with family members.
The charger is available on Indiegogo for $30 as part of an early bird option. It's shipping now in batches.
Design and Features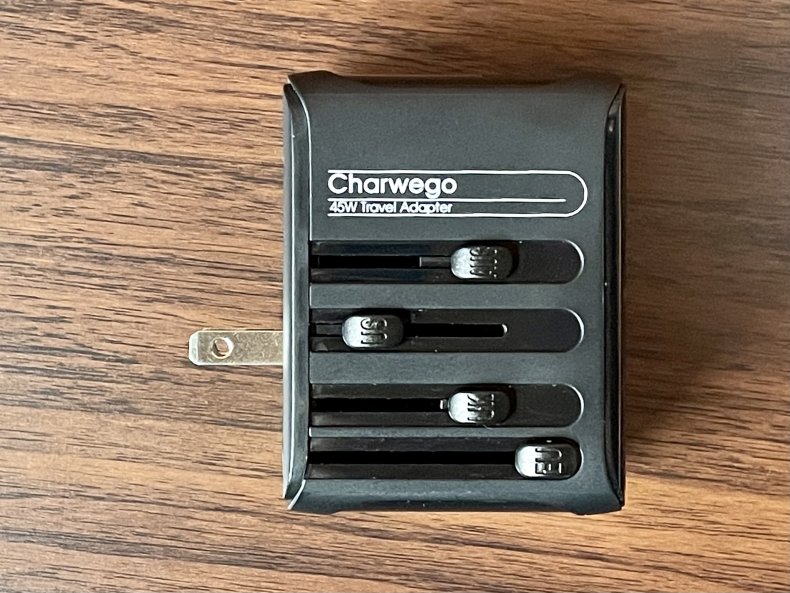 The Charwego 45 Travel Adapter is about the size of three decks of cards stacked together. Unlike many international chargers that I've used, all the chargers are included in the device. That means you don't need a bag of plug adapters to keep track of or add to the clutter in your backpack.
Sliders on the side move the plug that you need out of the charger so that you can plug it into almost any outlet. The four sliders allow the travel adapter to work with 13 types of wall plugs. This includes the U.S. standard, Australian standard, U.K. standard and European standard.
The adapter is solidly built, and the sliders held up very well during my testing. I often move the different plugs in and out as a result of a fidgeting habit, and each plug still locks firmly in place. There is a release button on the charger's opposite side to collapse the plug until you need it again.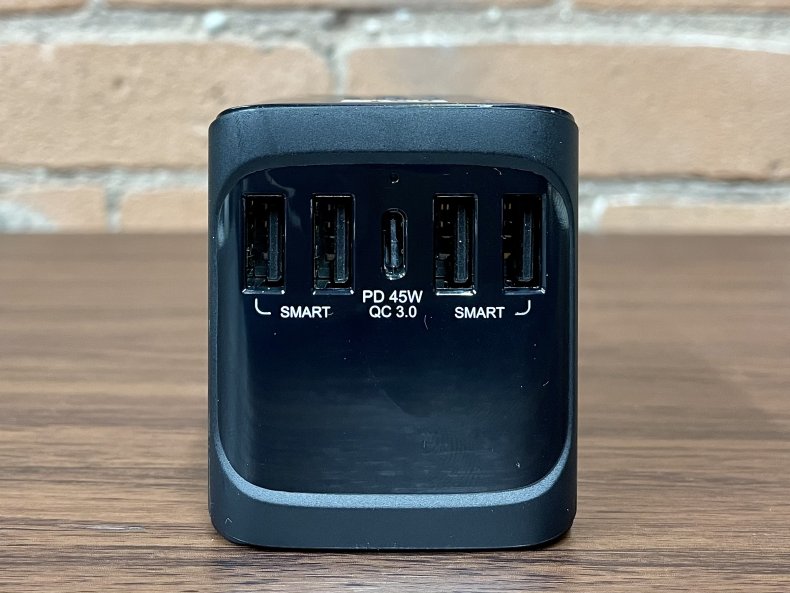 On the bottom of the charger are four USB-A ports and one USB-C port. The USB-A ports allow you to charge standard USB devices, and the USB-C port supports quick charging and the ability to Power Delivery. When I plug in a USB-C to a Lightning Cable, I can fast-charge my iPhone. This port also allows me to charge my MacBook Air without carrying another charger.
The sixth charger is a universal AC outlet that allows you to plug in your own charger for a sixth device. If I were still using a 16-inch MacBook Pro that needed more power, I would plug the appropriate power brick into this while traveling. This universal outlet can handle high-wattage devices like a hair dryer or hair straightener.
Performance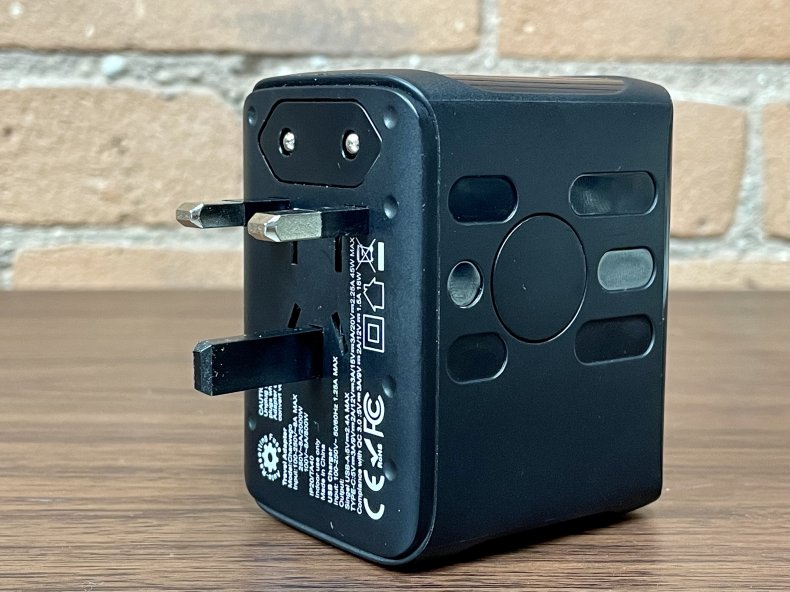 The Charwego 45W Travel Adapter holds up to charging multiple devices. I used this to charge a laptop and two phones while working in a hospital waiting room. There was still room for charging other devices if I needed to. This is a great example of a multi-device travel charger's benefit, since you can use it to charge up several devices from one outlet.
While charging my MacBook Air, I did run into one instance when the charger only delivered enough power to sustain the battery, not to fill it. This happened at full brightness under a heavy load. After restarting my MacBook Air, charging resumed. I've run into this issue with other chargers before when a MacBook needs a lot of power.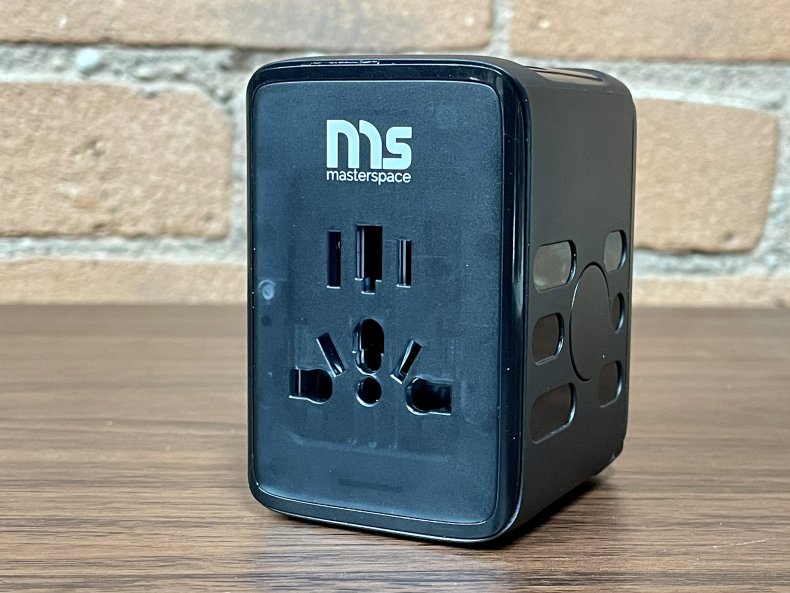 The only thing that you need to keep in mind while using this device is that it may take up a whole wall outlet due to its size. This wasn't an issue while testing, since I moved the plug from the second outlet to the universal adapter plug.
There is an auto-resetting fuse that protects your devices if they try to draw too much power. This doesn't break the charger when it trips. I did not trip this during my use.
Is the Charwego 45W Travel Adapter Worth Buying?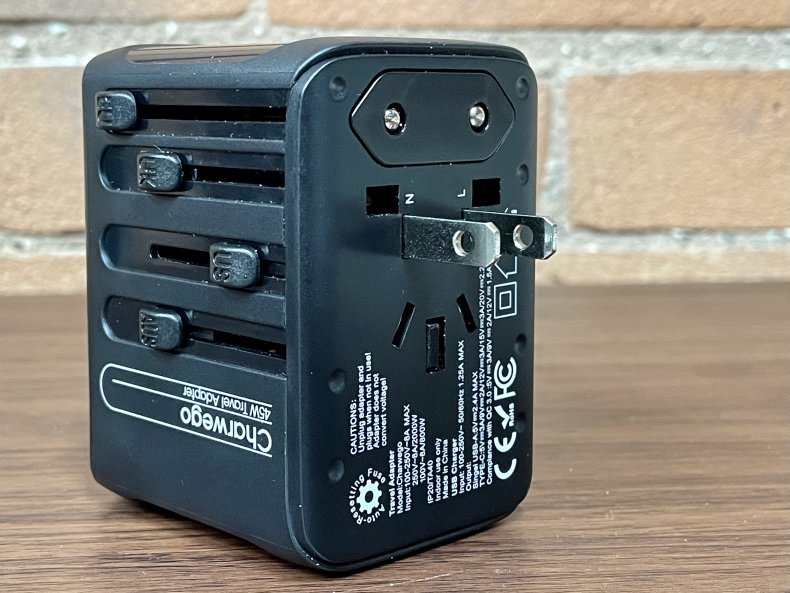 The Charwego 45W Travel Adapter is worth buying if you want a single charger to keep all of your devices charged at home or on the go. While travel is still restricted, this is an essential part of my gear. I use it to charge multiple devices at home, and I keep it in my bag to have a shareable and adaptable charger while I'm on the go.
If you're looking for a great travel charger to go with you, or as you plan out summer road trips, this is a great choice. Once travel is wide open again, the value of Charwego goes up even higher.
Buy on Indiegogo.
Newsweek may earn a commission from links on this page, but we only recommend products we back. We participate in various affiliate marketing programs, which means we may get paid commissions on editorially chosen products purchased through our links to retailer sites.