Chase Bank shut down an ATM in New York City after a woman reportedly withdrew cash from the machine that had been stamped with a swastika and other Nazi symbols, a company spokesperson confirmed to Newsweek.
On Saturday, Upper East Side resident Robyn Roth-Moise tweeted photos of four 100-dollar bills she pulled out of a local Chase ATM. The cash, withdrawn at a bank branch located at 86th Street and York Avenue, had been stamped in blue ink with a swastika and what resembled a Nazi eagle.
Roth-Moise told the New York Post that it wasn't until she got home that she noticed the symbols.
"I must have stared at it for a few minutes. And thought, 'I cannot be seeing what I'm seeing.' It was very surreal," she said.
She added, "I just wanted the money out of my hands. I was deeply disturbed — how did it happen? How did the money get into the machine without anyone noticing it?"
The 65-year-old photographer took the bills back to one of the bank's branches shortly after making the discovery, where the manager told her the cash was likely fed to the ATM by another customer who deposited money and that "the Secret Service will probably get involved."
After seeing Roth-Moise's tweets, City Councilwoman Julie Menin promptly notified Chase of the incident and got the bank to shut down the ATM machine for the time being.
In a statement shared with Newsweek, a Chase spokesperson wrote, "This is unacceptable. We have shut down the ATM and are investigating."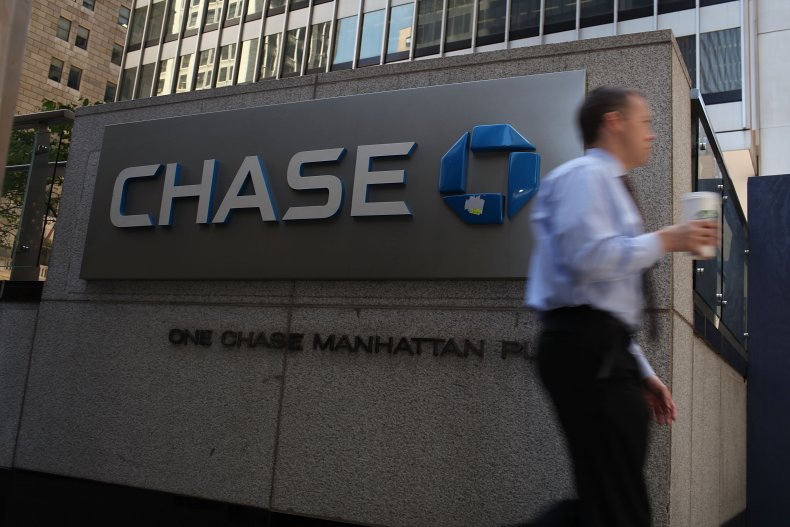 "Antisemitism must be called out immediately and won't be tolerated in any form in our community or city." Menin told the website Upper East Site on Saturday.
Other local officials have joined Menin in expressing their concern over the incident and are demanding more information from Chase.
On Monday, Manhattan Borough President Mark Levine tweeted, "Truly disgusting. This occurred at an ATM on the Upper East Side. Thankful that Ms. Roth-Moise came forward. Horrible that a Jewish NYer--or anyone--would have to confront this when simply going to the ATM."
"We need accountability from Chase on how this happened," he added.
Congresswoman Carolyn Maloney also responded to Roth-Moise over Twitter on Saturday asking for further details for her team to look into.
Roth-Moise told the Post this was the only anti-Semitic incident she has experienced firsthand in the many decades she's lived in New York and warned others to stay vigilant about potential incidents like Saturday's.
"I just want other people to be aware that anti-Semitism is out there, even in the confines of my little UES neighborhood," she said. "It's there. Are you really safe?"