Chasing the American Dream: Four Migrants in Tijuana Tent Camp Tell Their Stories
Last Tuesday, accompanied by an African asylum seeker serving as translator, Newsweek gained access to the El Chaparral migrant camp in Tijuana, Mexico, just across the border from the San Ysidro border crossing near San Diego, which more than 2,000 people call home, some for more than five years.
These are the stories of four migrants who live in the camp. For their safety and protection, we did not photograph them, and we have given them pseudonyms.
We asked each of them, "What does the American Dream mean to you?"
Javier came to the Tijuana tent encampment from Honduras. There, he faced extortion by the local gang that made it increasingly hard for him to feed his children. Javier missed one payment, and that immediately put his life in danger.
One day, gang members saw Javier's brother riding Javier's motorbike. Thinking it was Javier, they killed him. As soon as he heard the news, Javier packed up his children, grabbed what they could carry, and set off for the U.S. On the way to Mexico they were robbed twice.
Still, he knows he's closer to safety in the migrant camp in Tijuana than he was in Honduras.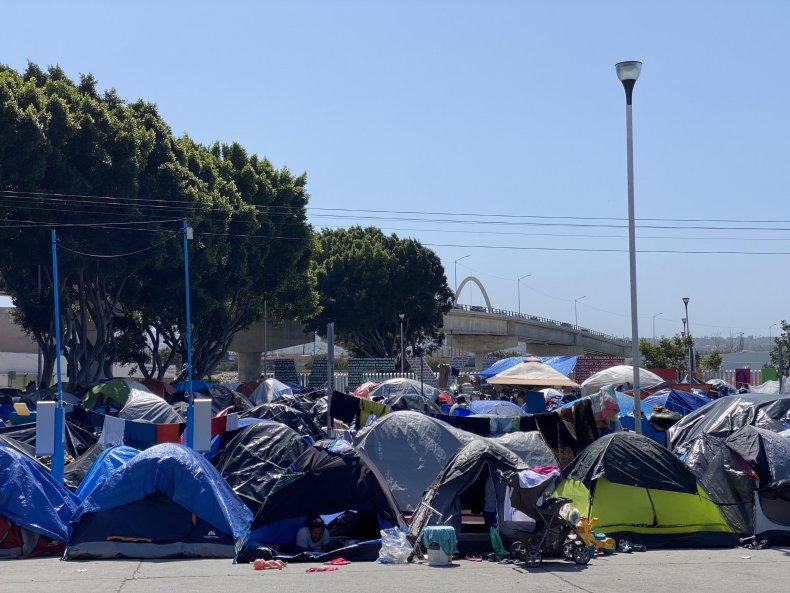 "My American Dream is for the well-being of my family and a better future for my children," he said. "It's about the safety of my family."
Extortion stands as one of the primary reasons for migration from the Northern Triangle, the Norwegian Refugee Council reported. In a 2020 report, the Council found that people in that region are frequently subjected to daily extortion, which is often followed by violent threats, kidnappings, and sexual violence.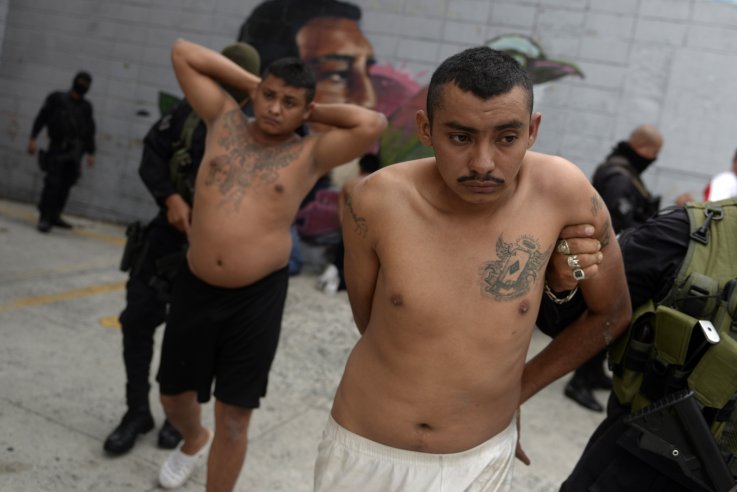 Alleged members of the Barrio 18 gang are detained by members of the National Civil Police during an operation in San Salvador on May 11, 2015
PHOTO CREDIT: Marvin RECINOS/AFP via Getty Images
The Northern Triangle nations, El Salvador, Honduras and Guatemala, are three of the six poorest countries in the western hemisphere. With so many people barely making a subsistence living, few can afford extortion payments to gangs. And even if they somehow manage to pay, many still face violence from the gangs for other reasons.
Mara identifies as a lesbian. Gang members in her native Honduras told her and her girlfriend that they were going to kill them because of their sexuality. Though discrimination against LGBTQ+ people is illegal in Honduras, they are often targets of persecution. Amnesty International reports that between 2009 and 2017 about 264 LGBTQ+ people were murdered in Honduras. They note that number is likely low, due to the difficulty in obtaining accurate data from the government.
For Mara, the American Dream is survival.
A person who faces persecution for "membership in a particular social group'' qualifies as a refugee under the United Nations' 1967 Protocol Relating to the Status of Refugees, of which the United States is a signatory. Individuals also qualify who face persecution on the basis of their "political opinion."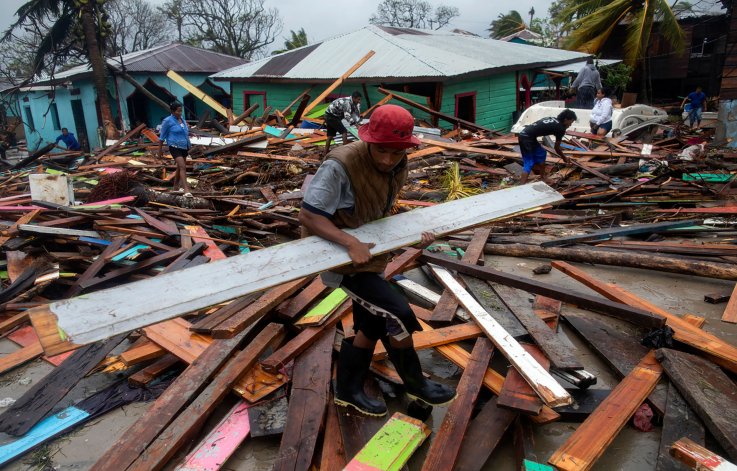 Bilwi, Nicaragua: A man gathers wood to repair his home after the passage of Hurricane Iota, on November 17, 2020. Iota struck just two weeks after Hurricane Eta devastated parts of the region.
Photo by STR/AFP via Getty Images)
Alejandro falls into this category.
Alejandro came to the tent city from Nicaragua. Under Nicaraguan President Daniel Ortega, those who oppose his Sandinista National Liberation Front socialist party face violence and death. Alejandro, who has never been politically active, received an invitation to join the party, but decided not to join.
Government officials sought him out and shot him in the neck. Badly wounded, he somehow survived and managed to return home. He told his wife and children to immediately prepare to leave the country.
Alejando dreams of freedom to work.
"I cannot do anything in my home country because of the regime," he said. "There are no jobs. The economy is falling apart. I just want to come to the U.S. to develop myself and help my relatives that remain back home."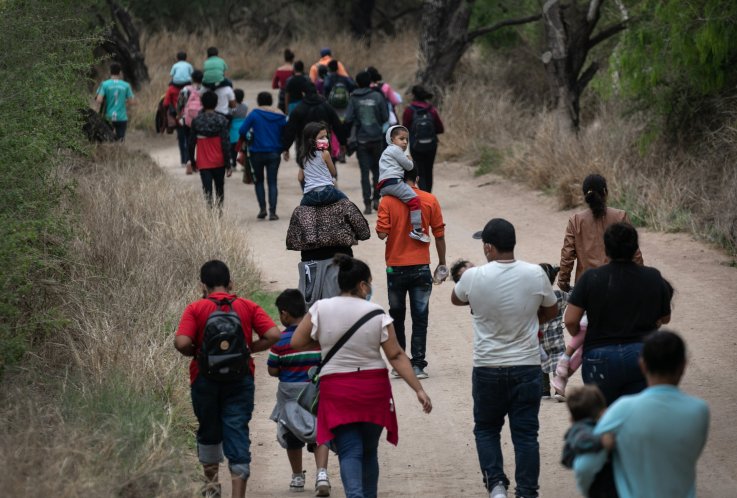 A group of migrants said "thank you" to President Joe Biden while they were apprehended by border patrol in La Joya, Texas. Asylum seekers, most from Honduras, walk towards a U.S. Border Patrol checkpoint after crossing the Rio Grande from Mexico on March 23, 2021 near Mission, Texas.
John Moore/Getty Images
Whereas in the past, men traveling alone migrated to the U.S. to work and send money back to their families, with the instability in their home countries, more are trying to bring their families with them.
In 2013, Customs and Border Protection apprehended 15,000 total family units (a legal guardian traveling with a child) at the Southwest border. In 2017, the first year of the Trump administration, that figure hit nearly 76,000. In 2018, it topped 107,000. In 2019, it reached over 473,000. In 2020, during the COVID-19 pandemic, the figure still totaled more than 52,000.
Yadira chose to leave Honduras to try to save her daughter.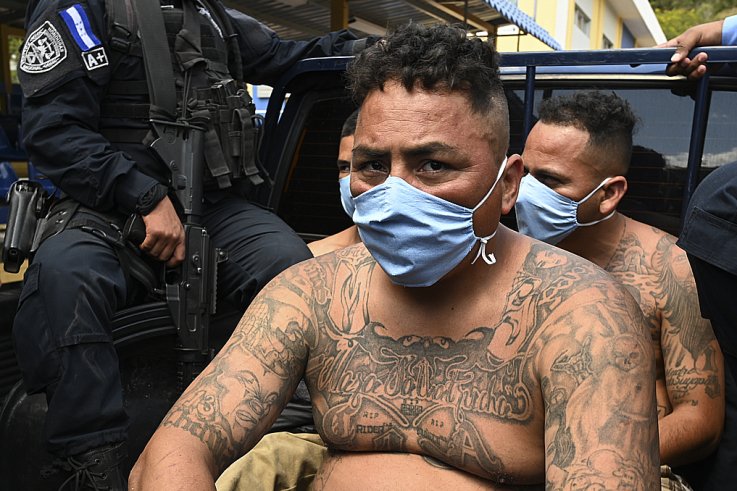 HONDURAS-GANGS-ARREST Members of the criminal gang Mara Salvatrucha (MS-13) are transported by officers of the National Police in Tegucigalpa, on February 19, 2021.
Photo by ORLANDO SIERRA/AFP via Getty Images
She left her home after local gang members tried to rape her 13-year-old daughter. She took the next bus out of the country and begged bus station to bus station until someone gave her enough money to make the next fare. She said Mexican citizens look down on her and treat her as less than equal. However, she said in the encampment she has found support, and she remains optimistic, with a dream that keeps her alive.
"More than a Dream, America is a need," she said. "We need protection. I need a better life for my family."