Chattanooga Officer Shoots Person After Their Suicide
A Tennessee police officer has fired three rounds at a person who had just taken their own life.
At around 11:30 a.m. on Sunday, the Chattanooga officer attempted to talk someone out of killing themself. According to WRCBtv, police spokesperson Elisa Myzal said the officer fired off three rounds in quick succession once the person made the decision to end their life. Two of the bullets hit a chair and the third struck the person's leg.
An investigation into the incident has begun and will be conducted by the Violent Crimes Bureau, Crime Scene and Internal Affairs Units. All officers at the scene have been placed on leave—as per police policy. The name of the victim and the names of the officers have not been released.
Chattanooga Police Department confirmed to Newsweek that the only person shot was recently deceased. It refused to comment further while the investigation was underway.
If you have thoughts of suicide, confidential help is available for free at the National Suicide Prevention Lifeline. Call 1-800-273-8255. The line is available 24 hours every day. If someone you know appears to be contemplating suicide, visit Bethe1To.com for assistance.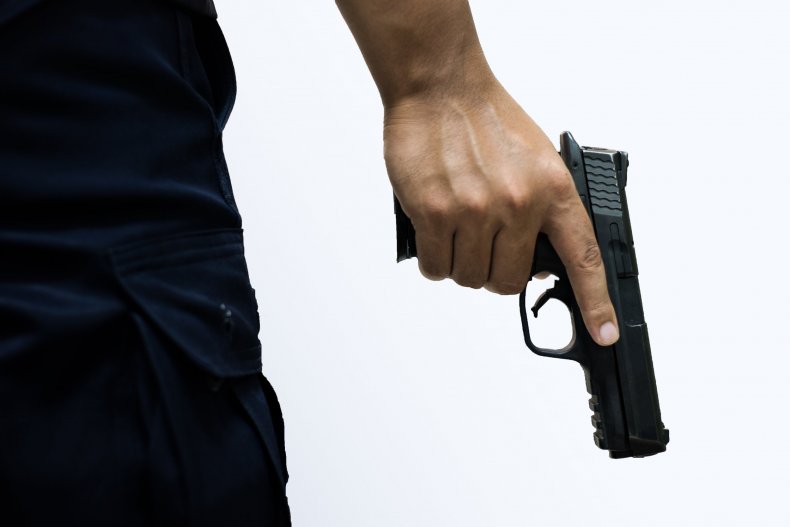 In Canada last week, Calgary police investigated complaints that officers threw a 12-year-old autistic boy to the ground and fractured his skull.
Police were called to a house in Cougar Ridge after young Jack Parcells was described as "uncontrollable and causing damage within the residence." Jack was reportedly staying with relatives while his parents were away. According to a statement by the Alberta Serious Incident Response Team (ASIRT), Jack had been locked in a room and was off his medication.
When police arrived at the scene, they were asked to help transport Jack to a local hospital. ASIRT conceded that officers were struggling to control him as he was not handcuffed. It was then that Jack suffered a fractured skull, loss of hearing in his right ear and several other minor injuries.
Earlier this month, footage emerged of police in Michigan using a stun gun on a Detroit suburbs father holding his infant child. Ray Brown, 33, can be seen in a four minute video squaring off with police while his baby cries throughout.
Initially, one Westland cop informs Brown that they arrived to deal with a complaint of "damage to property." Brown retorts, "What property? Where's the property that's been damaged?"
His voice grows louder off-camera and he asks the policeman, "What is the crime right now?" Another police officer then aims his flashlight directly at the neighbor's cell phone lens that impairs his ability to visually capture the discussion between Brown and the police.
"Don't shine a light on me, cuz," the neighbor said. "Y'all got the light on my face."
At one point when prompted to identify himself, the person recording with his phone responds, "I'm a neighbor." Brown, in a high volume, is heard demanding the police officers produce the "damaged property," which is purported to be a Crock-Pot that Brown's 28-year-old wife Nicole Skidmore borrowed.
Chattanooga Officer Shoots Person After Their Suicide | U.S.