For many in the African-American community, justice is a foreign concept, a dream that will forever be deferred. But on Tuesday, that dream inched just a tiny bit closer to reality, after the word "Guilty" was read loud and clear three times in the courtroom where Derek Chauvin stood trial for killing George Floyd.
President Biden called the verdict "a step-forward in the march toward justice" and his words couldn't have rung truer. Not a reckoning, not revolution, yet this verdict is a step in the right direction in ensuring full equality for Black Americans, something that has long eluded us.
As a pastor in the Fort Greene area of Brooklyn, I walk in many different capacities. I am a faith leader, a Black man, a community advocate, and clergy liaison for the 88th Precinct of the New York Police Department. This means that I am forced to see the world through the eyes of many different groups.
As a faith leader, I'm a proponent of faith and justice. In Isaiah 1:17, the Scripture tells us, "To learn to do good; seek justice, correct oppression; bring justice to the fatherless, plead the widow's cause." It is a command for us as believers and especially leaders of the faith to be intentional about the betterment of our community, serving not only in love but fighting for justice.
But I am not only a faith leader. As a Black man and community advocate, I've been compelled to chant the words "Black Lives Matter" and conduct my own protests after witnessing the mistreatment of Black and brown Americans at the hands of corrupt police officers.
And then there's my third role: As a clergy liaison, I've united with my brothers and sisters in blue as they have defended and faithfully served the Brooklyn community. We have partnered on many occasions to serve the disenfranchised through feeding programs, urban youth mentoring and build-a-block meetings.
I have experienced countless powerful moments of standing hand in hand with police officers. Praying for their lives and the lives within the community are what fuel my obligation as a faith leader.
I have marched against police brutality, but I have also defended some of my honorable colleagues in the NYPD because I know first-hand that there are real people who live underneath blue uniforms; real people who have families that they hope to return to every night after their shifts.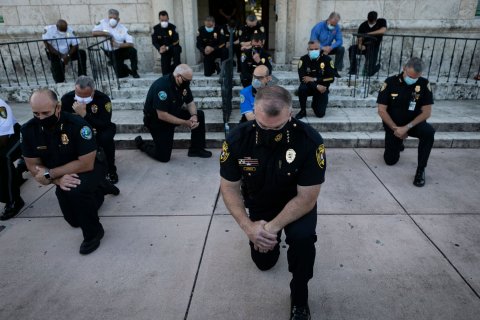 The goal of our movement for justice is not to demonize police officers or make them our enemies, but to hold them to their sworn task, to "Protect with Courage and Serve with Compassion."
In a way, this is what Derek Chauvin's trial was about.
In the closing arguments, the prosecution insisted that their case was based on the idea that policing is a noble profession—one inconsistent with what Chauvin did to George Floyd. "What the defendant did was not policing," the prosecutor said. "What the defendant did was an assault. This is not an anti-police prosecution. This is a pro-police prosecution."
Contrast this with the Chauvin's defense attorney, who kept insisting that Chauvin's actions reflected what any "reasonable police officer" would have done, words he repeated over and over throughout his closing statement.
This was a trial over whether Americans believe that reasonable policing means you can kneel on someone's neck for over nine minutes until they die. It was a trial over whether you can say that black lives matter while also insisting on respecting the police officers in your community.
I know the answer is yes. So did the jury. And now, so does. America.
It is vital to distinguish between what is acceptable and what is not; what is permissible and what is not; what is excessive and what is not; what is justified and what is not. What is going to be the standard of our men and women in blue? A change is happening.
But it's not only the courts and the general public making that change, holding police officers accountable. It's their own peers and colleagues.
It was refreshing to hear fellow members of law enforcement testify over and over that they believe Chauvin used excessive force.
"Once there was no longer any resistance, and clearly when Mr. Floyd was no longer responsive and even motionless, to continue to apply that level of force to a person proned out, handcuffed behind their back—that in no way, shape or form is anything that is by policy, is not part of our training and is certainly not part of our ethics or our values," Minneapolis Police Chief Medaria Arradondo testified.
His rebuke wasn't just based on Chauvin disobeying procedures, but on Chauvin's dereliction of police ethics and values.
We need more leadership like Arradondo's, with his zero-tolerance policy for corruption in his department. He didn't hesitate in firing Chauvin and the three other officers who were at the scene on May 25, 2020. Too long has the "blue wall of silence" being the norm. Real leadership promotes real standards and real accountability.
And we desperately need it. The fight is not over. Police are still killing people of color across the country. Over the past month, police officers shot and killed Ma'Khai Bryant, Daunte Wright, and Adam Toledo. The epidemic continues.
May the awakening brought about by George Floyd's murder, and the public acknowledgement of the guilt of his killer, be a watershed moment for true justice and equality for the Black community, and one that allows us to find unity with the good members of the police who are also members of our community.
Alex Williams is Senior Pastor of the Institutional International Ministries in Brooklyn, NY. He serves as a Community Advocate and Clergy Liaison to the NYPD 88th Precinct.
The views in this article are the writer's own.