'Cheaper by the Dozen' Cast Reunite for TikTok Challenge to Raise Money for Hunger Charity
The Cheaper by the Dozen cast have reunited to take part in the "I'm Just a Kid" TikTok challenge recreating moments from the movie.
The TikTok challenge sees people recreate their childhood pictures with "I'm Just a Kid" by Simple Plan as the soundtrack to their video. But the Cheaper by the Dozen cast put their own spin on the trend by recreating their characters' memorable scenes.
Hilary Duff and the other cast members shared the video on Instagram and said: "Surprise! From the Baker family to yours. We are all in this together. #wearefamily." They also shared a link to a donation page for the No Kid Hungry charity.
No Kid Hungry shared the video on Twitter with a gif of the kids in the movie and said: "Best surprise ever! Thank you, Baker family, for being hunger heroes for kids!"
The video shared on Bonnie Hunt's Twitter currently has 1.5 million views and has fans talking about more than just the cast's recreations.
The last frame of the video is a promotional image for the movie featuring Steve Martin as Tom Baker holding up photos of his large family, though his sweater has been edited to display the number three, teasing the idea of a third movie.
The video features most of the Cheaper by the Dozen cast; Duff, Hunt, Piper Perabo, Kevin G Schmidt, Alyson Stoner, Jacob Smith, Morgan York, Shane and Bret Kinsman, Blake Woodruff, and Forrest Landis all make an appearance. Tom Welling and Liliana Mumy are both missing from the video, as is Martin.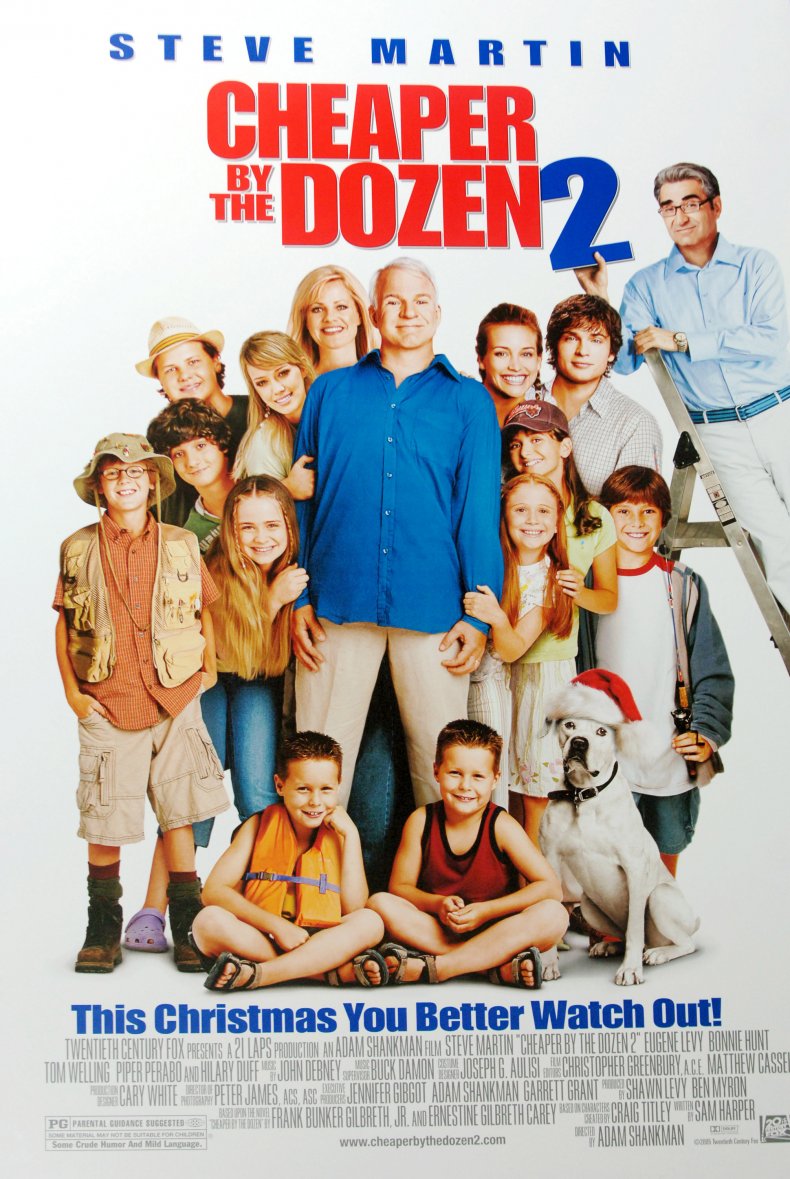 While some cast members, like Duff and Perabo, are still familiar to fans of the movie, others are unrecognizable from their Cheaper by the Dozen days.
Morgan York, who played Kim Baker, wears a long, blonde wig in the video to help recreate her photo, as she now has short, blue hair. York is now a Twitch streamer and writer working at a publishing house in New York City and said on Instagram that she had gained 2,000 followers since the video was posted.
Other fans were surprised to see what the Kinsman brothers, who played twins Kyle and Nigel Baker, look like now grown-up. The brothers were eight when the movie was released, and are now 22. According to Woodruff, the Kinsman brothers and Schmidt organized the reunion.
Cheaper by the Dozen was released in 2003, followed by the sequel Cheaper by the Dozen 2 in 2005. The movie was a remake of a film from 1950s inspired by a semi-autobiographical novel by Frank Bunker Gilbreth Jr. and Ernestine Gilbreth Carey, published in 1948.