#Cheaters Trends After Houston Astros Manager, GM Suspended For Stealing Signs During 2017 World Series Run
As news broke Monday afternoon that Major League Baseball suspended Houston Astros manager A.J. Hinch and general manager Jeff Luhnow one year for the team stealing signs during the 2017 season and postseason, social media trends across Twitter took aim at the Astros. Among the hashtags were Cheaters, Pete Rose and the Los Angeles Dodgers, who lost in seven games to the Astros during the 2017 World Series.
For a quick recap of MLB's decision, the league began investigating the Astros' 2017 team when former Astros player Mike Fiers last November came forward to say his team had engaged in sign-stealing methods during 2017 that violated MLB policy.
The Astros organization cooperated with the investigation, handing over video equipment, emails and other communications methods by the team. MLB also interviewed several dozen people, according to its report.
"During the investigation, the DOI interviewed 68 witnesses, including 23 current and former Astros players," the report read. "Some witnesses were interviewed multiple times. The DOI also reviewed tens of thousands of emails, Slack communications, text messages, video clips, and photographs. The Astros fully cooperated with the investigation, producing all requested electronic communications and making all requested employees available for interviews."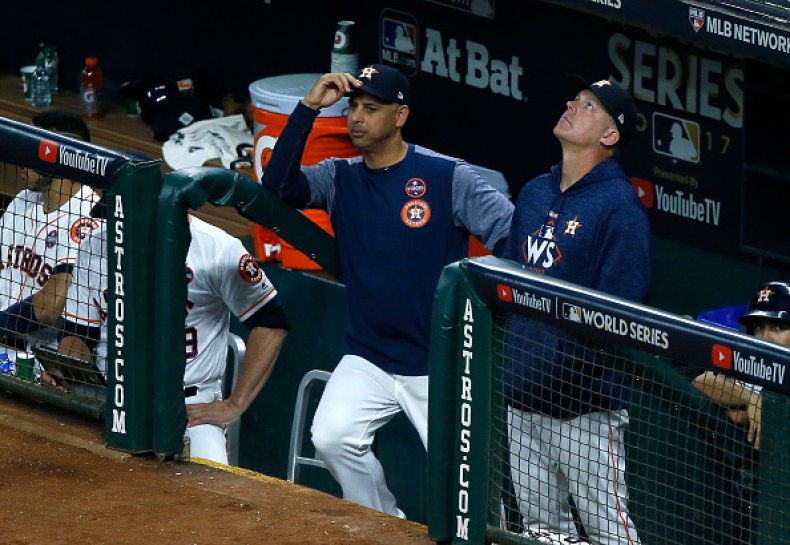 The sign-stealing scheme involved a video camera set up in centerfield, and videos of signals being recorded, decoded and sent to hitters, who would know what pitch to possibly expect. The discipline doled out Monday included Hinch and Luhnow suspended for one season without pay, former assistant GM Brandon Taubman is ineligible to perform any services for any other baseball club for the 2020 season, and the Astros will forfeit its first- and second-round draft picks in both 2020 and 2021.
The Astros will also have to pay the league's highest allowable fine of $5 million under the Major League Constitution.
Astros owner Jim Crane on Monday fired Hinch and Luhnow, according to the Houston Chronicle.
"Today is a very difficult day for the Houston Astros," Crane said. "MLB did a very thorough investigation and the Astros fully cooperated and we accept their decisions and findings and penalties."
Some Twitter users felt a one-year suspension was just a "slap on the wrist" for behavior that happened during a World Series championship run.
This user, like many on social media, felt Pete Rose's lifetime ban should be lifted if the Astros coach and GM only get a one-year suspension.
Should the Astros have to vacate their 2017 World Series title? Some think so.
Some want their money back that was spent on attending games in the 2017 Fall Classic.
Phil Hughes, who pitched for the Minnesota Twins during the 2017 season, asked if he could have his stats against Astros stars Jose Altuve, George Springer and Carlos Correa "erased from the record books."
According to MLB.com, Hughes only pitched in one game against the Astros that season—July 14 in Houston. Hughes gave up two home runs, five hits and five earned runs with a strike out and one walk in 1.1 innings pitched.