Chechen Leader Claims Russian Troops Have Seized Zolote, Gorskoye
Aerial footage reportedly shows Chechen troops bombing a Ukrainian stronghold amid claims they have seized the towns of Zolote and Gorskoye.
Chechen leader Ramzan Kadyrov said Friday: "Efficient work with unmanned aerial vehicles makes it possible to smoke out Ukrainian nationalists and Banderites from their trenches.
"It was this method that was used during the liberation of the settlement of Zolote from the enemy."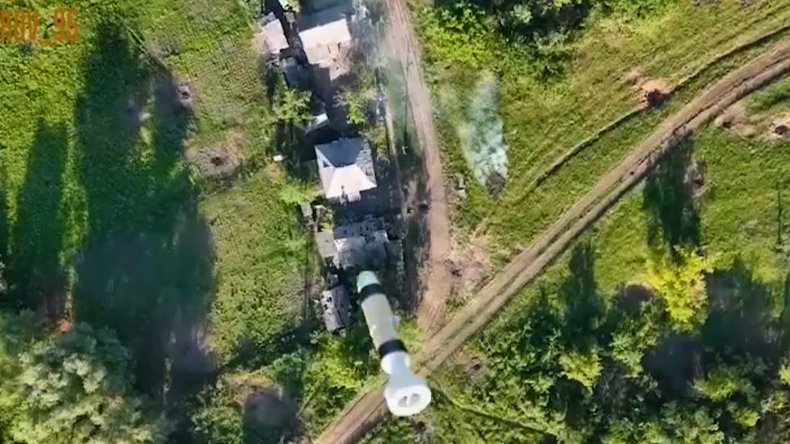 "Under the command of my dear brother and Hero of Russia, Zamid Chalaev, our fighters successfully destroyed enemy forces in their controlled area, and the rest of the demoralized Ukro-nazi detachments left their positions in a hurry, leaving us with a huge amount of captured weapons.⠀"I am sincerely glad that our fighters managed to solve the problem of liberating Zolote without a single casualty among the personnel. This suggests that the guys are moving in the right direction and are improving their efficiency day by day.⠀"The capture of Zolote was preceded by the liberation of the village of Katerinovka, which was taken by storm in two days. The enemy had to retreat despite tactical superiority quickly. As always, our fighters and the 6th Cossack Regiment of the LPR did a brilliant job. Thanks to this, our special forces managed to get behind enemy lines and encircle Zolote and Gorskoye.
"Fighting in the LPR proceeds at lightning speed and the situation changes unpredictably in a matter of hours. While we were sharing the good news with you, dear brother Zamid Chalaev announced the liberation of the settlement of Gorskoye."
Zenger News has not been able to verify the claims or the images independently.
Russia invaded Ukraine on February 24 in what the Kremlin calls a "special military operation." Friday marks the 121st day of the invasion.
The General Staff of the Armed Forces of Ukraine reported that between February 24 and June 24, Russia had lost about 34,530 personnel, 1,507 tanks, 3,637 armored combat vehicles, 759 artillery units, 241 multiple launch rocket systems, 99 air defense systems, 216 warplanes, 183 helicopters, 622 drones, 137 cruise missiles, 14 warships, 2,553 motor vehicles and fuel tankers, and 60 units of special equipment.
The European Union on Thursday approved Ukraine's application to become a candidate for admission to the bloc, which is currently made up of 27 countries. The decision has been hailed in Brussels and Kyiv as a "historic moment," with Ukraine President Volodymyr Zelensky saying that "Ukraine's future is in the EU."
The head of the International Energy Agency, Fatih Birol, warned Russia might stop supplying gas to Europe this winter. Several European countries have already received less Russian gas than expected in the last few weeks, with European imports of natural gas from Russia dropping from approximately 40 percent to 20 percent.
Germany has taken a step closer to gas rationing after a drop in supplies from Russia.
British intelligence has estimated that the pro-Russian, so-called Donetsk People's Republic (DPR) has lost 55 percent of its original forces.
U.S. intelligence has revealed that Russia is mining the Black Sea ports of Odesa and Ochakiv to throttle Ukraine's ability to export grain.
Russia is now thought to control all of the eastern Ukrainian city of Severodonetsk, apart from the Azot chemical plant.
Ukrainian officials have said there are currently no safe towns for civilians in the Donetsk region of eastern Ukraine as fighting intensifies.
This story was provided to Newsweek by Zenger News.