Cheech and Chong Say 'Pot's Over' Now That Republicans Like John Boehner Are Supporting Marijuana Reform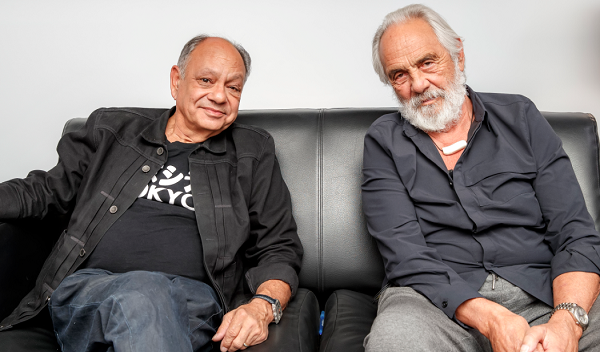 The age of marijuana's rebellious and cool status is officially over, according to Cheech Marin and Tommy Chong. While appearing on The Late Show with Stephen Colbert on Monday, the longtime stoners revealed they were done doing comedy about the drug, claiming "pot's over" now that stiff, un-cool government officials were now, suddenly, jumping on the cannabis reform bandwagon.
It all started when late-night host Colbert asked Marin and Chong what they thought about the push for legalized pot now that Republicans like former House Speaker John Beohner—a longtime opponent of marijuana reform—were starting to support pot's legalization. Both comedians admitted: "This news sucks."
With marijuana entering the mainstream, Marin teased the plant had lost its allure and was now "boring." Chong agreed, saying, "Now crusty old Republicans like John Boehner are into it. Pot's over, man."
Instead, the duo said they'd use their comedy to promote other items deemed illicit in the eyes of the government, "stuff that's still illegal," like the use of unpasteurized dairy products and the importing of exotic reptiles into the U.S.
Boehner, who was once quoted as "unalterably opposed" to decriminalizing marijuana, announced he was serving on the board of directors for Acreage Holdings, a cannabis company aiding in the fight for decreased marijuana restrictions. The company grows and sells legal marijuana and services 11 states. According to 68-year-old Boehner, he decided to join the company in effort to get veterans legal access to the drug.
Although Beohner's newfound acceptance of marijuana raised eyebrows, his sentiments regarding the medical value of the plant falls in line with a growing number of Americans who believe patients and adults should be able to legally consume cannabis. A Pew Research Center report in January found 61 percent of U.S. adults were in favor of legal marijuana.