Who Is Monica Aldama? Netflix 'Cheer' Docuseries Reveals How Coach Led Navarro College Cheer Team to Multiple Victories
To lead a troupe of students to victory in any type of competitive sport, a coach must have a certain level of patience, skill and dedication. But to lead a team all the way to the winner's circle for a sport in which one false move could result in a team member's broken neck, now that also takes an extraordinary level of drive and talent. Monica Aldama has all of that.
The iconic head coach of Navarro College's cheerleading team actually has an abundance of qualities that have aided the Corsicana, Texas, institution to win not one, not two but 14 National Cheer Association championships within the competition's junior college division among dozens of other notable titles. So it's no surprise to see Aldama leading the charge in Netflix's newest docuseries, Cheer.
The six-part docuseries, which released on Wednesday, follows Aldama as she picks her squad of 20 students and prepares them for the crème de la crème of cheerleading competitions—the Nationals in Daytona, Florida. If you've ever seen the 2000 blockbuster comedy Bring It On, then you may have an inkling of how seriously hardcore the Nationals are in the world of cheerleading, but with Cheer, viewers will get an even deeper tutorial into the blood, sweat and tears it takes to even make it to the mat.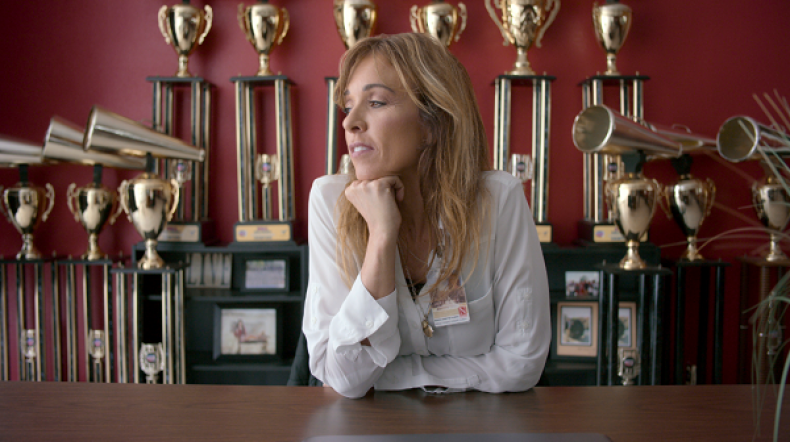 The docuseries also shines a light on what it takes for a coach to lead a team to victory at the strenuous competition year after year. For Aldama, who's served as head coach of Navarro College's cheer team for more than 20 years, that not only means practicing every day and demanding a strong work ethic from every student on her team, but instilling in team members the courage and ambition to tackle anything life may throw at them, whether it's a new mount or a challenge in their personal lives.
Referred to by her cheerleaders as the queen, Aldama keeps pushing her team toward greatness with a motto that's reiterated throughout the Netflix docuseries: "You keep going until you get it right, then you keep going until you can't get it wrong."
Cheer filmmaker Greg Whiteley, who also produced and directed Netflix's football docuseries Last Chance U, said it was the team's professionalism and precision—attributes it undoubtedly gained from the tough-as-nails Aldama—that drew his attention to the school's cheerleading program. "They practice about three to four times longer than the football team," Whiteley told Sioux City Journal of Aldama's coaching style.
A Texas native, Aldama was recently inducted into the school's Athletic Hall of Fame for her contribution to the cheer team and Navarro College's legacy.