'Cheer' Season 1 Recap: What Happened At The End of Series 1 and Who Left Navarro College?
Cheer took the world by storm when it premiered on Netflix worldwide in January 2020. Audiences found themselves invested in who would take a spot on the mat for Daytona, their favorite cheerleader's backstories and whether they would return for another season of cheer at Navarro College under coach Monica Aldama.
After two years of waiting, Cheer season 2 will premiere on Wednesday, January 12. Speaking to Newsweek, Cheer director Greg Whiteley teased there were so many stories left to tell after season 1. He said: "It was pre-pandemic and just in our first few days of being in Navarro, it indicated to me that there was just more story to tell. We couldn't have predicted how much more story there would be to tell. But we knew that what we were seeing was worth following at least for a second season."
Before you get your teeth stuck into the gripping series, Newsweek has a reminder of what happened at the end of season 1.
What Happened At The End of Cheer Season 1?
Navarro College Won At Daytona
The intense finale of Cheer saw Navarro get a second shot at performing at Daytona after cheerleader Austin Bayless sustained an ankle injury. They were given just 30 minutes to rehearse the routine with an alternate team member, Alex Bouhuys, and perform their routine again.
In the end, their performance was enough to beat rivals Trinity Valley and they took home their fifth Grand National Championship title.
Gabi Butler Left Navarro
Top cheer-leader and social media star Gabi Butler left Navarro following their Daytona victory to pursue other cheer opportunities.
Shortly after the documentary aired, Gabi revealed via Instagram she had enrolled at Top Gun Cheer, one of the most elite cheer programs in the United States.
Thankfully, she returned to Navarro not long after enrolling at Top Gun and will appear in Cheer season 2.
Judging by her Instagram today, Gabi is now cheering for Weber State University, who are five-time national Champions.
Lexi Bumbrack Ran Into Trouble With The Law
Lexi Brumback had to drop out of Navarro after she ran into trouble with the law.
Lexi, who was the team's top tumbler, told Netflix camera crews that police had caught her with some "illegal stuff" and as a result, was kicked off the Navarro team and returned home to Houston, Texas. The charges were later dropped.
In the final episode, Lexi was filmed out partying and fans worried she would return to her old trouble-fuelled life. In her teens, Lexi even spent time in jail.
Thankfully, Coach Monica at Navarro opted to give Lexi a second chance and after Cheer finished filming, Lexi returned to Navarro.
Speaking to Popsugar, Lexi said: "This past fall semester, I went to go to a different college and... I just didn't feel at home, and I didn't really feel like I had that family I did here in Navarro.
"My parents, as well as my old coaches, had reached out to Monica about me coming back and she was open about giving me a second chance.
"I came back and I'm really glad that I did. I wouldn't want to be anywhere else."
La'Darius Marshall and Jerry Harris Returned to Navarro After Leaving
Stunter La'Darius Marshall left Navarro College in the final episode to coach at a cheer gym in Valparaiso, Florida.
There is good news for La'Darius fans. He eventually decided to return to Navarro College for this third and final year and will appear in Cheer season 2.
As for Jerry, he received a scholarship to study at the University of Louisville, where he joined the cheerleading team there.
However, nothing could keep him away from Navarro and just after one semester at the University of Louisville, Jerry returned to Navarro.
Speaking to Esquire, Jerry said: "I actually went last semester [to Louisville] but was missing Navarro so much so I reached out to Monica and asked if there were any openings for me and she said yes, so I decided to seize the opportunity to make myself happy and do what I wanted to do. So, I decided to come back.
Jerry will feature in the first half of Cheer season 2 and the documentary will address the sexual assault allegations. In September 2020, Harris was arrested on federal sexual misconduct charges, including the production of child pornography, He has pleaded not guilty to all charges.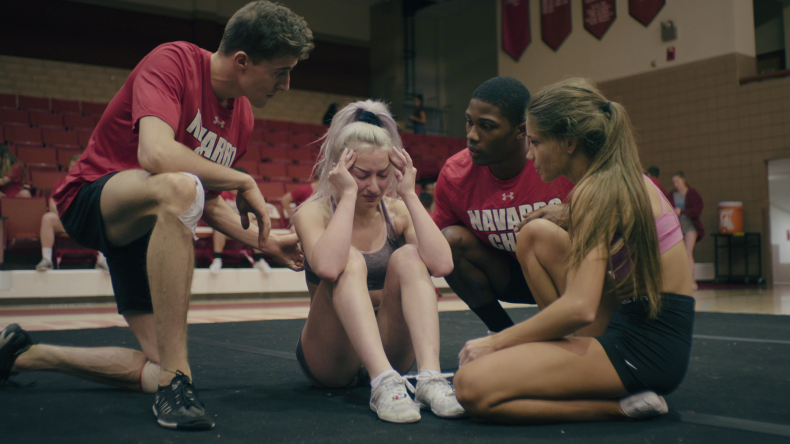 Morgan Simianer Returned to Navarro
Morgan Simianer, one of Navarro's top flyers and a favorite amongst audiences, returned to Navarro for her third and final year.
Throughout the first season of Cheer, Morgan sustained a series of rib injuries, threatening her place on the mat at Daytona.
Thankfully in the face of adversity, Morgan stayed strong and opted to return to Navarro for a third and final year.
Sherbs Left Navarro for Good
Mackenzie 'Sherbs' Sherburn was one of the top flyers at Navarro College and was one of the breakout stars of season 1.
At Daytona, she was supposed to perform in the basket, as a flyer and hold the coveted spot of the top girl of the pyramid.
However, she was forced to pull out of Daytona after she was dropped during a basket in practice, dislocating her elbow. As a result, Allie Ross and Morgan Simianer stepped up to fill in for her roles.
Sadly, at the end of Cheer season 1, it was revealed her time at Navarro College had come to an end. She graduated with an Associates' Degree in Science and went on to study at Texas Tech University, where she continued to cheer.
Cheer Season 2 premieres Wednesday, January 12 on Netflix.