Cheer Season 2 premieres on Netflix on Wednesday, January 12 and fans cannot wait to get invested in Navarro College and Trinity College Community College's (TVCC) rivalry—and their respective journeys to Daytona 2020 and 2021, to the National Cheerleading Championship.
Several favorites from Season 1 are returning to the mat, including La'Darius Marshall, Morgan Simianer, Lexi Brumback, and Gabi Butler but as veterans graduate from Navarro College every year, there is inevitably a host of new talent on the Navarro team.
Cheer Season 2 also shines an equal amount of light on Navarro's biggest rivals, TVCC and with that, comes a whole host of new participants for you to get behind. Newsweek has everything you need to know about the new cheerleaders in Netflix's Cheer Season 2.
Meet The New Cheerleaders in Netflix's Cheer Season 2
Navarro College
Maddy Brum — @maddybrum
Maddy Brum, originally from Massachusetts, joined Navarro in 2019 and was ready to compete for Daytona in 2020.
However, due to the outbreak of covid-19, Brum lost her opportunity to perform at Daytona that year, leaving her absolutely devasted.
For the 2021 semester, Brum came back fighting and earned herself a spot on the mat as the top flyer for Daytona. Throughout the series, she is praised by coach Monica Aldama and her teammates for her all-around talent and athleticism.
Throughout the series, audiences will see Maddy pile the pressure on herself and occasionally, sometimes a little too much.
She also speaks openly about her troubled childhood and her complicated relationship with her father, who served a 10-year jail sentence.
Outside of Navarro, Maddy also cheers for the Cheer Athletics (CA) Wildcats and previously has cheered for and coached at East Celebrity Elite Gym in Tewksbury, Massachusetts.
Gillian Rupert — @gillianrupert
Gillian Rupert joined Navarro College at the same time as Brum, also competing on the '19-'20 and '20-'21 teams at Daytona.
At first, Gillian, a rookie, seems pretty quiet but comes into her own on the mat at Navarro. She also has a whole new wave of confidence after opening up her friendship with fellow teammates and best friend Cassadee Dunlap, whose family took her under their wing.
Outside of her career at Navarro, Gillian cheered for the CA Wildcats, where she helped them win at Worlds in 2019.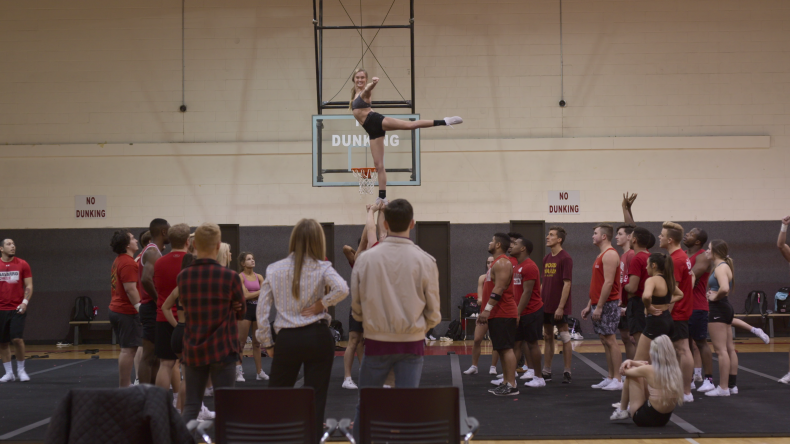 Cassadee Dunlap — @cassadeedimples
Cassadee Dunlap is also a rookie tumbler when we first meet her in Cheer.
Cassadee speaks about her child pageant past including appearing on Cheer Perfection and Toddlers & Tiaras, and how that experience taught her to "smile through the pain."
At the end of Cheer, it is revealed Cassadee would not be returning to Navarro as she was going to attend University.
If her Instagram is anything to go by, Cassadee is studying at the University of Central Arkansas and is cheering for the Bears.
Brooke Morosca — @brookemorosca
Brooke Morosca is one of Navarro's most talented flyers who tries her absolute hardest to make mat for Daytona in 2020, after serving as an alternate in Navarro's 2019 championship team.
Outside of Navarro, Brooke coaches cheerleading and also cheers for Cheer Athletics and Next Level Cheerleading.
Today, she is studying at the University of Tennessee.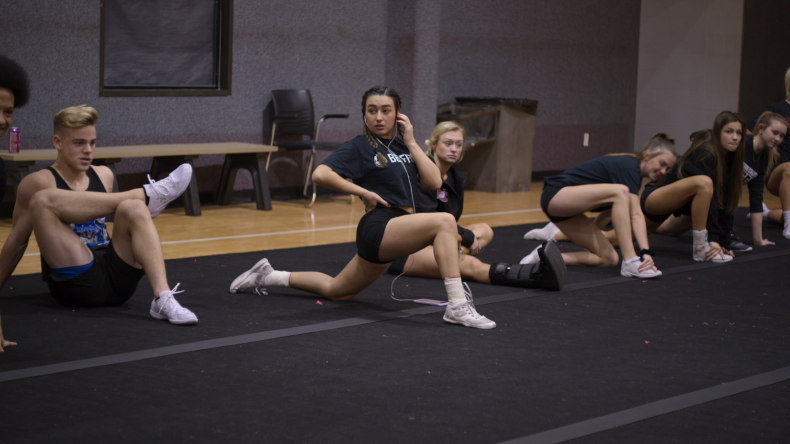 Payton Sykes — @payton.sykes
Payton Sykes undoubtedly brings the sass and edge to Navarro's Daytona 2020 and 2021 routines.
Outside of Navarro, he also cheers for Cheer Athletics and Woodlands Elite Cheer Company, winning Bronze and Silver at the world championships.
Trinity Valley Community College
Jada Wooten — @jadawooten
Jada Wooten is one of the most outspoken and talented cheerleaders at TVCC.
Serving as both a tumbler and flyer, she lives and breathes cheerleading and by Daytona 2021 is one of the strongest leaders on the team.
Jada previously cheered for Cheer Athletics and is a 2015 World Champion and three times Bronze Worlds Medalist.
Judging by her Instagram it looks like Jada is cheering for the Kats as she attends Sam Houston State University.
Jeron Hazelwood — @prince_jeron
Jeron Hazelwood is one of TVCC'S biggest personalities, who lifts the team's spirit on a daily basis as well as shining as a stunter and tumbler.
Sadly, he missed out on performing at Daytona 2020 due to the coronavirus pandemic and again at Daytona 2021 as he had graduated from college.
Despite his absence in the team, Jeron appears throughout the first half of Cheer as a TVCC cheerleader and in the latter half as a supportive alum, cheering on his former teammates.
He also cheers for Gymtyme Chrome and Cheer Athletics.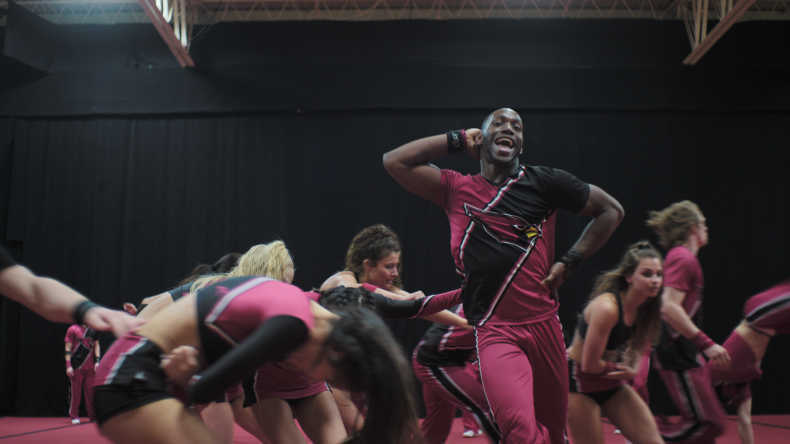 DeVonte 'Dee' Joseph — @tumbling_dee
DeVonte 'Dee' Joseph has an insane amount of tumbling skills and talent. So much so, he is able to perform a "quint" — a flip with five turns considered so difficult, it is actually illegal to perform at Daytona.
Dee learned his skills from his older brother and at Georgia's Flip City South, where he met Angel and Jaden Rice who also cheer for TVCC.
In Cheer Season 2, Dee and his coach Vontae Johnson butt heads over Dee's reluctance to "perform" the choreography, almost risking his place on the mat. At one point in the documentary, TVCC assistant coach Khris Franklin described him as the "most talented kid in America."
Angel and Jaden 'Jaymo' Rice — @qangel_rice and @jaymogoodeypfk
Angel Rice, described as the "Simone Biles" of Cheerleading by her teammates is TVCC's greatest tumbling star.
The former TEAM USA gymnastics star currently holds the Guinness Book of World Records holder for most double full twists. She is also four times world champ.
Her brother is Jaden Rice, who is also a tumbler and has cheered for CA's Wildcats. He is close friends with Dee and Ben 'Benji' Chester and the trio are known as the "The Weenies."
Ben 'Benji' Chester — @benji.lv
Benji Chester is a rookie tumbler on TVCC, praised for his insane levels of flexibility.
TVCC, is not Benji's first time cheerleading, having previously cheered with Rockstar Cheer.
Today, he currently cheers for CA's Wildcats.
Cheer Season 2 premieres Wednesday, January 12 on Netflix.