Will There Be a 'Cheer' Season 3? The Future of the Netflix Docu-Series
Cheer Season 3 is what everybody is talking about after the long-awaited second season dropped on Netflix on Wednesday, January 12. The second outing in the Emmy-winning documentary series tracks 2019 National champions Navarro College and their historic rivals Trinity Valley Community College's (TVCC) journey towards Daytona 2020 and Daytona 2021 after the 2020 competition was canceled due to the coronavirus outbreak.
Across 9 episodes, audiences are witnesses to seriously ground-breaking routines and stunts, the consequence of Covid-19, the arrival of Rookie cheerleaders on both teams, staff changes, the arrest of Navarro alum Jerry Harris and the pressure to win Daytona 2021. Will there be another season of Cheer? Newsweek has everything you need to know.
Will There Be a Cheer Season 3?
At the moment, there has been no news regarding the future of Cheer on Netflix.
It is still a little early for Netflix to announce a renewal, with decisions on a show's fate usually being made between 1 and 6 months after their premiere.
Cheer Director Greg Whiteley and Trinity Valley Community College Coach (TVCC), Vontae Johnson are not entirely against a third season but were unsure about the show's future at the time of Season 2's release.
Whiteley said: "I think it's probably just too early to even venture into that [Season 3]. We've just given birth, and so it's a difficult time to answer that question."
Johnson teased: "We're happy about season two. We want the world to be able to see us for who we are and you know, that will capture Trinity Valley, and we don't know what the future holds for season three, so we'll see."
In conversation with Newsweek, Whiteley revealed there was always a risk Cheer Season 2 may have not happened if there was no new story to tell.
However, once he and his documentary crew made it to Navarro they released there was so much to explore in a second series. Fans of Cheer should keep their fingers crossed the same happens for Season 3.
He said: "I don't know that we were sure that we wanted to do a second season. It's something that Netflix very graciously gave us what we call a 'bridge budget' to explore what a second season could look like and it was pre-pandemic and just seeing our first few days of being at Navarro indicated to me that there was just more story to tell, we couldn't have predicted how much more story there would be to tell. But we knew that we were seeing was worth following at least for a second season."
"There is a lot of returning faces and we were interested in getting caught up with them. But right away similar to the first season, there were just people that in the first few days that we were with them, just jumped out at us and we followed them"
Season 2 of Cheer also takes a much closer look at Navarro's rivalry with TVCC who went on to defeat Navarro at Daytona 2021. Today, Navarro holds 14 championship titles and TVCC holds 12. Going ahead to Daytona 2022, the stakes are just as high, if not higher.
Reflecting on Navarro and Daytona's rivalry, Whiteley shared: "I always found their rivalry to be very good-natured. I didn't even get the sense that it dipped into an area that was inappropriate or unusually violent, but it was intense. I mean, these are two schools that wanted very badly to win and because of the quality of the two programs, usually, the other team is the one that's in the way of you achieving your goals and I think that's just, over the years, that's where that rivalry was started.
"What's interesting is, for years and years and years, Trinity Valley was the crown jewel of all of the cheerleading. And Monica, being a brand new first-year coach, I'm sure she looked down the road and just thought, 'oh, my gosh, how could I ever get to a place where I could even compete with a team like Trinity Valley, they are a juggernaut?' And Monica being Monica, she just went to work. And over the course of 10 to 15 years, she turned the tables, and she's now the juggernaut."
Hopefully, for Cheer fans, Season 3 will follow a similar path.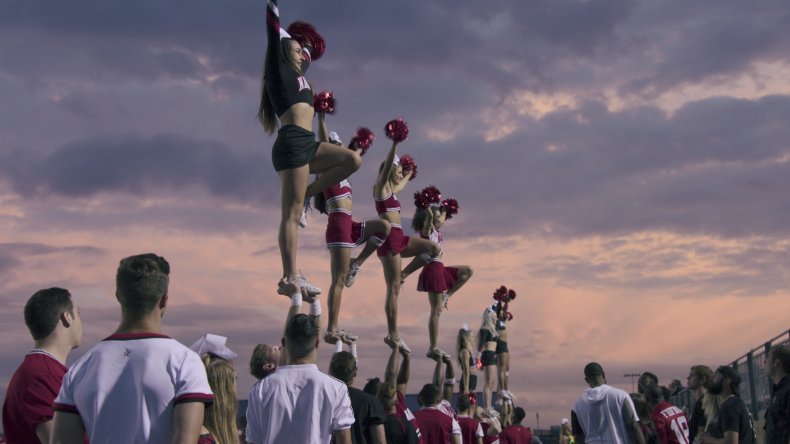 If Season 3 is given the green light, audiences can expect to see Navarro and TVCC once again go head to head for the trophy at Daytona. There is also the possibility Cheer could follow a different school altogether, on its own or alongside Navarro and TVCC.
Some familiar faces will also most likely feature including coaches Monica Aldama for Navarro and TVCC's coaches Johnson and Kris Franklin. At the end of Cheer Season 2, it was revealed Khris had been promoted to co-head coach alongside Johnson.
Stand out rookies from Season 2 who have confirmed their return to Navarro and TVCC include top girl Maddy Brum, flyer Gillian Rupert and stunter Dee Joseph.
Veterans from Season 1 who returned to Season 2 included Lexi Brumback, La'Darius Marshall, Morgan Simianer, and Gabi Butler so there is a big possibility a lot of faces from Season 2 could feature in a third series, alongside a whole new year of rookie talent.
In the meantime, the first two seasons of Cheer are available to stream and download on Netflix now.
Cheer Season 2 is streaming on Netflix.