Free Cheerios Wildflower Seeds Could Help Save Dying Bees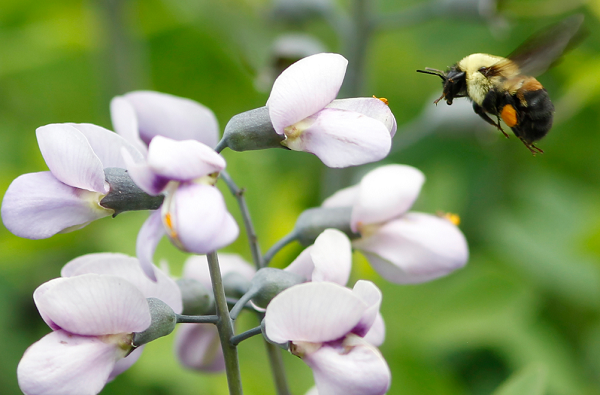 American bees are an endangered species for the first time in U.S. history. And possibly also for the first time in history, a cereal company is hoping to be their savior. Cheerios has launched a program to save a species of American bees.
The U.S. Fish and Wildlife Service (FWS) added the Rusty Patched Bumble Bee to the endangered species list in January following a sharp decline in bee sightings within the 28 states and Canadian provinces where they predominately reside. The department said the bumble bee has been reported in only 13 states and one Canadian province since 2000.
The decreasing amount of bee life in the states sparked Cheerios' crusade to help restore bee populations using their Honey Nut Cheerios mascot, Buzz. The company announced Monday plans to have 100 million wildflower seeds planted across the country by offering to send wildflower seeds to people for free.
Wildflowers are rich in nectar and pollen, which provide food and nutrients crucial to a bee's survival and can be planted just about anywhere. Wildflower gardens could help increase bee populations across the country—not just in the 28 states where Rusty Patched Bumble Bees usually live.
The FWS cited habitat loss, intensive farming, pesticides and global warming as the major factors behind the declining number of bees in the U.S. Many of the areas in the Upper Midwest and Northeast, where the Rusty Patched Bumble Bee resided, have been converted into developed, industrial areas that lack the lush flower and plant life needed to sustain bee populations.
In a recent report, the U.S. Department of Agriculture said there were only 100,000 honeybee colonies in the U.S. in 2016 compared to about 4.5 million documented in 2006. When bee colonies initially started being recorded by the department in 1989, there were nearly 3.5 million honeybee colonies in the U.S.