Cheerleading Team Just An Hour From Dayton Mass Shooting Sells Raffle Tickets For Semi-Automatic Weapon
Some parents of kids participating in a fundraiser for a cheerleading team have raised concerns after the group was told to sell raffle tickets for a semi-automatic weapon.
The fundraiser is being held a group in New Richmond, Ohio, located about an hour from Dayton, Ohio where nine people were killed in a mass shooting earlier this month. It is the fourth year that the New Richmond Junior Lions Football and Cheer program has raffled off a rifle, league president Richard Wooten told CNN.
The program averages about 150 participants each year and is open to children ages 5 to 12.
According to Wooten, the AM-15 rifle, modeled after the AR-15 style, is a popular fundraiser and an item that is "easy to sell." However, children and their parents were also asked to sell raffle tickets for a gift basket. Both items sell for $10 a ticket, and each child was asked to sell 10 tickets total — five for the rifle and five for the gift basket.
However, after Wooten sent the email to those in the league, parents of some of the cheerleaders came forward to express their concerns to him.
"This is absurd, you're having elementary kids sell your AR-15. Why? I highly doubt that something would happen with the gun, but say it did," Heather Chilton, the mother of Lions' cheerleader Nevaeh Chilton, told WXIX. "Say one of the kids in the high school got a hold of it — got the AR-15 or AM-15 and shot up a school with it, and I'm the one that sold the raffle ticket to his dad?"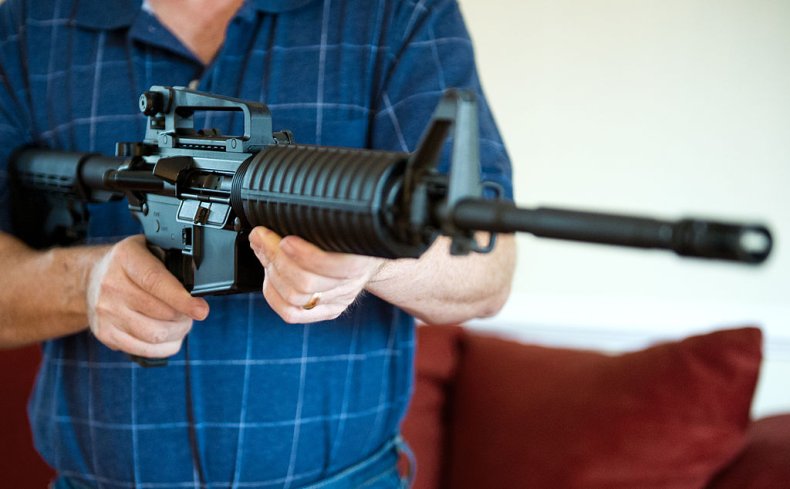 Wooten told CNN that this is the first year that parents have had an issue with selling raffle tickets for the semi-automatic rifle.
"We are compassionate [on] where people may be on the gun issue. This was not a way for us to promote gun violence or incite violence. We are going to reevaluate this next year," Wooten told CNN.
Chilton told WXIX that her concern is that the league is selling " some type of semi-automatic rifle when we have all these mass shootings going on, going door to door."
According to the
Gun Violence Archive
, there have been 265 mass shootings in the United States in 2019. The GVA defines a mass shooting as a shooting where at least four people are injured or killed via gun violence.
Some parents told Wooten they were uncomfortable selling the tickets for the gun, the non-profit league has allowed those individuals to only sell raffle tickets for the gift basket instead or to opt out of the fundraiser altogether.
"This was bad timing," Wooten told CNN. "I also think there is a greater issue people are missing. Just in our hometown alone, we got so many other issues that are the root problem. The gun violence we see is a symptom of a larger problem. I wish we would focus on the greater root."
According to Wooten, tickets for the gun raffle have sold very well this year and that whoever wins the gun during the September 3 drawing will have to pass an FBI background check before they can obtain the rifle.