A Cheetah at Cincinnati Zoo Has Become Best Friends With a Rescue Dog
Dogs and cheetahs might not make for the most natural pairing but that hasn't stopped trainers at Cincinnati Zoo.
Kris, a cheetah cub, and Remus, her companion dog, are residents of Cincinnati Zoo & Botanical Garden in Ohio. The pair first met in September when there was some initial wariness on Kris' part.
But, as subsequent clips show, Kris has since warmed up to Remus and the two have become good friends. The zoo has posted various updates of Kris' progress—and her friendship with Remus—on the company's Facebook page, from a "BFF sleepover":
To Kris' first time in the zoo's Cheetah Encounter yard:
As the zoo explains in a blog post, there are several reasons why dogs and cheetahs are brought together in this way and Kris and Remus are not the first dog-cheetah pairing at Cincinnati Zoo. There have been six successful pairings, the first between a cheetah called Angel and a Great Dane called Dominic in 1981.
Since then, there has been Sara and Lexi, Tom and Pow Wow, and Donni and Moose, the latter of whom have been best of pals for the last three years. It is all part of their Cat Ambassador Program that was introduced to help single cubs adapt to zoo life by providing a surrogate "sibling" for them to play with.
Cubs affected, like Kris, tend to come from smaller litters that have been abandoned by their mother. This tends to happen when only one or two cubs in the litter survive. A female cheetah will desert her cubs to the extent that she might even stop producing milk, so that she can breed again and produce a larger litter of three to five cubs. The largest litter recorded by the Association of Zoos and Aquariums (AZA) was eight.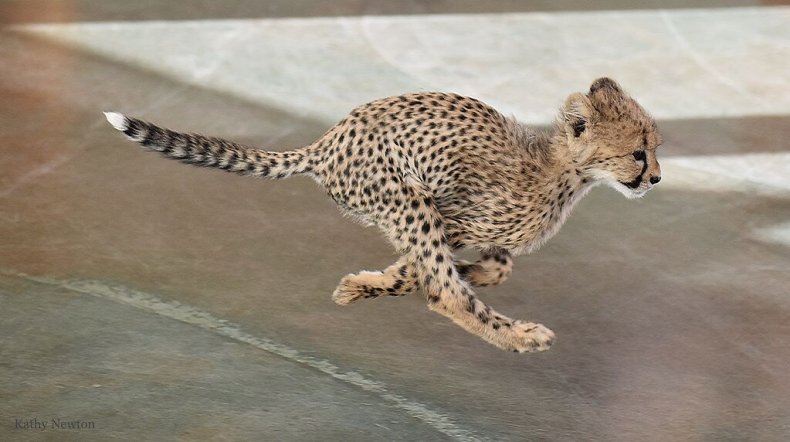 Kris and Remus' story started July 2019, when Kris was the only cub in her litter to survive. Because of this, the zoo made a decision to hand-rear Kris, while her mother, Neema, could go on to have another litter.
To compensate for Kris' lack of family, Remus, a rescue puppy, was brought in from the Animal Rescue Fund, a shelter in Cincinnati, to provide companionship. Remus' playful and outgoing personality and energy level won over the Cat Ambassador Trainers, who selected him out of several rescue pups at the shelter, said Cincinnati Zoo.
According to the zoo, cheetahs are solitary by nature and will usually venture out on their own when they are two years or so. This happens in the wild, when they are part of a litter, and it can happen in a zoo, when they are paired up with a dog.
"When this happens, the dogs usually go home with someone in the Cincinnati Zoo's staff," said Cincinnati Zoo. "And don't worry, we already have a long list of employees wanting to take Remus home when it's time. But that probably won't be for a while, the two still have a lot of growing, bonding and play to do first!"
In the meantime, Kris and Remus "seem to enjoy each other's company more and more each day."