Three cheetah cubs abandoned by their mother in a drought have been rescued in Kenya.
The cubs were picked up by rangers from the Sabuli Wildlife Conservancy, a community-led organization in Wajir County, in the country's northeast.
Sharmake Mohamed, the conservancy's chairman, told Newsweek it was not normal for cheetahs to abandon their cubs.
"We've just had a very bad drought and the mother cheetah killed a goat from a nearby settlement," he said. "The villagers found the cheetah eating the goat and chased it away. Our rangers found the cubs in shrub and waited in vain for the mother to come back.
"We couldn't leave them after a few hours due to sunset and fear of predation in the dark."
Mohamed added that the cubs were healthy and could not have been more than a few days old when they were rescued.
They were collected by the Kenya Wildlife Service and taken to the Nairobi Animal Orphanage, where they are being cared for.
"KWS commends community rangers from Sabuli Wildlife Conservancy for rescuing three cheetah cubs that were abandoned by their mother in Wajir County due to the ongoing drought," the Kenya Wildlife Service wrote in a Facebook post.
"The cubs were later transferred by the KWS Airwing to Nairobi Animal Orphanage where they are being monitored by the animal keepers and vet team."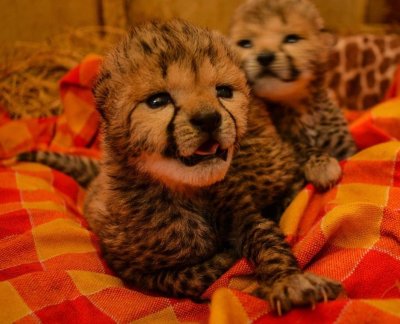 Pictures shared by the wildlife service show the cubs at the orphanage in the Kenyan capital, with a ranger feeding one from a bottle.
The Sabuli Wildlife Conservancy also tweeted that the cubs were doing well.
Wajir and other parts of Kenya have been gripped by a series of droughts in recent months. The conservancy has been sharing images of the brutal impact this is having on wildlife.
In November, it posted pictures of dead giraffes on Twitter: "We've lost 11 of our gentle giants this week due to the worsening drought in Wajir, North [Kenya]. Thousands of livestock, our livelihood is slowly being wiped out as anticipated rains fail due to climate change. COP26 leaders, please help save the situation."
In October, it posted images of its efforts to get water to wildlife, saying: "Wildlife dying in unprecedented numbers in Wajir due to Impacts of Drought amid heightening climate change."
Reuters reported in October that it was the second consecutive season that the rains had failed.
Maurice Onyango, from the charity Plan International, told the news agency: "The past droughts were largely predictable. We had longer cycles of 5 to 10 years [between droughts]. And this meant that the pasture and water bodies would regenerate very quickly. [Now] we are seeing droughts coming every two years, sometimes every year."
It is estimated that 2.4 million people in northern Kenya will face food shortages in the coming months as a result of the drought.
The U.S. Famine Early Warning System Network says satellite data indicates that northern and eastern Kenya received between 30 and 60 percent of their average rainfall between October and December.
"Across the eastern pastoral and coastal districts, the season currently ranks as one of the driest recorded," it said. "Additionally, based on historical analogs, there is around a 70 percent likelihood that the March to May long rains will be below-average."
Mohamed told Newsweek that more than 90 giraffes and hundreds of other animals had been lost over the past two months because of water scarcity. "Climate change has badly affected our wildlife, communities and our livestock," he said. "We've had a bit of reprieve with late rains. The rains are patchy, inadequate and very late. The forecast is bad."
Sabuli Wildlife Conservancy is now appealing for aid. "Those same community rangers working hard to protect wildlife have not received salaries for two months since the post-COVID government stimulus program paying all rangers in Kenya ended in September 2021," he said.
"We need a water truck to help our wildlife. We need support for our rangers."