Everything You Need to Know About Cheetah, The 'Wonder Woman' Villain Kristen Wiig Might Play
Updated | Kristen Wiig will play DC villain Cheetah in the next Wonder Woman film, director Patty Jenkins has confirmed—so Women's History Month is already off to a great start.
Star Gal Gadot will also return for Wonder Woman 2, set for a November 2019 release. Warners Bros and DC Entertainment are keeping a tight lid on plot details, but rumors suggest it will be set in the 1980s during the Cold War. (Rumors suggesting that Chris Pine will return as well are hard to believe given his character died back in World War I. But this is where superpowers come in handy.)
Wiig, a veteran of Saturday Night Live and the star Bridesmaids, would be an inspired choice to fill the furry shoes of one of Wonder Woman's best-known adversaries. Here's everything you need to know about Cheetah.
The character first appeared in 1943, in Wonder Woman #6, as a character named Priscilla Rich, a society lady who suffers from multiple personality disorder. Her resentment for Wonder Woman begins when the latter steals her thunder at a charity event. So naturally Rich tries to kill her. When she fails, she passes out, then wakes up looking like a Cheetah—or at least wearing a form-fitting cheetah-patterned print suit.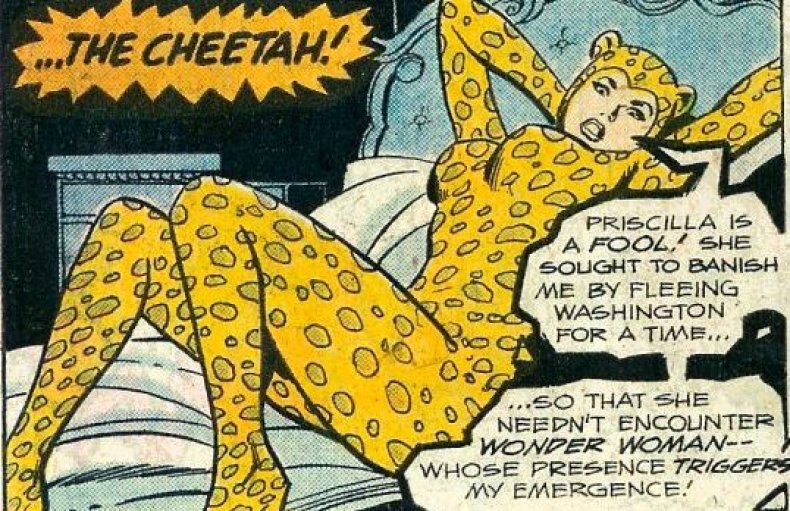 This version of Cheetah also appears as Wonder Woman's greatest foe in the Super Friends 1978 cartoon show.
By 1985, DC had re-invented Cheetah, turning her into Barbara Minerva, British anthropologist. This former friend of Wonder Woman is corrupted by superpowers, given to her by Urzkartaga, the Plant God, while she's on an expedition in the jungle. She's turned into a cheetah woman, with powers that include the speed and hunting prowess of the animal she's named for. She also appears in the animated series Justice League and Justice League Unlimited.
Hollywood Reporter confirmed that Dr. Barbara Minerva will be the character appearing in Wonder Woman.
Just to totally confuse you, there are two other Wonder Woman characters with the Cheetah moniker: Deborah 'Debbie' Domaine, niece of the original Cheetah, and Sebastian Ballesteros, an Argentinian businessman. Following the 2011 DC relaunch of the series, both were eliminated from the continuity. The name Debbie Domaine became an alias used by Minerva, and Minerva's Cheetah got a makeover, with enhanced Cheetah breasts.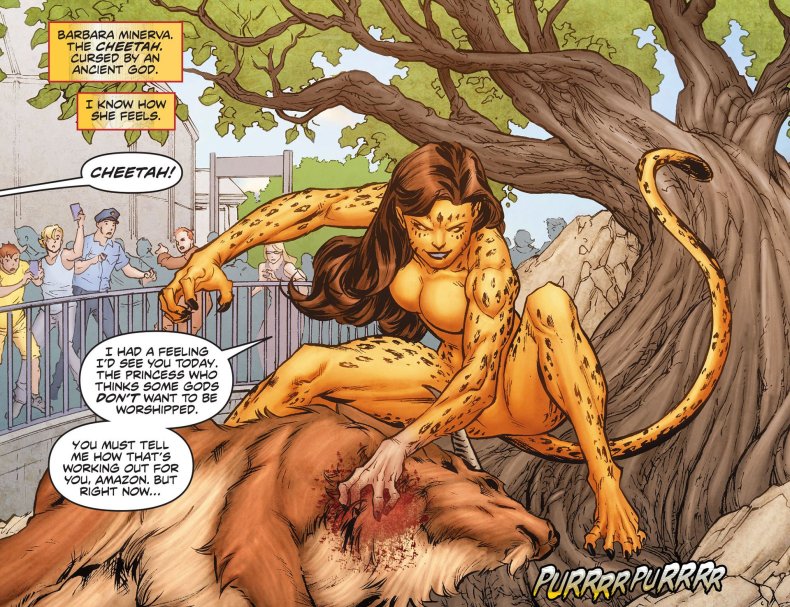 The only Cheetah you need to care about is the one who will be played by Kristen Wiig, someone who we think (in case anyone cares) is an inspired choice to rock the fur suit.
Update: The rumors are true! This story has been updated to reflect Kristen Wiig's confirmed role in the film.